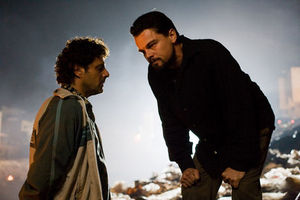 Décidément pas passionné par Ridley Scott, un des cinéastes les plus surestimés selon moi. Même pas vraiment bon faiseur, même pas vraiment metteur en scène, il sait toujours servir les films formatés qui collent à son époque, mais sans discours, sans motivation : son cinéma est fade et faussement politique. Body of Lies est à cette image : s'il est engagé, c'est malgré son auteur, juste parce qu'on s'accroche à un sens. Peu intelligent, Scott ne situe son film dans l'Irak contemporain que parce qu'il sent bien que c'est là que ça se passe : il suffit d'allumer la télé pour voir que la guerre USA-Irak est un sujet porteur. Dès lors, pas besoin de message ou de réflexion : le contexte suffit, et la critique trouvera bien là-dedans de quoi gloser sur la profondeur du film.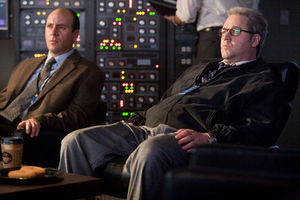 Di Caprio est un agent de la CIA, un mec de terrain qui parle 42 langues et prend les risques ; il est piloté depuis les States par Crowe, bedonnant et agaçant, tête pensante peu concernée par la morale, qui suit tous ses mouvements par satellites, portables, et autres bidules technologiques, le tout en amenant son gamin à l'école... Ca pourrait donner un brillant film d'espionnage paranoïaque, ça pourrait donner lieu à un montage vertigineux à la 24 (modèle quasi-déclaré du film), voire à une réflexion sur les dissensions entre pouvoir et exécutif. Mais tout ça, c'est ce qu'on essaye désespérément d'y voir : en fait Body of Lies est assez plat, assez vide, un énième film d'action sur-consensuel. Monté frénétiquement pour pallier à sa succession de moments creux, il est assez fatigant à regarder, toujours à l'esbrouffe, toujours dans la volonté d'épater le bourgeois. On dirait du cinéma des années 80, mais avec des motifs d'aujourd'hui : la technologie n'est utilisée qu'en icône de la modernité, jamais Scott ne l'utilise en tant qu'outil cinématographique. Les plans de satellite qui suivent Di Caprio sont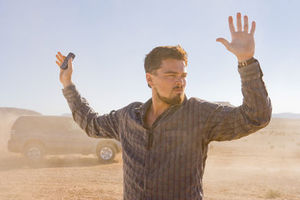 tirés de Google-map, sans imagination. On sent pourtant, au détour d'un plan, que Scott frôle quelque chose : ce cadre sur une voiture seule en plein désert, dans un immense espace, qui enchaîne avec un cadre serré sur Di Caprio enfermé dans son coffre, par exemple. On sent que le cinéaste pressent quelque chose dans ces rapports entre infiniment grand et infiniment petit, dans cette façon de faire du Monde un minuscule réseau technologique. Mais ça ne va pas assez loin, ça s'efface devant l'obligation de l'efficacité, et ça reste vraiment à l'état d'ébauche.
Quant au discours politique, il est lui ausi à peine esquissé. Passons sur les infâmes scènes de bluette amoureuse sur fond de tension patriotique (ça faisait longtemps que Di Caprio n'avait pas été mauvais, il l'est dans ces séquences), idiotes et caricaturales. Mais même quand le sujet devient un peu plus trouble (la création d'une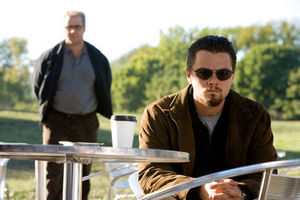 fausse cellule islamiste pour montrer la culpabilité américaine dans le terrorisme qui frappe ses citoyens), Scott botte très vite en touche, comme s'il touchait un sujet trop brûlant. Finalement bien frileux, le film s'arrête systématiquement à mi-parcours de tout, et on en garde la pénible impression d'un produit commercial qui se donne des airs de grande réflexion. Même pas vraiment spectaculaire en plus... un râtage. (Gols 09/11/08)
---
Bon déjà, après avoir vu ce film, vous pouvez faire l'économie du Lonely Planet spécial Moyen Orient parce qu'il faut reconnaître que le Ridley a la bougeotte : l'Irak, la Jordanie, la Syrie, les Emirats Arabes Unis... Un vrai "best of" du Muslim World et on sent que le Ridley veut montrer que les autres, l'étranger, ben déjà, on les connaî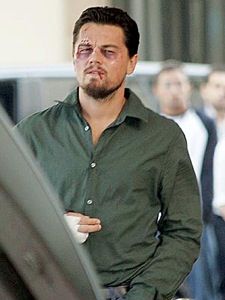 t mal et que, même, ils ne sont pas tous mauvais. D'ailleurs si les Etats-Unis, avec leur technologie de malade qui leur permet de voir un trombone dans la poche de Di Caprio en plein désert (Ok, ça sert à rien, mais c'est une vraie prouesse), veulent gagner leur combat contre les méchants barbus, il faut qu'ils fassent, d'abord, confiance aux autres (le chef des renseignements jordaniens) et franchement des morales finales comme ça qui vont péter plus haut qu'un satellite en basse altitude ça fait doucement sourire... Au niveau des acteurs Di Caprio "casse son image" vu qu'il a toujours tout plein d'accidents - il se retrouve le visage tout amoché et on se demande bien pourquoi on a po choisi Mickey Rourke à sa place; il y a un moment par exemple super touchant, lorsqu'il se rend compte qu'il trimballe dans sa chair des bouts d'os de son pote qui a explosé à ses côtés : comme Léonard est un mec gentil, il collectionne les petits bouts d'os de son pote qui ressortent de temps à autre dans une boîte d'allumettes... (je vous assure, j'invente rien). Russell Crowe, avec lequel j'ai de plus en plus de mal, joue presque tout le film la tête penchée, le menton collé au torse, comme si c'était sa façon de montrer qu'il interprétait pour de vrai un type super torve. Au début ça étonne, après on se demande s'il est pas vraiment malade (une faiblesse des os?) ou s'il a pas choppé un torticolis à force de jouer avec son oreillette (ça c'est pénible, d'ailleurs, aussi). Bon si après ça, vous voulez toujours découvrir ce film, c'est beau. (Shang 20/02/09)