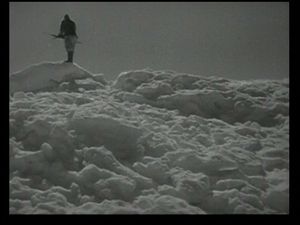 Etre Inuit en 1922, j'aime autant vous dire que c'est un mauvais choix : paysages moyennement riants, journées entièrement consacrées à la chasse au phoque, et pas un cinoche en vue. Ca ressemble pas mal à une vie de merde, et c'est tout à l'honneur de Robert Flaherty d'avoir décidé d'aller se geler les miches pendant de longs mois sur la banquise pour suivre le quotidien de cette petite famille d'Esquimaux et nous servir ce film assez renversant.
Visiblement désireux de livrer un documentaire d'une grande honnêteté sur ce sujet, Flaherty évite la plupart du temps l'esthétisation à outrance dans laquelle tomberait n'importe quel entomologiste occidental. Mis à part quelques plans sur la fin qui cèdent à une déification de la nature, il filme carré, dans la longueur, sincèrement attaché à rendre compte de la rude existence de Nanook dans son combat pour la survie en milieu congelé. On assiste donc à quelques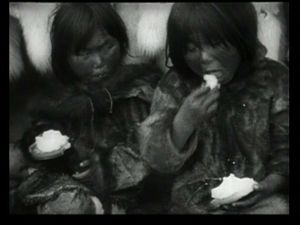 séquences purement factuelles qui font leur effet : comment construire un igloo, comment traquer le morse, comment farter un traîneau, comment dépecer un phoque... Le film est vraiment intéressant dans cet aspect documentaire, d'autant qu'on ne cesse d'avoir à l'esprit la prouesse technique effarante qu'il a dû falloir pour livrer des images aussi rigoureuses dans ce milieu hostile. Les intertitres, très fréquents, tentent d'expliquer le plus honnêtement possible les difficultés de cette petite famille, c'est très intéressant.
Mais bien sûr, ce qui marque le plus, c'est la naïveté avec laquelle Flaherty tente de rendre compte de cette existence. Bien entendu, le film est éminemment "mensonger", tout simplement à cause de la nécessaire mise en scène à laquelle le cinéaste doit se livrer. La plupart des scènes ont visiblement été reconstituées, répétées, tournées plusieurs fois, et Nanook apparaît plus souvent comme un acteur que comme un sujet d'étude objectif. La pêche au phoque, par exemple, est un exemple de "fausse vérité" :
Nanook s'y livre à des acrobaties assez douteuses pour prouver que le combat avec la bête est ardu, on le sent s'amuser comme un fou à faire ces galipettes assez peu crédibles. Nanook of The North est la preuve flagrante que, dès qu'il y a montage, il y a mensonge : on nous explique par exemple que les chiens de traîneau sont agressifs envers Nanook, et on nous montre donc Nanook avec un fouet, et en contre-champ un chien qui montre les dents. Mais on se rend compte que le chien montre les dents au cameraman, non à son maître, et que celui-ci fait claquer son fouet pour les beaux yeux de la caméra. Passionnant de voir ces tentatives de maquiller la réalité pour faire croire à une objectivité totale, alors que le film est finalement une pure fiction. D'ailleurs, Flaherty a souvent tendance à coller de la trame sur ses images documentaires (un enfant qui a mal au ventre (mais qui sourit béatement), un final qui se veut très mélancolique, une traque au renard visiblement très préparée pour la caméra).
C'est donc bien l'échec de rendre compte de la réalité qui fait la valeur de Nanook of The North. C'est aussi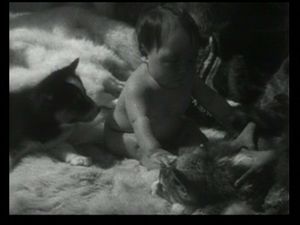 ce qui en fait le côté douteux, surtout pour ce qui concerne les animaux : ils ne sont décidément pas à la fête : la chasse au morse est une boucherie, les chiens ramassent des mandales à décorner un gnou, on déchiquette les poissons vivants à coups de dents... Brigitte Bardot a dû tomber en syncope. Tout ça pour les besoins du spectaculaire, c'est malaisé à regarder. Mais bon, on était en 1922, et au pôle Nord qui plus est, on ne peut pas leur demander de faire dans la finesse. Le film reste un précieux témoignage, non pas tant de la vie des Inuits que des premières découvertes cinématographiques en termes de vérité et de mensonge.