The Dead Father (1986)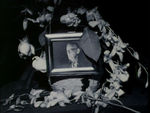 Toute première oeuvre du gars Guy qui se déroule dans une petite banlieue paisible; je dis paisible mais bon, le pater familias vient de mourir, est étendu sur la table de la cuisine, ce qui n'empêche point la mère de beurrer ses sandwichs ni aux filles de jouer aux cartes sur la dite table. Le plus troublé dans l'histoire semble le fils lorsque le père réapparaît bien vivant (une ombre sur une toile blanche, je vous fais pas de dessin). Mais le père prend corps et le fils ne tarde pas à retrouver les mêmes réflexes, lui filant ses tartines, lui obéissant au doigt et à l'oeil et se prenant même de grosses baffes... Dans un scène maddinesque où les gens "reposent" en pleine nature, il recroise son père endormi et ira jusqu'à le manger à la petite cuillère (il y a de quoi s'en étonner, j'avoue... C'est ce qui s'appelle boire la coupe jusqu'à la lie... une sorte d'obsession si on veut). Lors d'une séquence murnesque, le père finira par s'allonger dans une malle et on espère que le jeune gars pourra retrouver une vie normale... C'est un film finalement assez linéaire où perce déjà ce style nostalgico-expressionniste avec, en fond sonore, un petit bruit de fin de 33 tours. L'image obsédante du père plane en tout cas déjà sur son oeuvre à venir.
---
Sissy-Boy Slap-Party (1995)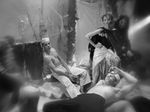 La plus grande partie de baffes dans ta gueule du monde, c'est signé Guy Maddin et si jamais cela manque un poil de fond, ça défoule. On est dans la jungle avec, semble-t-il, de jeunes soldats, ambiance moite à la Equateur de Gainsbourg en noir et blanc; le boss ventru prévient qu'il va partir en vélo pour aller acheter des capotes et que, en attendant, pas de BAFFES! Tu parles, le type a à peine le dos tourné qu'un jeune éphèbe en retourne une, violente, à son voisin : c'est parti pour quatre minutes de charclage dans tous les sens, de gifles en tout genre, avec un montage à la mitraillette et une musique forcément tam-tamesque : pam dans ta joue, tiens dans ton dos, ping sur ton torse, plaf sur tes fesses... Quelques passages en caméra subjective du meilleur effet, une distribution gigantesque à ces jeunes gars disposés en rang d'oignons, aller-retour cin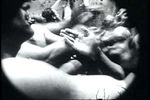 glant, c'est sans queue (quoique l'ambiance, virile et dénudée, fasse assez gay) mais dans ta tête... Le boss revient pour planter son vélo dans les fesses d'un type groggy sur les genoux (mouais, j'ai vu du meilleur goût) alors que toute la troupe somnole, abattue. Du défoulement par procuration, ça peut toujours vous calmer les soirs de grosse colère...
---
Odilon Redon ou l'Oeil comme un étrange ballon se dirige vers l'infini (Odilon Redon or The Eye Like a Strange Balloon Mounts Toward Infinity) (1995)

Le titre est tout un programme et je n'aurais pas fait le plus dur en vous informant (mais votre culture est sûrement supérieure à la mienne) qu'Odilon Redon est un peintre symboliste de la fin du XIXème (j'ai fait des fouilles). Pour résumer, en gros, l'histoire, le père Keller et le petit Callum (ils ont des badges, c'est facile) crashent leur train sur un autre. Il découvre dans un wagon éventré une Bérénice (badgée plus tard) que semblent convoiter les deux hommes (classique chez le Maddin). Elle tente de s'enfuir et est à nouveau reprise par le père Keller qui y perdra la vue, je vous en dis po plus, reste à peine 2 minutes... C'est comme toujours esthétiquement soigné - superbe plan de la Bérénice, habillée d'une robe en tulle bien transparente ma foi, marchant sur l'avant de la locomotive -, assez caustique - le père Keller qui dirige sa folle machine, debout sur sa loc
o, grâce à des cordes reliées aux leviers qui sont à l'intérieur de la machine... plus simple à voir - et teinté de poésie : la fleur à tête humaine... Gros taff sur le son et les bruits zarbi, images en surimpression avec de petites bulles ou de petites lumières qui teintent le film d'une atmosphère vaporeuse... Pour les clins d'oeil à Redon (doit bien y en avoir), vous consulterez un spécialiste du gars...
---
Hospital Fragment (1999)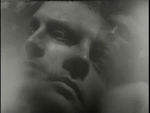 Tourné 11 ans après The Tales from the Gimli Hospital, on retrouve dans ce (très) court certains des acteurs, au fil d'images qu'on pourrait définir, à défaut d'autre chose, comme ultra-surréalistes. Dans les cicatrices de notre gars Gunnar vit tout un monde: femmes qui se dévêtissent et prennent des poses, transe lynchienne, personnage androgyne, combats de mâles enserrés dans des filets de pêche, poissons qu'on frappe contre les murs... L'esprit déconnecte au bout d'une seconde et on tente d'apprécier le montage subliminale. C'est toujours ça. Po banal, nan, c'est le mot.
---
The Heart of the World (2000)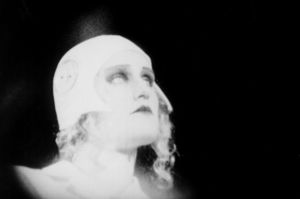 N'ayons point peur des mots, The Heart of the World est un petit chef-d'oeuvre qui vous prendra à peine six minutes de votre vie. Une magnifique scientifique (Anna) plus charismatique que la créature de Métropolis annonce la fin du monde : le coeur au centre de la terre est bien malade. Deux frères (forcément, comme d'hab, serait-on tenté de dire chez Maddin) sont amoureux d'elle et comme il reste un jour à vivre va falloir faire fissa : l'un est un acteur apparemment spécialisé dans les rôles de Christ et cela lui monte un peu à la tête puisqu'il tente de convertir le pauvre peuple qui s'adonne à des orgies; l'autre est entrepreneur de pompes funèbres et pour courtiser la belle... il invente un canon en forme de bite (ah ben oui, faut être franc, même si on voit pas forcément le rapport). Mais survient un troisième homme, un richissime industriel qui se vautre sur notre femme messie... Cette dernière sauvera la planète en inventant... le 7ème art ou alors c'est que j'ai po tout suivi. Sur une musique tonitruante, Maddin nous livre un court-métrage avec un plan par demi-seconde faisant de Eisenstein un type qui a perdu ses ciseaux : et le résultat est assez jouissif, cela va à trois mille à l'heure et chaque image (234.465) est comme un hommage aux films muets : le regard ultra
expressif de Anna quand elle doit choisir entre les deux frères, ce coeur de carton pâte qui bat mollement au centre de la terre, ce plan en plongée sur cette foule paniquée, l'image d'Anna projetée sur ses drapeaux avec des porteurs au garde à vous... Bon, je m'emballe, mais c'est un petit miracle qui fait po de mal en ce début d'année glacial - ouais ici c'est comme chez vous...
---
It's a wonderful Life - clip pour Sparklehorse (2001)
Une chanson très douce susurrée du bout des lèvres et en accompagnement des photos filmées avec des traits sur la pellicule larges comme des séquoias. C'est minimaliste, l'image va en se dégradant au fur et à mesure et c'est illustré de façon bon enfant - "horses", un cheval en ombre chinoise, "beast", un insecte mort, birthday, deux ptites nenfants avec un gâteau. Un "attelage" agréable au final (cela change des chansons qui datent souvent de Mathusalem dans l'univers de Maddin) qui convient parfaitement à l'atmosphère polaire de ce dimanche matin (et une superbe photo au passage qui vous donne vraiment une idée)
---
Fancy, fancy being rich (2002)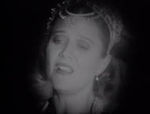 Une diva se lance dans cet aria et on se demande si elle se plaît à être riche ou à recevoir un homme qui finira par la quitter en lui piquant une petite boîte noire. D'étranges images d'hommes sortant comme des morts-vivants de la mer, des femmes aux postures alanguies, un bref instant d'accouplement général puis des hommes qui s'en retournent dans les ondes... Toujours le même style inimitable - des enfants qui veillent sur leur lit, des dormeurs en surimpression, des regards féminins translucides - à défaut de mettre complètement la main sur le bazar.
---
A Trip to the Orphanage (2004)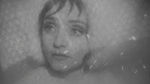 Un sublime air d'opéra qui porte en lui toute la tristesse du monde et un homme qui s'avance en dormant dans la rue sous la neige... On ne sait s'il se rappelle avoir été abandonné par sa mère (Maria de Medeiros) à l'orphelinat (?) mais il finit en tous cas par la retrouver à la fin de la séquence... Le plus surprenant c'est que l'essentiel du film est centré sur la chanteuse entourée de voiles blancs en surimpression qui volent au vent - pour le reste de l'histoire, on a tout de même guère d'éléments. Souvenirs, émotion, fragilité,... libre à chacun d'y puiser son inspiration.
---
Sombra Dolorosa (2004)
Comme le court précédent, une histoire qui semble concourir dans le cadre de la musique la plus triste du monde. On retrouve l'univers totalement déjanté de Maddin avec une veuve qui doit battre sur un ring de catch La Mort, une jeune fille désespérée qui tente de se suicider en se noyant, un mort que l'on prépare à grand coups de rouleaux à pâtisserie (excellent) et qui doit être consommé (bouffé quoi) avant une éclipse, le fantôme de ce dernier qui part dans une mule (définitivement lynchien),... tout cela avec un décor de pacotille et des cactus en plastique. A découvrir après un abus intensif de téquila.
---
Love-Chaunt Workbooks et autres workbooks (1997-2005)

C'est un peu une composition fourre-tout, puisqu'on trouve tout d'abord Audition one et Audition two qui sont apparemment des essais des comédiens pour Cowards bend the Knees: Louis Negin - le Dr Fusi - mime l'effroi ou la chtouille et on a droit aussi à la sublime Melissa Dionisio et d'autres personnages dont on filme surtout le "jeu de mains"... Dans Fuseboy, deux jeunes gens en slip tentent de réparer les fusibles ce qui provoque la terreur de notre bon Louis, en concierge et aussi en slip, comme s'il avait peur littéralement de péter un plomb... - ambiance très gay, il faut l'admettre, véritable fête du slip. Enfin Rooster Workbook (ou The Cock Crew) serait tout ce qui reste de Love Chaunt of the Chimney, une adaptation de Cock-a-doodle-doo de Melville, après le saccage du studio de Maddin : un coq apparamment en colère - et son ombre - qui effraie des jeunes filles, on distingue bien un corp nu et des fesses féminines rotondes, c'est monté à la mitraillette fois douze et on lâche rapidement l'affaire... En prime et, pendant que j'y suis Zookeeper Workbook (ou Maldoror: Tygers), où il est question d'un gardien de zoo bouffé par une bête, de sa fille qui fait n'importe quoi dans la cage et d'une alliance attachée à un fil qui semble avoir le goût de crabe - je vous livre en vrac mes sentiments et même après avoir lu le soi-disant résumé je reste dubitatif. Po trouvé, dans la même série Chimney Workbook, mais je vais quand même bien dormir.
---
Nude Caboose (2006)

Fendard à défaut d'être d'une grande finesse, il s'agit donc d'un type bedonnant avec des maracasses qui joue à la locomotive sur une piste de danse... Si je vous dis que le dernier "wagon" est composé d'une femme nue aux fesses rebondies, vous pouvez imaginer la joie de la loco de faire un tête à queue... C'est sans aucun doute plus fun que La Danse des Canards et on doit s'en payer une sacrée tranche de caribou lors des mariages canadiens. Poilant et fumant.
---
My Dad is 100 Years Old (2006)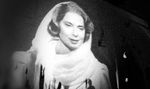 Pour commémorer les 100 ans de la naissance de son père, Isabella a écrit ce petit hommage. Elle endosse pratiquement tous les rôles de ce petit opus, d'Ingrid Bergman à Alfred Hitchcock (son ombre, ouais) en passant par Fellini, Chaplin et David O. Selznick. Après un clin d'oeil à son ventripotent de père qui passait la plupart de ses journées allongé dans son lit pour ne point trop perdre de l'énergie (po bête), elle revient à la fois sur ce qui a fait sa gloire - cette recherche forcenée d'illustrer la réalité - mais aussi sur les attaques dont il a été victime; par l'intermédiaire notamment d'Hitch, présenté comme le grand maître du suspense et de l'entertainment (Gols peut frémir), lui sont reprochées la lenteur de ses films ou encore la pauvreté, souvent, des moyens. Le ventre parlant énorme du Roberto accuse un Fellini en petite forme de l'avoir trahi et trouve son plus grand soutien dans l'image projetée de sa compagne, la divine Ingrid. L'Isabella écoute attentitivement les pour et les contre mais finit par trancher en avouant toute l'émotion qui se dégage des films de son père, même si elle semble ne pas trop se faire d'illusion sur le fait que
ses films ne sont plus vus (un peu pessimiste ma chère Isabella, ça se voit que vous ne lisez point Shangols - notamment vu le coffret Criterion qui vient de sortir). Bref, on sent toute la tendresse de l'Isabella pour son papa, surtout pour son ventre énorme sur lequel elle finit par se lover. Un peu léger peut-être dans le fond mais touchant clin d'oeil malgré tout de la fille à ses augustes parents.
---
Odin's Shield Maiden (2007)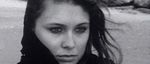 Une femme et d'autres pleureuses au bord de la mer lancent des espèces d'incantations avec les mains après la noyade du pauvre Mundi (il y a des petits cartons en intertitres, ça aide). On reconnaît le style du Maddin instantanément dans cette façon de cadrer, de ralentir, le mouvement de ces mains ou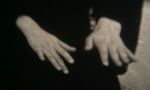 d'accélérer subitement lorsque ces mêmes mains se portent au visage. Des femmes, jolies comme tout, rien à dire, expriment ainsi muettement leur chagrin sur un air de violon torturé face à cet océan "mouillé par la mort" - la traduction en français sonne toujours plus creuse, nan? Euh, poétique? Ah non, déjà utilisé 23 fois. Triste alors, pour po dire déchirant.
---
Spanky : to the pier and back (2008)

Tout est concentré dans le titre : les aventures de Spanky - il pourrait s'appeler Proutouïe sauf qu'il est encore plus laid, un "bulldog nain" comme marque, je dirais - qui trotte menu sur la plage. Aucune mise en scène ni décor en carton, c'est ultra-limpide, presque naturaliste avec des petits éléments de l'entourage immédiat du Spanky (une croix, un arbre, une baraque...) qui viennent sporadiquement s'insérer dans le fil de l'histoire et toujours montés comme un cheval dans la dernière ligne droite de Longchamp : à bride abattue. Au moins on a pas l'impression qu'une immense réflexion philosophique nous échappe - quand on a compris le titre chez Maddin, on est déjà plus cool.
---
Footsteps (2008)
Maddin nous fait pénétrer dans les studios qui ont réalisé les effets sonores de Brand upon the Brain. Si pour imiter des bruits de pas, marcher reste encore la meilleure solution (grande collection de chaussures tout de même), recréer le bruit du vent ou du tonnerre demande beaucoup plus d'imagination... C'est monté avec parfois quelques images du film et cela démontre toute l'importance de l'atmosphère sonore dans les films de Maddin. Bien aimé certains de ses techniciens du son qui n'hésitent pas à payer de leur personne - se mettre cul nu par exemple - pour coller au plus près de l'effet désiré. Un taff.
---
It's my Mother Birthday's today (2008)

Un petit sujet sur un castrat : il est question d'un petit serin dans une cage (le pépiement fluet, ok), d'enfants dans une cave (ah?) dont un qui a mal à la gorge, et de deux oeufs durs (qui pourraient faire penser aux... Mon Dieu!)... Avec ces différents éléments, à vous, chers lecteurs, d'imaginer la trame. Ah, le titre, c'est en rapport avec la bande son, pour le reste je demeure un peu sans voix - ce qui garde tout de même un lien étroit avec le sujet.
Mad de Maddin : clique