Aucun doute qu'on touche là à du lourd, et ce film constitue une vraie merveille. Réflexion sur le regard, la subjectivité, sur le temps, celui qui est fixé définitivement sur la péloche et celui qui passe, sur le montage, sur la lumière, bref on est face à un vrai et grand cinéaste et ça fait toujours plaisir. J'ai beaucoup pensé pour ma part, sans vouloir faire le malin, au Blow up d'Antonioni et à Godard pour tout ce qui concerne le rapport entre l'image et la réalité, mais aussi, parce que je suis un peu dedans en ce moment, notamment au niveau formel (la texture de l'image, l'utilisation de la musique), au gars Guy Maddin avec son éternelle nostalgie pour les premiers pas du cinéma.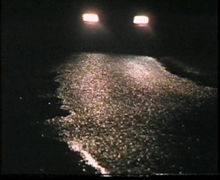 Un bref texte liminaire pour nous informer qu'un apprenti cinéaste, le gars Fleury, est mort mystérieusement alors qu'il filmait aux abords du lac du Thuit, juste après avoir réalisé un petit film familial. On découvre ces différentes bobines enfin exhumées après avoir dormi pendant 70 ans, petites saynètes de la vie quotidienne sans prétention : la jeune fille Hortense qui fait de la balançoire de façon renoirienne, les bambins Fleury qui s'amusent de façon lumièrienne avec un tuyau d'arrosage, l'oncle Etienne qui joue au prestidigitateur sans dévoiler ses secrets, une petite scène de danse improvisée avec les domestiques du lieux, quelques instants volés ultra vintage avec moult stries sur l'image et autres altérations...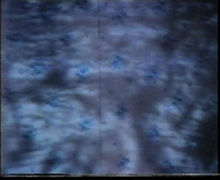 On ne sait po vraiment encore dans quoi Guerin nous embarque, d'autant qu'il revient au temps présent avec de longs plans fixes automnaux : images empreintes de douce nostalgie, des feuilles mortes qu'on ramasse à la pelle, tu vois je n'ai pas oublié, les souvenirs... brisons-là. On enchaîne avec des scènes de nuit, la lumière des phares de voitures qui s'immisce à travers les stores de l'ancienne demeure des Fleury, des ombres mouvantes d'arbres qui se reflètent sur le papier peint : ces formes font curieusement écho à celles qui peuplaient les nuits de notre enfance, ce que corroborent ces mots de Guerin (salutation, une fois encore, à l'ami Fayçal qui m'a fait parvenir l'article - traduction approximative de l'espagnol...): "Je crois que le cinéaste naît quand tu considères ces ombres dans l'enfance"; il évoque ensuite cette notion d'enfance de l'art (Godard jubile) et l'on sent bien sur quel terrain de réflexion ces longs plans nous amènent. Qu'est-ce que l'on peut voir dans ces formes, qu'est-ce que l'on veut voir surtout... Le sens de ces ombres projetées semble plus fonction de la personne qui les contemple que de ce qu'elles représentent vraiment.
Cela fait une parfaite transition avec la partie suivante du film : les images d'archives du départ sont remontées, certaines sont mises en parallèles, ralenties voire arrêtées, zoomées. Vers quoi ce nouveau montage, cette nouvelle vision, nous oriente, that is the question... En s'arrêtant longuement sur ces images comme pour nous faire prendre conscience des contre-champs (la spécialité du Gols), en zoomant sur certains détails de l'image "invisibles" de prime abord, s'ouvre à nous une nouvelle perception de ce qu'a réellement capté ce "banal" film amateur. Qu'il s'agisse des rapports entre Hortense et l'objectif, de l'oncle Etienne avec la servante, tout un pan de "l'histoire" prend nouvellement forme à nos yeux. Guerin va ensuite jusqu'à recréer avec les mêmes personnages un plan particulier du film d'archive pour "mettre en perspective" cette réalité cachée.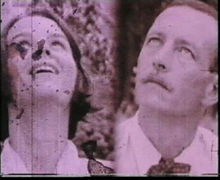 Bon, je voulais faire court et pis je me suis un peu emballé. Si vous avez rien compris à mes annotations, raison de plus pour vous précipiter sur ce film d'une intelligence rare. Voilà, c'est dit. Et je compte bien entendu sur le gars Fayçal pour un éclairage plus pointu.