Un peu partagé par cette énième vision de Prince of Darkness, considéré par beaucoup (dont moi jusqu'à présent) comme un chef-d'oeuvre. C'est vrai qu'au niveau de la pure mise en scène, c'est un des Carpenter les plus aboutis. Le sens de l'espace du compère prend ici toute son ampleur, par l'utilisation maximum des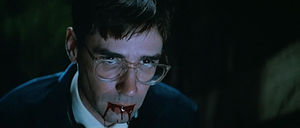 possibilités de son décor. Chaque pièce de cette église est utilisée dans ses moindres recoins, jusqu'à un vertigineux jeu de proximité/distance entre les monstres et leur victime dans la dernière demi-heure. Par la virtusoité du montage, il arrive à relier entre eux 3 ou 4 évènements dispersés dans l'espace, jusqu'à nous faire perdre toute notion géographique : la peur en est décuplée, puisqu'on ne sait jamais si le danger est tout proche ou non. Cette dernière partie est sans aucun doute la plus brillante, Carpenter dosant avec un immense savoir-faire la montée de la tension : il use du gore et du cradingue avec un sens du spectacle et de la fascination imparable, tout en restant au plus près des angoisses de ses héros, le tout dans une lenteur extraordinaire. La mort, une fois de plus, est montrée dans son aspect inéluctable, elle a tout son temps pour agir. Jamais peut-être Big John n'avait pris autant son temps pour nous faire peur, et cette fin est d'une audace de rythme qui fait merveille.
L'immobilité et la lenteur, les marques définitives du style de Carpenter, agissent aussi dans de nombreuses autres scènes, notamment dans ces impressionnants cadres fixes sur des masses de clodos qui s'assemblent autour de l'église. Ils ne veulent rien, n'agissent pas, ils sont juste là et ils attendent. Ces plans hypnotiques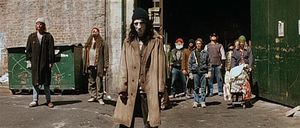 (les mêmes que dans Village of the Damned ou In the Mouth of Madness) agissent uniquement par leur côté "page blanche", par le pouvoir de projection que le spectateur met en eux. Là aussi, un pari sur l'intelligence et sur le pouvoir du cinéma qui fait merveille. Quand la violence éclate, elle est rapide et brusque, JC ne s'apesantissant jamais sur elle, revenant très vite à son histoire après ces moments de spectacle pur. Pourtant, les motifs inquiétants sont légion, on dirait même parfois une compil du genre : eclipse mystérieuse, insectes gluants, morts-vivants, vampires, assassinats sauvages, para-normal, on en a pour son argent. Sans souci de réelle cohésion dans ce catalogue des horreurs, Carpenter semble éprouver un malin plaisir à créer de l'inquiétude coûte que coûte, même si ça ne correspond à rien dans son histoire.
Mais sur cette mise en scène brillante, il est dommage de plaquer un scénario aussi fumeux. Arrêtez-moi si je me trompe, mais il semblerait bien que, pour cette fois, JC n'ait pas grand-chose à raconter. Il se réfugie dans une sorte de trame fantastico-mystique assez laborieuse, tendance indigne chez le maître auteur de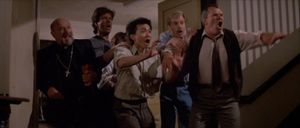 quelques-uns des films les plus anars qui soient. On comprend vaguement qu'il voudrait raconter une Genèse à l'envers, ou l'avènement d'un Messie du Mal négatif du Christ ; on voit bien qu'il tente de multiplier les plans signifiants pour nous faire comprendre son propos (une héroïne qui finit bras en croix dans un discours prémonitoire, une Sainte-Marie bis toute couverte de croûtes peu avenantes, un oecuménisme cul-béni dans les acteurs, qu'il va s'empresser de pulvériser...) ; mais ça ne suffit pas à donner un vrai fond à ce film, et on s'embourbe un peu dans cette mystique désuète et pas passionnante. Les acteurs ont l'air d'y croire, pour leur part, ce qui les rend un chouïa ridicules (Pleasence en curé concerné, comme d'hab). Il y aurait eu lieu à un grand film-somme du cinéma de Carpenter ; tel quel, ce n'est qu'un agréable moment de virtuosité formelle.
tout Carpenter is bloody here