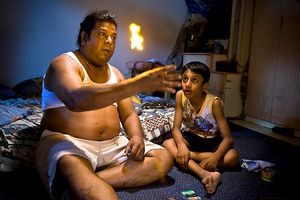 Be With me était un "Khoo de maître", selon mon camarade ; My Magic en est un dans l'eau. Et dans l'eau des larmes, puisqu'on a droit ici à un mélodrame franchement sirupeux, à base des ingrédients incontournables : petit n'enfant aux grands yeux, méchants grimaçants et héros à la beauté intérieure. Le personnage principal est un alcoolo obèse affublé d'un fils qu'il ne comprend pas, voilà pour la partie "enfance brisée" ; il va tenter de relancer sa carrière de fakir pour pouvoir payer l'école de son fils, voilà pour la partie "sacrifice paternel" ; mais il se heurte à la brutalité du monde moderne, partie adversités et noirceur humaine ; mais retrouve la fierté dans le regard du bambin, partie violons.
C'est vrai que Khoo décrit un univers qu'on a peu l'habitude de voir au cinéma, et qu'il le fait avec une frontalité assez troublante dans un film pour enfants : les numéros de magie du héros sont visiblement réalisés sans trucages, en gros plans, et on le voit ainsi se percer la langue avec un clou, se rouler sur des tessons de bouteille ou manger une ampoule dans la durée. Ca donne à ces séquences un aspect gentiment vénéneux qui fait son effet, tout comme cette longue séquence spectaculaire de torture. Le magicien va pratiquement jusqu'au bout de sa résistance physique, et le film plonge assez subtilement dans le glauque, sans qu'on y prenne vraiment garde. Le fait d'avoir utilisé un vrai fakir pour interpréter le rôle donne à l'ensemble un aspect documentaire finalement effrayant, accentué par une image assez cradouille, qui n'essaye pas (dans la partie "dure" en tout cas) de nous éblouir.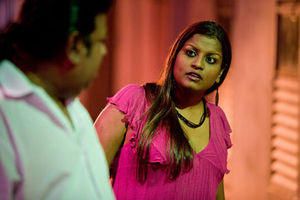 Mais malgré ce louable effort formel, Khoo n'arrive pas à éviter un côté Cinema Paradiso très soûlant. Les rapports entre l'enfant et son père, la découverte fascinée par le premier des qualités morales du second, le flash-back minable de la fin, la façon dont Khoo tient à instiller du merveilleux dans son histoire, tout cela est convenu et très niais. On soupire d'ennui devant ces gros plans sur les grands yeux écarquillés du bambin et devant cette histoire qui nous entraîne au bout du bout du mièvre et du mélodrame crétin. Plutôt que d'explorer la voie de la laideur et de l'inconfort qu'il semblait avoir mis en place, Khoo perd courage et nous sert un énième film de Noël joliet et frileux. Le sang est effacé par la jolie musique, et toute l'audace du sujet perdue dans les convenances du sentimentalisme. Au final, c'est creux et très attendu.