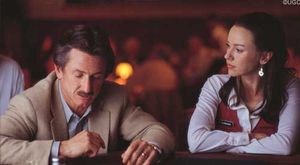 La sincérité de Niels Mueller ne fait aucun doute dans The Assassination of Richard Nixon, et elle est même parfois touchante : il se met du côté des tout petits de l'Amérique, des frustrés, des humiliés, des losers. A travers le portrait d'un pauv'mec plein de rancoeur, qui passe à côté du rêve américain par manque de caractère, et qui fomente du coup un attentat contre Nixon, il parle avec colère d'une société moderne sacrifiée à l'autel des winners et de la réussite sociale à tout prix. Le sujet est donc tout à fait noble, et le film lui-même est empreint de cette modestie de mise en scène : même si l'ensemble est élégant (dans la photo, dans la musique, dans un montage très "propre"), ce petit truc reste un petit truc, qui s'intéresse à son personnage avant toute considération formelle.
Par contre, au niveau de l'écriture même, Mueller sort des sabots un peu gros pour nous faire comprendre son discours. Les différentes étapes de la descente aux enfers de ce petit personnage sont très attendues, et peut-être finalement que cette histoire (vraie, paraît-il) manque un peu d'épaisseur pour faire un vrai
sujet de cinéma. Frustration professionnelle, rapports conflictuels avec un frère qui, lui, a réussi, couple qui se délite, ambition écrasée par les contraintes bureaucratiques, tout y est pour amener le pauvre Sam Bicke sur la voie de l'irrémédiable, et on assiste à tout ça avec un certain ennui. On sait parfaitement ce qui va lui arriver ensuite, d'autant que le scénario est assez bizarrement construit en flash-back, comme si tout était écrit d'avance. Chaque scène donne la pénible impression d'avoir déjà été pensée à l'avance par le spectateur. Malgré tout le talent de Sean Penn, qui cabotine un peu certes, mais qui respecte aussi joliment la transparence de son personnage, The Assassination of Richard Nixon ne parvient jamais à être le Taxi Driver qu'il aurait pu être. Il en reste aux limites du petit film gentiment en colère, très honnête, intéressant à regarder en tant que témoignage d'une époque, mais manquant franchement d'ambition.