Absolue merveille de la part de Keaton, décidément aussi grand metteur en scène que comédien : The Cameraman réussit le pari d'être un divertissement confinant à la perfection, dans lequel on se marre comme une clé à molette, et en même temps un brillant essai (involontaire ?) sur la beauté du cinéma. Je dis "involontaire", car Keaton semble dans un premier temps se gausser des grands expérimentateurs du 7ème art : pauvre petit photographe qui se retrouve tout à coup avec une caméra entre les mains, ses premiers essais ressemblent comme deux gouttes d'eau aux plans de Dziga Vertov dans L'Homme à la caméra ; le discours étant : c'est du grand n'importe quoi. Avec un soupçon de posture réactionnaire, Buster fustige le cinéma abstrait, convaincu qu'il est de la simplicité de son art et de l'importance de construire une histoire au lieu de s'amuser avec les boutons de sa caméra. On peut ne pas être d'accord, c'est sûr, mais en tout cas, la suite du film nous apportera la preuve que Keaton est un maître incontesté dans la réalisation.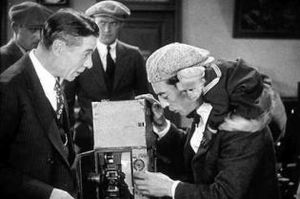 Pour lui, le cinéma sert d'abord à exprimer les sentiments. C'est sûrement le sens de cette ouverture sublimissime, où Buster découvre l'amour par le prisme de son objectif photographique. C'est quand il prend sa belle en photo qu'il se met à éprouver des sentiments, et c'est vrai que les cadres sur la demoiselle sont de magnifiques tableaux amoureux. La mise en parallèle de l'héroïsme des cinéastes documentaires au coeur de l'action et de la modestie de son travail à lui fonctionne superbement : l'amour est une aventure aussi palpitante qu'un incendie. Pourtant, pour conquérir définitivement sa belle, il va devoir se faire grand cinéaste, entrer au coeur des évènements. Le plus fort, c'est qu'on va assister aux échecs successifs de Buster pour obtenir une image intéressante, alors que la mise en scène de The Cameraman est une tuerie au niveau formel : un travelling vertigineux qui suit le personnage sur 5 étages d'une maison, un écran vide qui s'emplit en une seconde de centaines de figurants, une cavalcade à travers la ville filmée en travelling latéral, une utilisation de chaque millimètre de son cadre, c'est un festival d'idées et de trouvailles.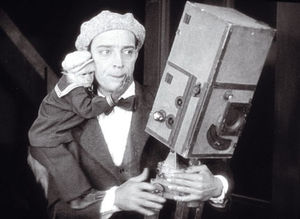 La partie centrale, qui quitte un peu cette histoire d'apprenti-cinéaste, est proprement hilarante. Même dans les plans fixes, Keaton est au taquet, comme dans cette scène où il doit se mettre en maillot de bain avec un gros costaud enfermé dans la même cabine que lui, ou comme dans ce long plan quasi-abstrait où il joue tout seul au base-ball dans un stade vide. Mais on lui sait pourtant gré de revenir à son histoire, dans la deuxième partie : c'est là que Buster devient un grand cinéaste malgré lui. Envoyé au coeur de la guerre des gangs à Chinatown, sa présence est un mélange de catastrophes incontrôlées et d'audace de metteur en scène. Le personnage invente, malgré lui, le panoramique (en tombant d'une plate-forme), le gros plan (en se faisant attaquer par un Chinois), le travelling (en restant accroché à une voiture qui roule), la contre-plongée (quand les pieds de son appareil sont sectionnés par les tirs de revolver), et la scène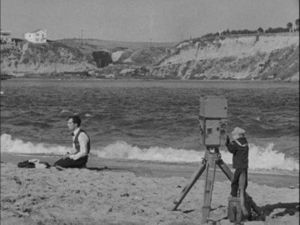 subjective (en assommant ses assaillants avec sa caméra). C'est bien à une sorte de militantisme pour un cinéma du direct auquel on assiste, un cinéma pris au coeur de la vie, sans calcul. Le gars tente même un parallèle audacieux entre le geste pour filmer (tourner la manivelle) et le geste pour tuer (actionner une mitrailleuse), qui sont absolument semblables. Quel plus bel exemple que celui-là pour défendre un cinéma en prise avec la vie et la mort ? Le summum sera atteint avec la scène finale : il doit sauver sa belle en train de se noyer, il abandonne sa caméra pour la secourir, et le tout est filmé... par un singe, qui laisse tourner pendant la séquence de désespoir amoureux de Buster. C'est ce petit bout de film sans contrôle qui lui vaudra la célébrité, c'est magnifique.
Si vous ajoutez à cela un festival de gags énormissimes, où Keaton fait une nouvelle fois la preuve de son talent de comédien, ainsi que de la souplesse de son corps, et si vous y ajoutez la pointe de désespoir qui fait la marque de son cinéma, vous obtenez un chef-d'oeuvre incontournable. Déclaration d'amour au cinéma et à la Femme, moment de burlesque imparable, grand grand film.