Comme dans la plupart des films de JC, on quitte Escape from New-York avec des petits bonds de joie, et une tendance anarchiste bien vissée au cerveau. Il fait partie de ces productions fauchées que Carpenter a multipliées, et qu'il sait toujours doper avec un sens de la mise en scène, une imagination et un discours au taquet.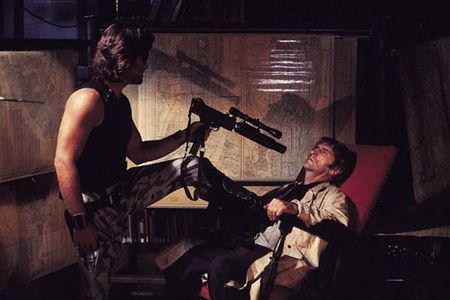 Fidèle à son amour du western dans ce qu'il a de plus classique (il y a du The Searchers de Ford dans cette recherche de trésor en milieu hostile), le gars livre une très puissante vision de l'Amérique du futur, tout en respectant scrupuleusement les règles du jeu du cinéma de divertissement. Son New-York est imaginé comme une immense prison livrée au chaos et à la raison du plus fort, où les actes politiques sont des caricatures de dictatures, où chacun essaye de tirer son épingle du jeu en usant d'un individualisme primaire. Snake Plissken, THE individualiste, libre-penseur et franchement anar, va être balancé dans ce monde primal pour y récupérer le président des Etats-Unis qui s'y est ballotement égaré. Inutile de dire qu'au point de vue de la défense de la démocratie moderne, on peut trouver mieux : Plisken, personnage qui rentre immédiatement dans la légende par la photogénie que lui confère Kurt Russell, est un anti-héros total. Sans opinion politique, sans sentiment, sans idéal, il ne veut qu'une chose : qu'on lui lâche la grappe. Il traite son pays par-dessus la jambe, se fout de la gueule de la paix dans le monde, crache sur tout ce qui fait la morale du monde contemporain, et dézingue tout ce qui se met sur sa route. Et le fait est que c'est bougrement jouissif.
Accroché aux aventures brutales de ce monstre de cynisme, on applaudit à deux mains dès qu'un punk ricanant ou un despote crâneur tombe sous les coups du Plisken. Et de ce côté-là, on peut compter sur Carpenter : entre une bagarre à coups de batte de base-ball cloutée et une bagnole qui fend une foule de manifestants anonymes qui viennent s'éclater sur le pare-brise, on est servi en matière de dézingage. Plisken, alter-ego refoulé de Carpenter lui-même, pulvérise toutes les valeurs : symboles de puissance économique (il y a un avion qui vient se crasher dans une tour de Manhattan, ça me rappelle un truc), valorisation de la femme (les deux seules de la distrinution se font éradiquer sans vergogne), valeurs démocratiques (la fin est punk à souhait). Tout ça dans une élégance de mise en scène et une précision de rythmes diaboliques : le film est toujours lisible, presque réalisé dans le calme, avec un sens de l'espace admirable (le fameux travail sur la profondeur de champ, dont je ne cesserai de dire que Carpenter est un des plus beaux représentants) et un humour excellent. On peut certes préférer le remake (Escape from L.A.), qui ira un peu plus loin dans le nihilisme et le cynisme, mais Escape from New-York est déjà un remarquable brûlot, qui a l'élégance de rester un grand divertissement de samedi soir.
tout Carpenter is bloody here