Impression pénible à la vision de Glory to the Filmmaker : celle de la fin d'un grand cinéaste, mais d'une fin décidée par ce cinéaste lui-même, qui met son point d'honneur à piétiner tout l'univers qu'il avait mis en place, à casser ses jouets, à se rouler avec délice dans son manque d'inspiration. Après Takeshis', qui était encore émouvant justement par cet aveu d'échec et par cette fragilité (est-ce que vous m'aimez encore, semblait dire le film), celui-là arrive comme une redite, et il faut le reconnaître : on compatit devant la dépression de Kitano, mais on aurait bien envie aussi qu'il arrête de se plaindre et nous re-ponde un grand film.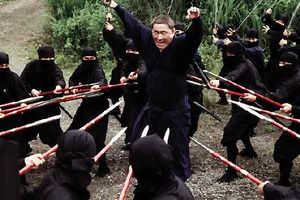 La première heure est la plus regardable, parce qu'elle est drôle : Kitano s'y montre donc en ex-cinéatse reconnu, et fait le constat d'un malentendu : on l'aime pour ses films de gangsters, or il ne veut plus en faire. Il va donc se livrer à un catalogue de styles différents qui pourraient lui éviter cette veine. Science-fiction, bluette sentimentale, film d'horreur nippon, film d'époque, ou Zatoïchi 2, la première moitié du film est une succession de commencements de trames qui se terminent aussitôt tentées. Il y a surtout une séquence "à la manière" de Ozu, qui est assez formidable, Takeshi se rendant vite compte qu'il ne suffit pas de filmer des gens en train de boire du saké et de pleurer pour égaler le maître. Ca fonctionne bien, malgré le catalogue, et c'est vrai qu'on a envie de voir la suite. D'accord, tout cela est très convenu et pas très génial, mais Kitano arrive quand même à nous faire
rire, voire à nous émouvoir avec cette très belle scène de catch mimé par des enfants (photo inspirée et décalage subtil). La dépression rôde derrière chaque gag, derrière chaque plan, mais Kitano a l'élégance de s'en moquer, et ironise même sur le nombrilisme qui est sa marque depuis deux films. Entre chaque tentative de film, on retrouve le héros portant un double en bois sous le bras, qui va le remplacer d'ailleurs à chaque moment difficile de sa vie. Ce pantin, qu'on découvre au début du film porteur de différentes identités (Kurosawa, Ozu, Imamura), va devenir la cible des autres, comme un bouc-émissaire parfait, aussi mutique d'ailleurs que le personnage désormais classique de son modèle : il est une caricature de Kitano, en même temps que son double angoissant (son manipulateur-batman est d'ailleurs souvent visible dans le champ).
Et puis, banzai, comme dit le titre japonais : au milieu de tous ces débuts d'inspirations, Kitano en choisit un, en l'occurence le grand n'importe quoi, et fonce tête baissée. On a alors droit à une heure de délire souvent crétin, trame en vrille, réalisation cheapissime, personnages de marionnettes, qui rappelle les pires heures de gagman du cinéaste (Getting any). L'humour surréaliste de Kitano, très souvent sur un fil fragile dans ses films passés, se voit lâcher sa bride, et tout part en miettes. Deux follasses errant à la poursuite de la richesse, un homme d'affaire qui fait du mouton à bascule, un professeur fêlé qui construit un robot à la San-Ku-Kai, une météorite qui va détruire la Terre, une séance de karaté laborieuse, on ne sait plus du tout où on en est. On dirait du Miike, mais sans l'énergie. Ce qui pourrait être une sorte d'essai punk et dadaïste sur la folie n'est qu'une poussive pantalonnade assez pitoyable : on voit bien que Kitano est malheureux, qu'il ne sait plus quoi filmer, et que ce grand délire est un appel au secours touchant (il y a une scène d'hara-kiri avortée), mais on aimerait qu'il quitte la scène de manière un peu plus noble qu'en balançant ces pets et ces grimaces de clown à la Benny Hill. L'implosion totale du style-Kitano confine ici au suicide, et personne ne lui a demandé de se faire autant de mal. Le manque d'inspiration peut parfois donner un bon film ; deux, c'est plus dur.