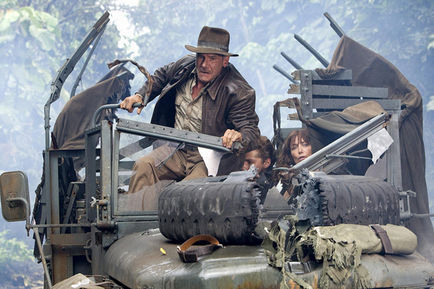 Forcément, comme Spielberg est intelligent sans le savoir, comme il fait souvent des films très profonds tout en pensant faire des divertissements crétins, il lui arrive de pondre des objets foncièrement vides comme ce Indiana Jones and the Kingdom of the Crystal Skull assez impersonnel et fade. Sur le papier déjà, en y réfléchissant, le projet n'est pas très bon : retrouver en 2008, après la révolution numérique, le héros old fashion de notre enfance, ça ne pouvait pas fonctionner. Et c'est effectivement là que le gars se plante le plus gravement. Il délaisse complètement le côté bricolo des opus précédents, et surcharge son film d'effets numériques hénauuurmes qui cassent tout le charme surranné de la série. D'un hommage aux films d'aventures des années 50, Indiana Jones devient un trop gros objet pompier et brandissant la surrenchère comme un drapeau. Spielberg semble mettre son point d'honneur à faire "plus" que les épisodes précédents, et perd du coup tout le charme vieillot qu'il avait trouvé précédemment.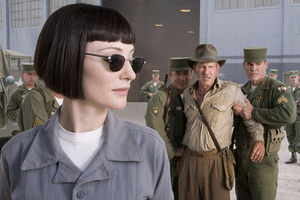 Il le retrouve pourtant ça et là, notamment dans la première scène, très artificielle, toute en décors de studios plaqués, en cyclos pleins de couchers de soleil, en costumes d'opérette (silhouette rigolote de Cate Blanchett en russe obtuse). Là il y a quelque chose du grand Hollywood. Egalement lors de la scène centrale, énorme, une course-poursuite dans la jungle entre jeeps et tanks amphibie, pleine de singes, de fourmis rouges et de mitrailleuses qui s'enrayent. Là, on retrouve le grand Spielberg : un sens du rythme incroyable, une façon unique d'enchâsser les idées les unes dans les autres, en un seul mouvement, une hystérie d'action et d'humour qui irradie l'écran, une folie complète dans les choix (un duel au fleuret, avec les deux protagonistes chacun sur une bagnole lancée à pleine vitesse au milieu des arbres, il fallait concevoir la chose). On retrouve pendant 10 minutes l'espèce de confort passé, on se love dans son fauteuil en appréciant le simple plaisir de se laisser surprendre, c'est parfait. Même si cette séquence est polluée elle aussi par des effets numériques inutiles et voyants (image trop lisse, mouvements trop fluides), même si toutes les idées ne sont pas bonnes (Shia la Beouf qui se transforme en homme-singe), c'est le sommet du film.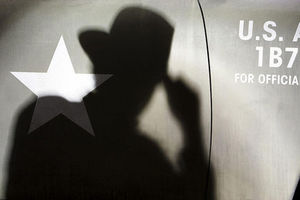 Pour le reste, c'est le tout venant des explosions dantesques, des musiques tonitruantes et des cascades casse-gueule. Spielberg veut jouer sur la fibre nostalgique, et contenter les fans : du coup, toute la première heure est une sorte de parodie des épisodes passés, alors que la série Indiana Jones est elle-même une parodie ; ton sur ton, on décroche. Le film n'est d'ailleurs vraiment pas drôle, dialogues laborieux, vannes de carambar, de ce côté-là le père Indy a vieilli. Harrison Ford fait ce qu'il peut, mais il faut se rendre à l'évidence, il est en fin de carrière et rame franchement pour donner de la crédibilité à son personnage. Quant aux rôles secondaires, ils sont noyés sous la masse des références lourdes (ça va de The Wild One à The Third Man), et complètement oubliés en chemin (John Hurt doit maintenant aller sur ses 140 ans, et il les fait). Même la reconstitution, élément pourtant cher à Steven, est ici amenée avec des sabots de buffle. Spielberg décide de placer son histoire en pleine Guerre Froide, et balance des éléments historiques au petit bonheur la chance : la scène du début,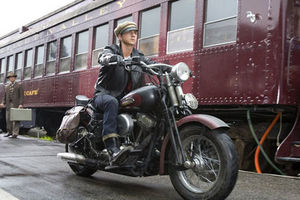 par exemple, où Jones est pris dans un essai nucléaire, au sein d'un village habité uniquement pas des mannequins cobayes, arrive franchement comme un cheveu sur la soupe, dans une trop grande volonté de situer la trame. Ca n'a rien à voir avec le reste du film, un peu comme ces pré-génériques dans les vieux James Bond.
Il reste quand même le charme du suspense et un génie du rythme évident. Mais cet épisode trop visiblement purement commercial est bien inutile. C'est bien pour dire qu'on a vu tout Spielberg. (Gols 28/05/08)
---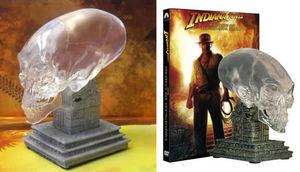 Indiana Jones, opus 4, est un produit purement marketing, on va pas se battre sur cette idée. Je suis content de voir que l'ami Gols - avec lequel nous ne sommes pas toujours d'accord sur le père Spielberg, on en est venus aux mains (l'autre (main...) tenant une bière, ce ne fut point violent) - avoue que souvent les bonnes idées que l'on peut (chercher à) trouver dans ses films sont là presque malgré lui. Il prouve en effet, avec cette dernière aventure du vieil Indy, qu'il est une fois encore un excellent faiseur sans âme. Faut dire qu'il y va fort dans les effets spéciaux et le grand n'importe quoi : qui aurait pu parier que les aventures d'Indy - les dernières, espérons - commenceraient avec une bombe atomique et se termineraient avec des soucoupes volantes? On fait dans la finesse. C'est clair qu'avec son fouet, il fait forcément pâle figure, l'Indiana. Des bonnes idées, malgré lui, oui, Spielberg en a, pour preuve cette séquence totalement irrationnelle où, alors qu'Indy pénètre dans une cité abandonnée depuis 5.000 ans, il se retrouve coursé par 300 gaziers (cela marque des points pour l'affiche) qui sortent de nulle part - doivent bouffer des racines, les gars. Si nos amis Russes s'en débarrassent à grands coups de mitraillettes, l'Indy, lui, est en possession du fameux crâne en cristal qui écartent les bonzes. Comprendre : Indy n'est po un adepte de la violence, il utilise son crâne, un crâne en cristal qui tourne désespérément à vide... Car il faut bien avouer qu'au niveau de la réflexion, on est pas loin du niveau zéro; Spielberg a beau s'amuser avec des écritures anciennes, des énigmes, la solution est toujours con comme un balai et on saute d'une séquence à l'autre sans aucune logique - aimerais bien savoir comment ils accèdent à cette roche en forme de crâne en haut de la chute d'eau de 50 mètres à mains nues... Ok, on s'en fout, faut de l'action, point barre. Une seule séquence - là encore, intelligente malgré elle - a vraiment retenu mon attention, celle de cette ville construite pour les expérimentations atomiques : les mannequins semblent sortis tout droit d'un film d'Antonioni - disons L'Eclipse - et se retrouvent dans un petit lotissement de

banlieue ricaine que le père Spielberg s'est tant plu à disséquer dans les années 70-80 : seulement cette fois-ci, il n'y a pas âme qui vive, comme s'il était conscient que son public était totalement décérébré - une belle mise en abîme pour résumer ces ultimes aventures. TintinTIN, TINtintin... Chapeau bas. (Shang 29/11/08)