Une histoire simple, trois grands acteurs, un femme entre deux hommes et le John derrière la caméra, j'ai toujours su que le cinéma était assez facile... Ce qui est fascinant chez Ford c'est qu'en plaçant la caméra toujours au bon endroit, elle en devient invisible, sans que cela contraigne un tant soit peu les mouvements de ses personnages.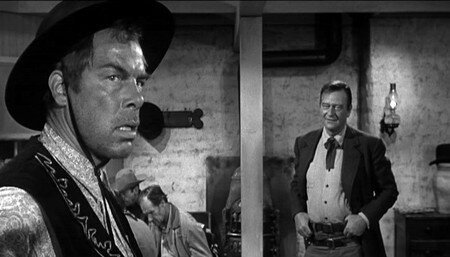 Lee Marvin (Mr Liberty) et sa tronche de pastèque avec les pépins est le bad guy, James Stewart en homme de loi venu de l'Est est le candide qui n'en veut, John Wayne est John Wayne, le type qui déchire et qui te foutrait ta tôlée au pistolet ou aux fléchettes. Si les deux derniers sont bien d'accord pour dire que le Liberty il abuse grave, après chacun pense qu'il n'y a qu'une méthode pour arriver à ses fins : celle de la "démocratie" - on vote, on agit - celle de la force - tu me gaves, je te flingue. Je pourrais ressortir mon laïus sur le fait que le film est hautement politique, mais ça commence peut-être à abuser. Ce qui est d'ailleurs relativement marrant quand on pense au déroulement du film, c'est que d'abord la force triomphe avant que l'on ne finisse par glorifier les négociations - typiquement ricain, non? Bref derrière cette grande tension dramatique sur les moyens d'arriver à ses fins se cache un conflit romantique pour savoir lequel des deux, du John ou du James, finira par conquérir Vera Miles; loin des sentiers battus à la Clint Eastwood, Stewart par son aspect gauche mais déterminé finira par remporter la palme donnant lieu à une scène pathétique où le John Wayne oublie de se raser (terrible), dévasté par cet amour promis qui part en quenouille.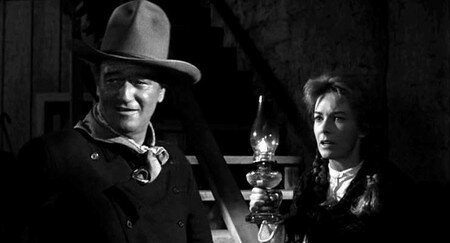 Un fond d'enfer mais aussi une forme aux petits oignons où Ford semble donc nous offrir toujours le meilleur point de vue -ce qui tombe plutôt bien dans ce film où tout est question de position personnelle - avec cette scène finale d'anthologie où en changeant la position de la caméra il parvient à changer la signification du récit (De Palma a dû s'en souvenir) mais pas forcément sa morale : "This is the West, sir. When the legend becomes fact, print the legend." Il faut également reconnaître que les dialogues sont de haute volée ce qu'on oublie souvent dans les grands westerns; j'avoue ma petite préférence pour "drinking beer is not drinking" mais on pourrait citer en vrac quelques répliques qui sont de véritable pépites: "Liberty Valance took the liberty to play with the liberty of press"; Wayne à Stewart après avoir flingué un type: "Hallie wanted you alive. You taught her to read; now go back in there and give her something to read about." Ou encore Stewart, au début: "I won't buy a gun and I will stay here". Du Ford, du cousu main. (Shang - 19/09/07)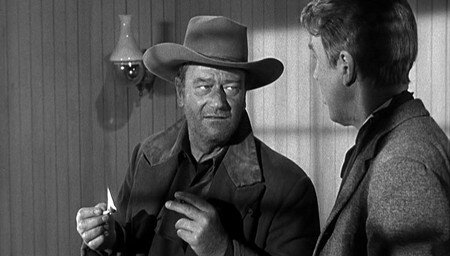 ---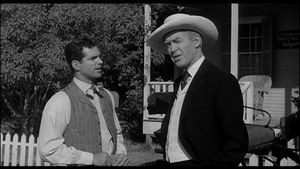 Ah oui, d'accord, c'est du grand art au niveau des dialogues et de la mise en scène, ça fait aucun doute, et je suis à 100% dans l'enthousiasme de mon compère. Mais n'empêche, même si Shang botte en touche, The Man who shot Liberty Valance est avant tout hautement politique. Il est tout simplement question de la naissance de la démocratie aux States, à travers le portrait d'un homme convaincu de la pureté de la loi face à la raison du plus fort. Ford filme avec effronterie les difficiles métamorphoses d'un pays arriéré vers une saine liberté, et remplit son film de scènes "signifiantes" du meilleur effet. Un Black qui récite la déclaration des Droits de l'Homme de Jefferson (il s'en tire en balbutiant : "Je la sais, mais je l'ai oubliée"), et c'est tout un pan bien peu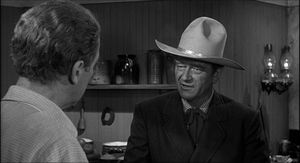 honorable de l'Histoire du pays qui apparaît ; de même pour ce duel entre brutalité et culture auquel se livrent Stewart et Wayne d'une part, et Stewart et Marvin de l'autre. L'Amérique est construite sur la violence (c'est peut-être d'ailleurs pas si éloigné de la vision du Eastwood de Unforgiven, dirais-je en passant et pour contredire mon camarade), et seule la grande droiture de Stewart mettra en doute cette ancestrale brutalité. En ce sens, la splendide scène d'éléctions est franchement parlante, avec ce candidat à l'ancienne (un sosie de Bush Jr, incroyable) paradant avec son cheval blanc, son gun et son lasso, face à Stewart, bras cassé et prostration modeste, qui a pour lui le savoir et l'honnêteté.
Curieux de voir comment Ford, qui n'a pas toujours été aussi critique envers la loi des armes, endosse ce rôle de prêcheur pour la démocratie, allant même jusqu'à livrer un brillant plaidoyer pour la liberté de la presse,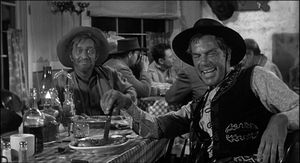 liberté saccagée par les partisans d'une vision territoriale et dictatoriale du monde. Du coup, les cow-boys burnés des temps anciens ressortent de ce film comme des fantômes dépassés (la dégradation physique de Wayne, la veulerie du sherif, l'idiotie sénile des complices de Valance), alors que les vrais héros sont ces êtres certes moins musclés mais droits dans leurs conviction (le directeur du journal, l'avocat ou la patronne du resto). Le film est d'une grande puissance allégorique, plein de mille détails qui enregistrent le changement d'un pays que Ford adore visiblement. En plus, comme l'a dit mon camarade, c'est drôle, glamour, tendu, parfaitement écrit et réalisé avec un savoir-faire épatant. Un grand grand moment. (Gols - 24/11/08)