Voilà un film maudit de Resnais que je finis enfin par découvrir. Difficile de ne pas penser à La Jetée de Chris Marker avec l'histoire de cet homme qui s'enferre complètement dans son passé. Resnais propose un véritable Ovni dans le cinéma français qui mérite sa soucoupe de cacahuètes (si ça, c'est pas un jeu de mots foireux...) mêlant science fiction, montage en cadavre exquis (en apparence) ou "en cut" (on saute d'une image à l'autre) qui finit toujours par faire sens, acteurs au taquet (excellent Claude Rich et troublante Olga Georges-Picot), un film qui fait d'ailleurs parfois penser (pas seulement par la présence de la souris) à Mon Oncle d'Amérique que je vais finir par connaître par coeur.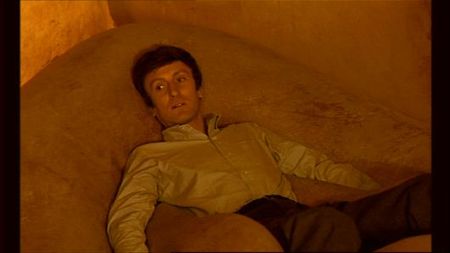 Un homme (le Claude) a tenté de se suicider et dès sa sortie d'hôpital un inconnu lui propose de tenter une expérience scientifique : il l'emmène dans une sorte de clinique perdue au milieu de nulle part (en Belgique, pour vous dire...) et l'invite à revivre une minute de son passé un an auparavant. L'expérience qui semble
fonctionner sur des souris est relativement risquée, mais notre Claude, sans aucune attache apparemment, s'y prête volontiers. On l'enferme dans une sorte de cerveau en carton-pâte et c'est parti pour une heure d'éternel retour... On retrouve notre Claude sous l'eau, explorant les fonds marins (immergé dans sa mémoire, il sera dur d'en sortir...) et lorsqu'il revient sur la terre ferme, il s'adresse à la belle Olga, son amie, étendue sur la plage. Cette petite minute solaire bugue un tantinet, se répète, deux fois, trois fois avant que toute une série d'images touchant à son passé - et surtout à son histoire avec Olga - apparaissent comme des flashs. Parfois il revient au présent, se repasse cette première minute sur la plage mais on ne tarde point à comprendre que l'expérience ne tourne pas rond, ou plutôt tourne en rond, en boucle... On revit sa rencontre avec Olga, on est témoins de l'usure du temps sur le couple, des premières tensions, mais aussi de certains fantasmes de Claude avec d'autres femmes et de la confession de notre héros qui semblerait avoir tué Olga... Le montage est un peu déroutant, forcément décousu mais ces bribes d'informations construisent "intelligemment" l'histoire de cet homme; on se dit que Lynch a du prendre son pied si jamais il a découvert cette oeuvre. Comment sortir de ce passé "infernal", peut-il d'ailleurs véritablement sortir de ce passé qu'il ne cesse de ressasser, that is the question.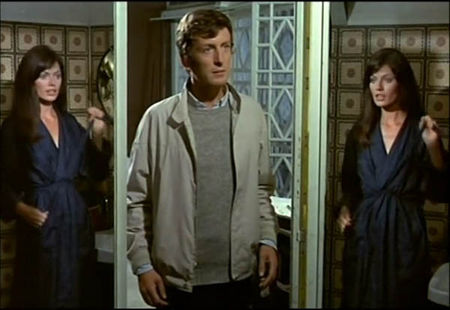 Bien qu'il ne soit pas toujours évident de replacer parfaitement ces saynètes, on sent une certaine jubilation chez Resnais à jouer ce jeu "du chat et de la souris" avec le spectateur. Certaines séquences, un peu décalées, sont de véritable petits joyaux d'émotion : la discussion entre Olga et Claude sur le fait que les hommes auraient été créés pour servir les chats (Marker a dû apprécier), cette discussion également entre Claude et son chaton sur le lit à la fois incongrue et d'une belle drôlerie, la petite souris qui voyage dans le temps avec Claude et qu'il aperçoit mystérieusement sur la plage, celle où il serre Olga dans ses bras que l'on retrouve presque à l'identique dans Mon Oncle d'Amérique (Roger Pierre et Nicole Garcia sur l'île), des séquences qui se répètent mais filmées sous différents angles avec de subtiles altérations voirs des plans presque quasi-surréalistes comme si la mémoire avait des ratés... Loin d'être uniquement une oeuvre purement "théorique" relativement audacieuse, il y a de vrais instants de cinéma qui donnent tout son charme (Claude Rich, petit sourire ironique en coin, répétons-le, y étant pour beaucoup) à ce film qui mérite d'être découvert, vu et revu. Resnais, en 1968, est définitivement, "hors du temps" comme on le dit d'une oeuvre qui résiste au temps. (Shang - 10/11/08)

---
Un film bien étrange, oui, qui fait le lien, disons, entre les films abstraits des débuts et les films populaires de la fin. Porté par un Claude Rich élégant et raffiné comme toujours, mais tourmenté et profond comme rarement, ce bizarre objet science-fictionnel et métaphysique prend le risque de déstabiliser complètement le spectateur et de lui demander pas mal d'effort pour reconstituer cette existence morcelée qu'on l'invite à traverser. Façon puzzle, la vie de cet homme déprimé se déroule sous nos yeux dans un ordre arbitraire, au gré de ses souvenirs et de ses fantasmes, dans un jeu de correspondances quasi-oulipiennes. Un petit détail d'une séquence renvoie à une autre, qui renvoie à un rêve, qui renvoie à une scène déjà vue etc. C'est couillu mais payant : au bout du film, on aura eu une impression (au sens strict du terme : Je t'aime Je t'aime est un fim qui fait de l'impressonnisme son cheval de bataille) générale du type, une impression sans doute parcellaire, se gardant plein de zones d'ombre, laissant en jachère nombre de ses mystères (le pire : a-t-il réellement tué son amoureuse, ou faut-il prendre son aveu comme une preuve de son dandysme ?). Un homme, dit Resnais, est une somme d'expériences, infimes ou capitales ; une petite plaisanterie de bord de mer peut avoir autant d'importance qu'un drame, seuls le souvenir, l'imagination et l'instinct reconstituent tout ça pour en faire une vie. C'est d'ailleurs plus la personnalité de Claude que son existence qui apparaît comme morcelée, dévoilant peut-être une folie, mais dévoilant surtout le caractère d'un homme normal, avec les 40000 expériences de sa vie. Un film métaphysique, oui messieurs-dames, qui transforme un concept philosophique en cinéma sans jamais être chiant ou théorique : c'est ludique, étrange, légèrement anxiogène, déprimé, mais c'est toujours du cinéma, et du bon. (Gols - 26/10/19)