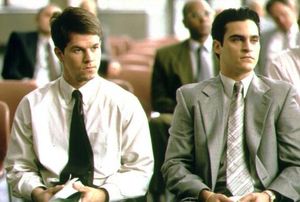 Je sais pas, je dois avoir un truc avec James Gray : je trouve ça toujours très bien, mais j'ai du mal à y déceler le génie que tout le monde y met. Parce que, sincèrement, là, comme ça, entre 4 yeux, qu'est-ce qui différencie The Yards des autres films du même genre ? Je veux parler des Scorsese, Leone, Coppola ? Honnêtement pas grand-chose, le cinéma de Gray ayant même une certaine tendance à ressembler à une compil plus qu'à un renouveau.
The Yards est une histoire de trahisons, de petits traffics et de corruptions dans le milieu des transports ferroviaires. Tous les personnages y sont, le parrain, les hommes de main, l'épouse forte, les politiques verreux, le jeunot qui veut entrer dans le système ; toutes les situations y sont, difficultés de couples, trahisons entre amis, frères poussés à
se dénoncer, menaces et coups de force ; toute l'esthétique y est, clairs-obscurs crépusculaires, musique ample, reconstitution super pro, costumes au taquet... Bref, c'est de la très belle ouvrage académique, mais je le répète, je ne vois pas en quoi c'est différent du Parrain ou des Affranchis. Bon, c'est vrai, le talent de Gray, c'est les acteurs, qui sont absolument immenses, surtout James Caan, petit trafiquant de la vieille école complètement dépassé par la jeune génération, qui montre ses faiblesses avec une très touchante vérité. Wahlberg aussi, tout en silence et en physique figé, dont le visage fermé épouse parfaitement les ombres qui bouffent tout l'écran ; et puis Phoenix, un peu plus attendu en beau garçon inquiétant et brisé, mais toujours aussi élégant. Gray dirige tout ce petit monde dans le murmure, dans l'effacement, et c'est vrai qu'une des qualités de The Yards est de ne pas jouer sur la surenchère, sur des scènes-climax qui viennent relancer l'action : il est d'un trait, assez lent, très silencieux, très calme, et ménage peu de réels évènements.
Tout est réussi là-dedans, de la musique de Shore (qui cite presque textuellement Arvo Pärt sur la fin, avec ces ding-ding de cloches prophétiques absolument sublimes) à la photo très classe, du scénario aux seconds rôles... mais tout était autant réussi dans les autres films de cette veine-là. Gray est un bon faiseur, élégant et raffiné, mais je ne vois pas ce qu'il est d'autre. Quelqu'un m'explique ?