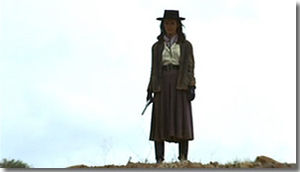 Après ma vision énamourée de Two-lane Blacktop, celle de The Shooting vient confirmer qu'on a bel et bien affaire, avec Monte Hellman, à un génie total. J'irais même jusqu'à dire que les films de Van Sant ou de Gallo ne seraient sûrement pas aussi puissants sans ce film prodigieux : une fois de plus, on retrouve des plans presque identiques dans Gerry et dans The Brown Bunny, références qui déclenchent en moi de petits sauts de joie désordonnés.
Hellman invente ici (ou au moins prolonge) le genre "western métaphysique", avec une radicalité ravageuse. C'est l'histoire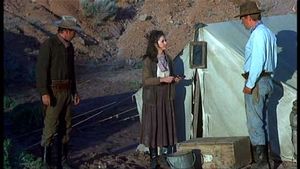 simplissime d'un groupe d'êtres abandonnés dans le désert, pris dans une quête mystérieuse et insensée. A la poursuite d'on ne sait quoi, ils sont surtout prétexte à une errance désincarnée, le ridicule de leur recherche étant plus important que le résultat d'icelle. Le film est bluffant par la froideur de son dispositif : on n'a souvent droit qu'à de petites taches noires au milieu d'un immense décor aride, soulignées par une musique schoenbergienne froide comme la mort. Hellman n'explique rien, ne cède jamais à la tentation de la trame, préférant livrer une variation abstraite et presque surréaliste sur le sens de la quête. Les personnages, abandonnés dans des actes qu'ils ne maîtrisent pas, ne comprennent pas, semblent manipulés comme des marionnettes par le Destin lui-même.
Jamais The Shooting ne tente d'être "plaisant" : il est sans cesse rigoureux, filmé au cordeau par une caméra amère et pointilleuse. Pas de coups de feu ici, malgré le titre, ou alors des coups de feu inutiles, qui tuent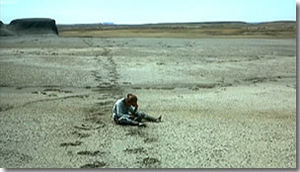 des oiseaux ou qui servent à communiquer; pas de romance (le personnage féminin est dix fois plus dur et assexué que les hommes), pas de sentiments (les relations entre les personnages sont réduits à la portion congrue), pas de morceaux de bravoure : juste des chevaux qui meurrent sous le soleil, des êtres qui marchent dans le vide, des dialogues informatifs réduits à une ligne, des caractères durs et mutiques uniquement guidés par on ne sait quoi. On est en plein mystère, mais on se rend vite compte que l'intérêt du film réside dans le combat plus que dans l'issue, dans les questions plus que dans les réponses, dans la marche plus que dans le but de cette marche.
Beckettien à mort, The Shooting va à l'encontre de toute la tradition du western classique, comme si Antonioni avait voulu réaliser un film de cow-boys. Comme dans Gerry, on est vite embringués dans cette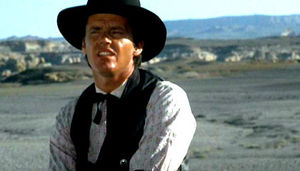 abstraction lentissime, fascinés par les rythmes et les cadres géniaux inventés par Hellman. Pourtant, les personnages sont bien là, dans toute leur désolante et absurde humanité, et formidablement campés par des acteurs bouleversants d'intelligence : Warren Oates, parfait dans son rôle de marionnette bougonne ; Jack Nicholson, qui manie l'étrangeté avec le même charisme que dans The Shining ; Millie Perkins, opaque, une des plus belles entrées en scène du cinéma ; et Will Hutchins, dans le rôle balisé du gentil petit gars, qu'il renouvelle avec une candeur revigorante. Ajoutons que la dernière minute, que je ne révèlerai pas tant la surprise est totale, est ce que j'ai vu de plus beau depuis bien longtemps. Authentique chef-d'oeuvre d'abstraction et d'audace.