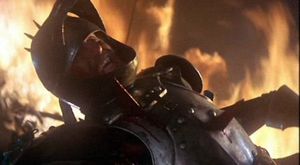 Dans Excalibur, l'important, c'est le "ex". Ben oui, parce que, il faut bien reconnaître que 27 ans plus tard, cette histoire de chevalerie a pris pas mal de rides, et qu'on a aujourd'hui plus tendance à afficher un sourire ironique qu'à trembler pour les mésaventures d'Arthur et de ses potes. Finalement, les créateurs de Sacré Graal ou de Kaamelot, on s'en rend compte, ont à peine forcé le trait pour se moquer de ce genre de productions : difficile d'éviter le ridicule achevé en montrant des gusses engoncés dans des armures et combattant des hordes de méchants (il y a au moins 12 figurants, impressionnant) au cri de "Pour le Roiii, yyyyargh !" avec des accents de dandys. Boorman y tombe souvent, dans le ridicule, mais on se dit que c'est sûrement parce que le film a vieilli ; il y a quand même de belles tentatives de style à mettre dans sa colonne "réussites". Le film est beaucoup moins ridicule que Le Seigneur des Anneaux, par exemple.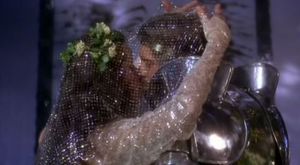 On ne sait d'ailleurs jamais trop si Boorman n'est pas parfaitement conscient de la kitcherie de son entreprise : difficile de prendre au sérieux le personnage de Merlin, notamment, joué avec taquinerie par Nicol Williamson. Le gars utilise sa voix avec une telle artificialité ("you tlyyyyy to kiiiillllll the dlagon, my soooon"), il est confiné dans un costume si minable, son dialogue est si balisé, qu'on se dit que Boorman a voulu en faire un personnage comique, distancé. Il finit enfermé dans une sorte de prison de glace qui a dû pulvériser le budget carton-pâte du film, on rigole bien. Excalibur est fauché d'ailleurs, ce q
ui le rend beaucoup plus attachant que les centaines de conneries d'heroic-fantasy qui sortent de nos jours ; Boorman, de ce fait, hésite à balancer la purée, et ne tente que très rarement la solennité. Quand il essaye de monter la musique de Carl Orff sur des scènes de combat, il tient le coup 30 secondes, avant de se calmer devant le peu de puissance du résultat. Il a bien raison : ces scènes sont beaucoup plus jolies sans dopage. Quand on a deux figurants et des costumes loués à "Tout pour la Fête", on fait pas trop le malin à essayer d'imiter Spielberg.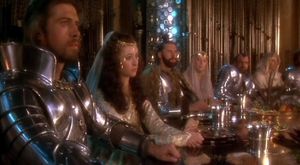 Du coup, le film est étonnamment sobre dans sa plus grande partie préférant travailler sur une certaine animalité de sa forme (les montages parallèles entre mort et jouissance sexuelle, les nombreux plans érotiques, les symboles coquins (l'épée plantée dans le rocher, aaah !)). Il filme très joliment les décors naturels, forêts, petits lacs, plaines envahies par le brouillard, ainsi que les corps souvent nus de ses personnages. Beaucoup de scènes sont comme des prémisses de ce qu'obtiendra Chéreau avec La Reine Margot :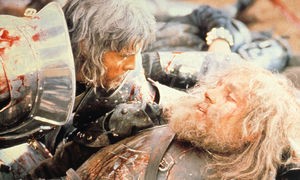 des corps pleins de sang qui se rentrent les uns dans les autres en hurlant. Ceci dit, on se calme, il n'est pas encore à cette hauteur là, et a du mal à se débarrasser de l'imagerie éternelle des films de chevalerie, dans toutes les scènes fantastiques notamment, ou dans ces décors d'intérieur parfaitement ratés. Finalement, il apparaît que Boorman est un beau peintre de la nature, mais un piètre créateur de formes. Les acteurs, eux aussi, sont souvent de simples pantins trop sérieux, qui semblent ne pas jouer dans ce film-là, mais dans un truc beaucoup plus gros. Excalibur est un tout petit film, c'est ce qui le rend attachant, mais c'est aussi ce qui le rend euh tout petit.