Stevens n'est définitivement pas un grand réalisateur, bien qu'on doive lui reconnaître un bon professionalisme. Woman of the Year est à l'image du reste de sa filmographie : gentiment désuet et sympathique, mais poussif et très quelconque. S'il n'y avait pas le joli couple Katharine Hepburn / Spencer Tracy, on pourrait même dire que c'est un film totalement jetable. Stevens échoue systématiquement dans tous les aspects qu'on est en droit d'attendre dans une comédie hollywoodienne des années 40.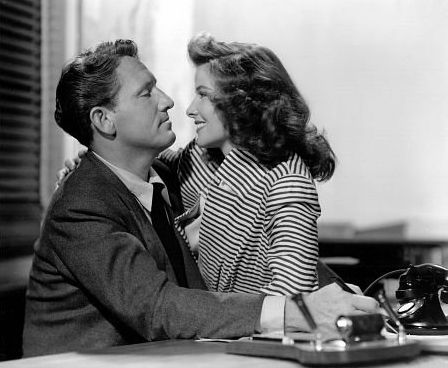 Ses rythmes sont laborieux, hâchés, très sages, et on n'a jamais droit à l'une de ces pointes d'hystérie qui font la marque des grandes comédies. Hepburn pourtant est la spécialiste du genre, mais elle est ici domptée par la platitude de la mise en scène, et par le peu d'épaisseur de son personnage. Sa légendaire ambiguité est étouffée par une psychologie d'un bloc. Tracy, quant à lui, est assez rigolo mais lasse un peu par son éternelle composition de mec bas du front mais gentil comme tout. Le couple fonctionne, certes, la complicité est évidente ; mais par manque d'envie, d'ambition, de talent tout simplement, il manque de romantisme et d'élégance. D'autant que les dialogues (poste incontournable du genre) ne s'élèvent jamais au-dessus du simple sourire : on voudrait du délire, on voudrait que ça fuse dans tous les coins ; mais Stevens n'est pas Wilder ou Hawks, ça reste paresseusement sympathique. Pourtant, il y avait de la matière dans cette confrontation entre deux modes de vie : d'un côté Hepburn, mondaine, cultivée, concernée par le monde et la politique, mais finalement superficielle ; de l'autre Tracy, fan de base-ball, inculte et nounours.
Cette guerre des sexes prend d'ailleurs une tournure embarassante, et on ne sait jamais dans quel camp joue le film. Si les scénaristes appuient sur l'émancipation féminine, en montrant Tracy dépassé par l'indépendance de sa femme, la fin est bien conservatrice, montrant en substance que pour que le couple soit heureux, il faut que la femme reste à la maison pour cuisiner des gauffres à son mari. On ne sait pas trop si c'est le vrai discours du film, mais le fait est que le personnage du mec sort gagnant de ce duel, et que Stevens préfère de toute évidence filmer la bonhommie de Spencer que la sophistication de Katharine. Le gars est pourtant bien beauf, archétype du ricain renfermé sur sa culture populiste, allant même jusqu'à ramener à l'orphelinat un gamin adopté trop encombrant (sous prétexte "qu'il lui faut un foyer"). Critique du mariage traditionnel ou acceptation de la domination masculine, on ne sait pas trop sur quel pied danser... Seule originalité de Woman of the Year : filmer un couple "heureux", ou presque, en évitant soigneusement les scènes de conflit entre les deux tourtereaux. Ces deux-là s'aiment quasiment dès le début, et s'aimeront jusqu'à la fin, d'où une absence d'enjeu qui applatit le scénario. Les petits gags marrants lors de la reconversion d'Hepburn en femme d'intérieur ne suffisent pas : c'est vide, discutable et poussif. Une comédie sans rires, un concept ?