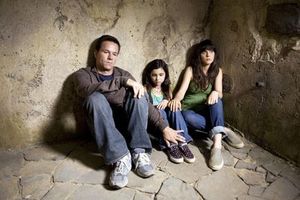 On lit un peu partout que The Happening marque un changement de ton chez Shyamalan. Moi, je trouve pas. Certes, moins de plans-séquences, un sujet un peu plus adulte (quoique...), moins de volonté de nous assommer sous un coup de théâtre final, ça change, et c'est pas plus mal d'ailleurs. Mais quand même, on reconnait le gusse à 10 bornes, ce qui peut amener à penser que le gars Shyamalan possède un vrai style : lenteur dans les dialogues, originalité de la direction d'acteurs, fascination pour l'étrange (et pas pour le fantastique, sa seule tentative dans ce genre s'étant soldée par une daube gigantesque (Lady in the Water))... on reconnaît bien les traces.
Et comme dans tous les Shyamalan, on ressort mi-figue mi-r
aisin. Pour l'aspect négatif, notons une maladresse de montage totale. Il décide de se passer de ces plans à rallonges, mais c'est pour livrer un découpage illisible, illogique et incompréhensible. Les raccords sont pleins de hiatus, tel gros plan enchaînant sur tel autre gros plan, sans souci de cohésion esthétique (comme je me la pête, ce soir, moi !). Un peu comme si chaque séquence était montée dans l'oubli de la précédente. Ca donne au film un aspect hétérogène qui ne fonctionne pas du tout, une succession de couacs qui ne constituent jamais un tout. On dirait un premier film ; c'est parfois touchant de maladresse (la forêt de micros qui apparaissent dans le cadre, mignon), mais c'est plus souvent très ingrat esthétiquement. L'étrangeté de mise en scène qui faisait son effet dans les bons films de Shyamalan (euh, enfin, dans son seul vrai bon film, Signs), ne fonctionne pas ici ; à croire que son style bizarre n'était dû qu'au hasard.
Ensuite, niveau scénario, c'est plus risible qu'autre chose. Ne dévoilons rien pour ne pas gâcher le plaisir,
mais disons que la vision de l'écologie dans ce film est proche de celle d'un ado fan de sciences nat', et c'est plus risible qu'autre chose. Shyamalan se sent concerné par l'avenir de la planète, c'est bien, mais il brandit son petit poing rageur avec beaucoup trop de naïveté pour convaincre. Du coup, c'est la première partie qui est la seule vraiment intéressante, celle où il se contente de filmer les phénomènes sans chercher d'explication. Dès qu'il veut mettre des mots sur le mystère, il se gauffre sévèrement. D'autres défauts encore : une héroïne médiocre (Zooey Deschanel, deux yeux magnifiques mais rien derrière), un moralisme de bazar (la reconstitution des débuts de l'humanité frôle la scientologie) et un final convenu.
Côté qualités : comme toujours ou presque, la direction d'acteurs. De ce côté-là, le gars est rôdé, ayant mis
au point un type de jeu très étonnant. Wahlberg a tout compris de ce style, et propose une interprétation complètement en porte-à-faux, un jeu blanc et décalé, entre parodie et "non-jeu", tout à fait passionnant. Ses scènes de pur dialogue (il y en a beaucoup, il y en a même trop) sont vraiment intrigantes, une façon très lente et dénué de tout affect de le faire parler, et de la filmer en train de parler. Il faut le voir découvrir que sa femme le trompe (potentiellement), ou affronter tranquillement le danger : il n'est presque pas là, à l'instar de ses prédecesseurs shyamaliens (Bruce Willis ou Mel Gibson), déjà presque mort, complètement hébété devant les évènements. C'est très beau à regarder. Et puis le rythme, malgré ce montage heurté, est lui aussi très original : pas d'hystérie dans ce fim-catastrophe, mais plutôt une arrivée très tranquille de la mort, d'autant plus effrayante qu'elle se fait dans la douceur. Shyamalan veut malheureusement trop varier les différentes morts de ses personnages (ça en devient poilant, notamment le type qui passe sous sa tondeuse), et ne sait pas garder la sobriété terrifiante d'un Hitchcock (on pense souvent à The Birds) ; mais dans les nombeux temps de latence ménagés par la mise en scène se cache une vraie angoisse, amenée unisuement par les rythmes, par les suspensions de l'action.
Au final : un tout petit film pas forcément intéressant, mais une vraie originalité de tempo. Reste à savoir si elle est voulue, ou si c'est juste un manque de nerf.