Classique parmi les classiques, Gilda est THE femme fatale, plus troublante presque par les rapports de haine qu'elle semble tisser avec les hommes que par l'amour qu'elle provoque chez eux ; comme si on ne pouvait que haïr ce qu'on ne peut vraiment contrôler... Charles Vidor joue magnifiquement avec ces deux personnages de mâles qui pensent pouvoir tout tenir dans leur main - le jeu, l'argent, comme leur destinée - et qui se révèlent de pauvres pantins qui refusent de voir celle qui tire vraiment les ficelles. Gilda est peut-être parfois désespérément naïve dans la foi qu'elle place en ses compagnons d'un soir, mais apparaît au final comme la seule personne qui place sa liberté au-dessus du reste.
Aucun ingrédient ne manque dans ce casino, éternel symbole cinématographique de destin qui se joue sur un coup de dés, avec les grands vainqueurs d'une nuit et les grands perdants d'une vie... : petit homme d'affaires véreux, policiers à la moustache aussi fine que leur flair, serveurs philosophes (do it again Sam), séducteurs jeunes et beaux comme des camions, méchants forcément allemands (on est en 46, cela laisse des traces) qui tombent de leur piédestal... Les amitiés sont faites pour être trahies, le poids du passé est toujours lourd à porter, les amours ne se résolvent jamais qu'en dernier ressort et les pistes d'aéroport ne sont jamais de réelles échappatoires... Il ne manque presque qu'un petit air de piano lancinant pour que Buenos Aires devienne Casablanca, mais on est point perdant au change avec les numéros musicaux de la grande Rita absolument mythiques : petites paroles qui percent le coeur, longues brassières qui finissent forcément dans les bras d'un adorateur, légers pas de deux ensorcelants, mains dans les cheveux plus glamour tu meurs... et un sourire ultrabrite qui fait passer celui de la Joconde pour une vieille dame constipée.
Le film manque peut-être parfois un peu de rythme, mais gagne en laissant son intrigue se dérouler avec une grande nonchalance qui colle parfaitement au climat de cette terre d'âmes américaines, en perdition, qui espèrent une impossible rédemption. Vidor a le don pour jouer avec les ombres (ombre chinoise magnifique au passage sur George Macready), les personnages qui cachent leurs griffes se révélant toujours les plus dangereux. Quelques dialogues vachards d'anthologie ("Les femmes sont sur cette terre ce qu'il y a de plus facile à trouver... après les insectes"- c'est ça, rêve petit, tu t'en mordras les doigts) et une Rita Hayworth, enfin -mais comment ne pas conclure sur elle - plus irradiante que deux bombes atomiques. Délicieusement noir, put the blame on Rita, mame... (Shang - 27/05/08)
/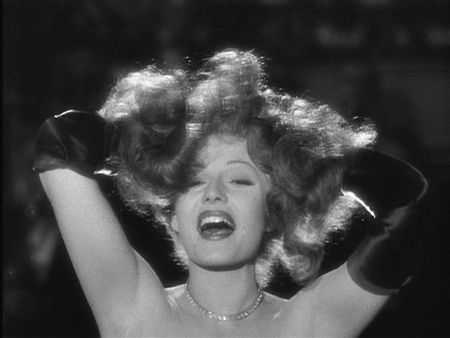 ---
Voilà, plus sexy que Rita et ses gants noirs qui, quand elle les enlève suavement, semblent la mettre complètement à nu, je ne vois pas. Vidor craque de toute évidence autant que le spectateur devant cette apparition charnelle photogénique à mort : la façon dont il la filme toujours sous le bon profil, toujours dans des lumières chatoyantes, comme une aura plus que comme une femme ; les plans qu'il lui accorde, elle se relevant subitement pour rentrer dans le cadre et par la même occasion faire ondoyer ses soyeux cheveux ; les costumes dont il la pare, parfois craquants parce qu'ils sont tout simples, parfois craquants aussi parce qu'ils sont érotissimes : sa façon de lui faire travailler sa voix, chaude, grave ; et enfin la profondeur de son personnage, femme victime des hommes et les utilisant du coup, furie qu'on croit hyper-solide mais qui va peu à peu littéralement s'affondrer, la petite fille colérique déguisée en vamp irrésistible ; tout indique que le cinéaste a trouvé là son nirvana. Le fait que la belle soit d'autre part une excellente comédienne, densifiant son personnage pour en faire briller toutes les facettes, tout en n'oubliant pas de faire crépiter les phéromones de ces messieurs, n'est pas étranger à la grande réussite du film. Car tout, magiquement, se met à son diapason : elle est évidemment le "pourquoi" du film, elle en est le capitaine, mais autour d'elle tout s'articule merveilleusement. Ce qui fait que le film est très beau, très cohérent, et ne se contente pas d'être un écrin pour la belle, comme ont pu l'être par exemple la plupart des films avec Marilyn.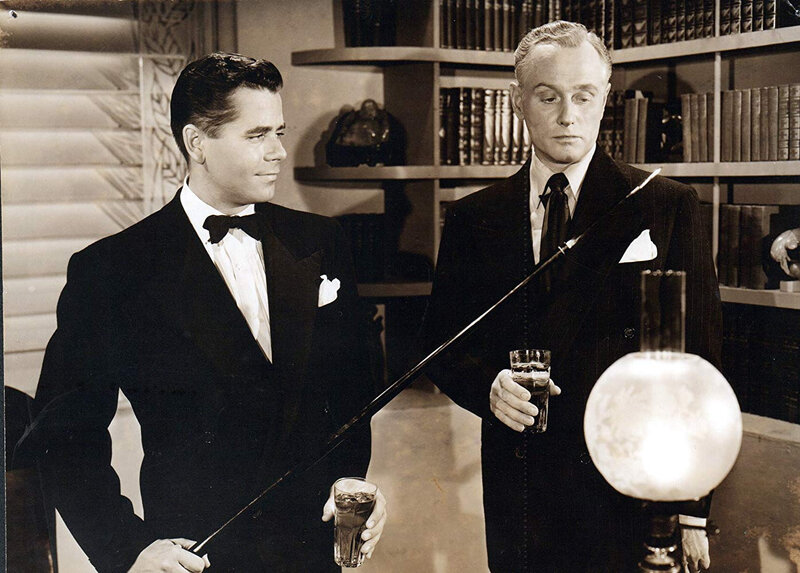 C'est vrai que je ne suis pas très client de ce genre de films hyper-psycho où on passe 1h45 à se dire "je te hais" avant de finir à deux minutes du générique par se rouler des pelles dantesques. Mais Vidor parvient à rendre ces tergiversations spectaculaires, et par transformer son introspection freudienne en film noir de la plus belle eau. Soignant ses ambiances, troussant une musique parfaite (les chansons sont des tueries), disposant des seconds rôles fascinants (notamment un groom qui sert de fou du roi, qui se permet les pointes de critique les plus glaçantes et s'en tire par des pirouettes), il densifie tout ça et lui donne du suspense, faisant oublier le côté chiantus du sujet. Les seconds rôles sont loin d'être des faire-valoir, notamment Glenn Ford, génial d'ambivalence entre le bourrin musclé et sans peur et le petit garçon happé par Rita. Capable aussi bien d'être pathétique (dans les premières scènes, ou quand Gilda étend vraiment son emprise sur lui) ou héroïque (sa façon d'aborder le danger frontalement), il compose un personnage profond et intrigant, mystérieux dans ses comportements amoureux et droit dans ses bottes dans la gestion (de fer) de son casino quelque peu interlope. George Macready est son inverse, cocu conscient de l'être, amer et calculateur mais totalement désespéré, et lui aussi est parfaitement distribué. Que du bien à dire donc de ce film qui n'est pourtant pas ma tasse de thé au niveau de son sujet, mais qui parvient à doper tout ça pour en faire un spectacle magnifique. Put the blame on me. (Gols - 29/11/19)