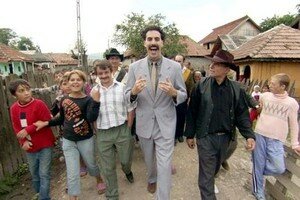 Excellente satire que ce Borat : Cultural Learnings of America for Make Benefit Glorious Nation of Kazakhstan, qui pratique l'impolitesse et l'insolence avec une belle santé, critiquant l'Amérique et son regard sur les minorités avec un courage incroyable.
Sacha Baron Cohen joue un journaliste du Kazakhstan envoyé aux States pour étudier leurs moeurs et en tirer bénéfice pour son propre pays. Il y a du boulot, le gars affichant avec une totale naïveté racisme, antisémitisme, obsession sexuelle, goût pour le scatologie et l'inceste, machisme primaire, cruauté envers les animaux, et j'en passe. Le regard "civilisé" sur les pays lointains en prend pour son grade, tout y passe des clichés possibles, et Cohen se vautre avec délice dans les a-prioris, endossant joyeusement le pire anti-héros qui soit. Mais, au contact des Américains, on se rend vite compte que le bon goût n'est pas forcément
du côté qu'on attendait. Sectes religieuses, patriotisme bas du front, jeunesse alcoolisée et crétine, adeptes du self-defense : Borat va rencontrer le pire de l'Amérique et opposer à leur conviction sa naïveté primaire. Ca donne des scènes franchement hilarantes, d'autant que Cohen choisit souvent l'option "caméra cachée" pour montrer ces rencontres. Avec une inconscience totale, il va livrer un discours pro-Bush insoutenable en plein coeur d'un rodéo texan, critiquer les "Juifs responsables du 11 septembre" devant des gros racistes, présenter une pute obèse à une soirée chicoss, parler du cerveau des femmes ("gros comme celui d'un écureuil") à une rencontre féministe, amener son sac d'excréments à Mme la Baronne, perturber des émissions de télé coincées, rouler des pelles aux gars de la Gay Pride, et rejoindre Malibu pour "pénétrer le vagin de Pamela Anderson". La tronche des gens qu'il croise, à elle seule, vaut le détour : ils sont d'abord tout confits de connaissance de l'Autre, puis gênés, puis finalement révoltés (et parfois violents) devant ce monstre de sauvagerie. C'est ce qu'on appelle du grincement de dents.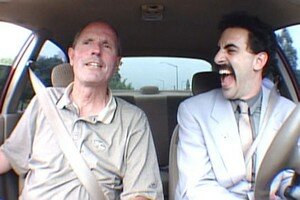 Les scènes "scénarisées" sont également impeccables, grâce à des dialogues énoooormes et au jeu subtil de Cohen : il est odieux et con, mais tellement gentil qu'on finit par lui pardonner tout. On aimerait tout raconter, chaque scène étant un petit bijou d'impolitesse poussée jusqu'à ses limites, pratiquant un mauvais goût salutaire au coeur de cette Amérique blanche, puritaine et effrayante. Précipitez-vous dès maintenant sur ce film de bouts de ficelle, qui va dix fois plus loin qu'un documentaire sur les dessous de l'Amérique, et laisse un goût résolument amer en bouche, malgré la grosse rigolade. Je n'avais pas rigolé comme ça depuis un bon moment.