30 Days of Night a l'air d'un film écrit et réalisé par un gosse de 15 ans, mais qui aurait su s'entourer d'une solide équipe technique. Dans le genre, c'est du coup un film relativement agréable, qui a le mérite de savoir planter une ambiance à défaut d'autre chose.
Le film est en effet assez beau et assez inspiré quand il s'agit de l'originalité de sa situation de base. Ce n'est pas tant ce concept de nuit qui dure un mois qui fonctionne : c'est original, certes, et le fait de planter son action au Pôle Nord est plutôt mignone ; ça rappelle The Thing, d'une part, et d'autre part ça sonne comme une volonté de réaliser un "film d'horreur ++", avec une nuit éternelle et donc 10 fois plus inquiétante. Idée sympathique donc que de créer un film de vampires dans une obscurité qui n'en finit pas. Mais après tout, c'est le lot de tous les films d'horreur que de se jouer dans la nuit plutôt que dans le jour, et 30 Days of Night ne parvient jamais à rendre compte de ce temps qui passe, de cette traque perpétuelle des monstres dans la nuit ; il ressemble aux autres, sans plus. Non, ce qui est bien plus probant, c'est justement ce décor de minuscule ville coupée de tout au sein des glaces et du blizzard. Slade, ou plutôt son directeur de la photo, sait utiliser en plein cette ambiance, et sert quelques plans magnifiques de fin de règne grâce à ce décor : un long travelling en plongée qui suit le massacre des habitants dans les rues, où le sang se répand sur la neige, ou encore un groupe de survivants fantômatique pris dans une tempête. La micro-société représentée par ce village rend encore plus fort le danger qui s'abat sur eux : ils sont loin de tout, et en plus leur unicité est pulvérisée par les vampires. Jolie atmosphère, donc, magnifiée par une musique assez barrée et des couleurs métalliques vraiment belles.
Mais pour tout le reste, Slade est un amateur à la limite de l'idiotie. Le scénario surtout laisse rêveur, en ce qu'il ne contient strictement aucun enjeu. Slade s'inscrit dès le départ dans la grande tradition des films de vampires (un bateau pris dans les glaces qui véhicule la mort), puis laisse tomber le thème pour filmr un simple divertissement. Il y aurait eu pourtant la place pour un film politique (la communauté menacée par l'Etranger, le danger qui vient de l'intérieur) ou "fantasmatique" (les vampires rappellent la force de crédulité des humains, et tiennent à rester dans le domaine du rêve pour les laisser dans l'ignorance) ; mais non, Slade n'en a rien à faire, et préfère aligner des idées ridicules pour résoudre son scénario laborieux. Exemple : pour tuer les vampires, on utilise une lampe à ultra-violet censée imiter la lumière du soleil... Même soûl, on se demande quel producteur a signé pour voir cette idée mise à l'écran.
D'autre part, après une première demi-heure convaincante, le film devient confus comme c'est pas permis :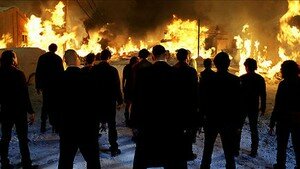 le montage maladroit fait qu'on ne se repère plus du tout dans l'espace, et qu'on perd très vite de vue les personnages, qui se séparent puis se retrouvent puis se font hâcher menu sans qu'on sache ce qui les a amenés là. Quant aux scènes de pure terreur, elles sont totalement illisibles, filmées dans une sorte d'énergie hâchée qui empêche de voir quoi que ce soit. A l'exception d'une scène de décapitation filmée frontalement, on a l'impression que Slade a peur de faire trop gore, ou dissimule son manque de moyens en brouillant la vue. Le film se résume vite à une succession de poursuites suivies de massacres sans réellement déclencher la peur. Trop gentil, le Slade, alors qu'on le sent envieux de jouer avec le feu (une petite fille vampire qui se fait découper en deux par le héros, ça aurait pu être très drôle si ça avait été assumé). Ca vire assez vite au film de potache mal dégrossi et peu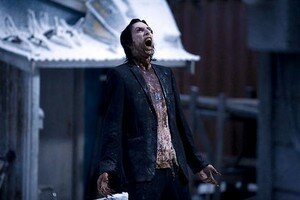 au fait de la technique cinématographique. Les dialogues, hilarants sans le vouloir ("Je t'ai vu trancher la tête de cette petite fille à coups de hâche, mais bon sang, Bruce, tu n'as que 15 ans" (de mémoire)) finissent de nous achever.
Reste donc un beau regard sur la communauté et une grande inspiration dans les ambiances ; on voudrait que Slade réalise autre chose qu'un film d'horreur, pourquoi pas un Out of Africa nordique, par exemple. Mouaif...