Mesdames et messieurs, voici le premier film pour adultes réalisé par Tim Burton (je suis dur, y a eu Ed Wood), et je pense qu'il faut l'affirmer haut et fort : c'est le meilleur film de Tim Burton (je suis dur, y a eu Ed Wood). Je suis rentré un peu à reculons dans la salle, fatigué à force de voir les motifs du gugusse tourner en rond depuis quelques temps. Eh bien, je bats ma coulpe : Sweeney Todd est une merveille, qui, sans aucunement trahir l'inspiration baroque habituelle de son réalisateur, pousse sa noirceur jusqu'à ses limites. On a toujours souri devant les récurrences morbides de Burton, sa façon de jouer avec la Mort comme un gosse ; ici, il tape méchamment sur les doigts de ceux qui ne voyaient dans ce thème qu'un amusement un peu insolent, et nous cloue sur notre fauteuil par un romantisme fiévreux et réellement vénéneux du plus bel effet. Il y a du Baudelaire là-dedans, un Baudelaire qui se serait encanaillé avec Kurt Weil et Dickens, tout en trinquant avec Edgar Poe et le cinéma gore. Bonnes références, quand même, non ?
Tim ne rigole plus. Ou presque. On retrouve bien sa fantaisie débridée ça et là : le personnage magnifique de Bonham Carter, presque à la hauteur de Johnny Depp dans son jeu "cassé", méthodique, maîtrisé ; celui, moins réussi parce que trop familier de l'univers burtonien, de Baron Cohen, seule touche colorée et burlesque du film ; quelques décors encore une fois bien barrés, même si on ne trouve plus, cette fois-ci, de maisons tordues ou de sucettes géantes ; une vraie ironie dans les évènements du scénario, de plus en plus délirants. Mais c'est comme si cette fantaisie était cette fois anéantie dans l'oeuf par un nihilisme punk sidérant, porté tout entier par le royalissime Johnny Depp : visage fermé, personnage implacable, dur, antipathique, jeu d'écorché vif, l'acteur confirme qu'il est THE acteur, bouillonnant à l'intérieur, extraordinaire de tension refoulée à l'extérieur. Le voir équivaut à lire toute une histoire : celle du passé insupportable de ce barbier guidé par la vengeance, mais aussi celle de l'amoureux éperdu, de l'anarchiste violent qu'il est devenu, et, en creux, celle de Depp lui-même (son visage vieillit, et on a l'impression qu'on a vieilli avec lui, signe qu'il est devenu une véritable légende).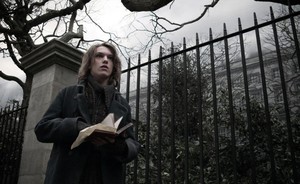 Ce personnage terrassant de violence et de colère, Burton le place dans des décors sublimes : trottoirs sales et presque sépia de Londres, pièces vidées de tout élément (voilà qui surprend après le fatiguant Charlie et la Chocolaterie), caves à la Bacon, rues ternes et grises. L'inspiration visuelle de Burton, qui avait tendance à partir dans tous les sens dans la joie enfantine du gars, trouve enfin sa voie : vider l'écran, pour rendre son histoire encore plus terrible, encore plus désespérée. Il y a certes encore quelques gros effets, pas forcément réussis, d'ailleurs (l'arrivée de Depp à Londres, la scène totalement inutile du concours de barbiers) ; mais ce ne sont pas ceux-là qu'on retient. On retient ces scènes de chansons placées dans des décors nus, où seuls comptent les placements des acteurs, les regards qui se cherchent et ne se trouvent jamais, la tristesse terrible qui émane de ces deux êtres abandonnés à la violence, la solitude des parias. Même si la musique est parfois trop sucrée, un peu mièvre, la façon dont Depp et Bonham Carter les endossent, avec un sérieux et une force qui en annulent toute tendance au ridicule, plonge le film dans un style opératique très vaste. Dommage que Burton ait gardé, en second plan, ces scènes de bluette qui affadissent l'intrigue principale, et dont la musique est pour le coup assez insupportable.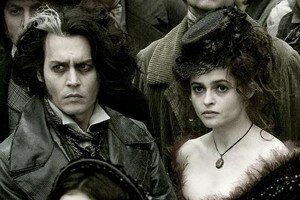 Et puis, il y a l'intrigue. Difficile d'en dire quoi que ce soit sans en révéler les surprises, ce que je me garderai bien de faire. Disons seulement qu'on n'attendait certainement pas Burton dans de tels excès, et qu'on est absolument bluffés par son audace. Ceux qui trouvaient, comme moi, que des films comme The Nightmare before Christmas ou Mars Attack étaient malpolis, pourront vérifier avec Sweeney Todd que Burton avait encore des flèches dans son carquois côté radicalisme. Le film est d'une noirceur totale, et c'est justement ce qui en fait la qualité. C'est un diamant noir, et une grande claque dans la gueule des enfants que Burton avait tendance à trop courtiser. Chapeau bien bas.
PS : Je signale, parce qu'on le fait rarement, que les sous-titres sont remarquables, non seulement par leur traduction, mais aussi par la police de caractère choisie (presque gothique) ! Même si une des répliques les plus jolies est mal traduite : retrouvant ses rasoirs d'antan, Depp s'écrie "Voici enfin mon bras complet", ce qui, pour l'acteur d'Edward Scissorhands, est rigolo. (Gols 28/02/08)
---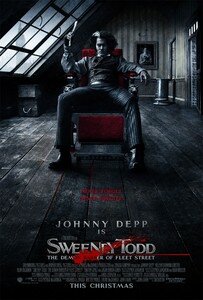 Je reconnais à l'unisson avec mon camarade de jeu qu'après le fadasse et puéril Charlie et la Chocolatrie, on retrouve un Tim Burton au top de sa forme, qui semble enfin s'autoriser tous les excès dans le morbide et le sanglant. J'avais moi aussi un peu peur au départ, avec cette arrivée à Londres sur cet immense bateau, d'avoir encore affaire à un Walt Disney simplement un peu plus noir et un peu plus sombre. D'autant que les mélodies et les timbres de voix m'ont brusquement, au début, fait penser aux chansons de Moulin Rouge et je me suis mis un peu à serrer des fesses dans mon fauteuil. Heureusement après une entrée en fanfare - et un poil clipesque - dans les rues de Londres, on entre dans l'antre de cette pâtisserie où grouillent les cafards et la saleté. Bonham Carter fait preuve d'un gros abattage dans les chansons (ce que renforce ensuite la vision des bonus, où l'on découvre que Depp et cette dernière, apprentis enchanteurs, comme tous les acteurs, interprètent eux-mêmes les chansons qui demandent une énorme classe et un vrai talent), et comme le disait mon collègue fort justement, commence un extraordinaire travail de mise en scène où chaque geste, chaque regard, tout en chantant, garde son importance, est subtilement souligné par le montage ou le cadre. Le scénario va crescendo dans l'horreur - ouais moi non plus je dirai rien puisque c'est ça - et on jubile de voir Burton lâcher complètement les chiens, faire preuve d'autant d'audace visuelle tout en soignant le politiquement incorrect. Depp est comme dans un poisson dans l'eau dans l'univers de Burton et son jeu est résolument éblouissant - même s'il passe son temps à faire la gueule, il le fait super bien, et ses colères, les traits ravagés par la vengeance, sont en tout point impressionnantes. Presque dommage en effet que Burton n'ait pas encore un peu plus épuré les scènes musicales (bon c'est quand même un opéra à la base, faut pas être chien) tant il trouve le ton juste aussi bien dans les séquences dramatiques que dans ces constantes petites pointes d'ironie - on s'esclaffe souvent en pleine séquence totalement horrible, et franchement, c'est réjouissant. Bref, ai un peu du mal à comprendre la froideur de certaines critiques françaises devant cette oeuvre burtonienne à mort, jamais rasante (pouf pouf). (Shang 05/04/08)