Indémodable, pétillant, un rythme de feu, des dialogues à tomber, un glamour légèrement teinté d'érotisme, une audace totale, du poupoupidoop marylinesque à Jack Lemmon qui joue des maracas, cette comédie de Wilder est un régal. Je me demande bien d'ailleurs ce qu'il est bon d'ajouter tant le charme fulgurant opère tout au long de ces deux heures...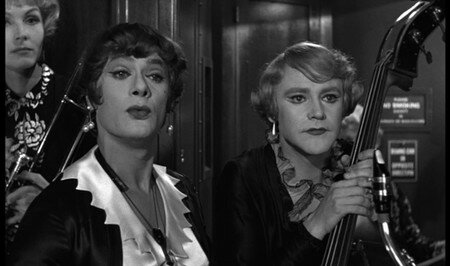 Ca commence comme dans un film de gangsters de la grande époque, Chicago, le cercueil qui sert de cache pour l'alcool, une course poursuite menée tambour battant par la police avec des vieilles teuf-teuf qui partent dans tous les sens, et en prime une magistrale fusillade. Et puis il y a nos deux losers, Tony Curtis et Jack Lemmon, presque plus crédibles en femmes fatales qu'en hommes sûrs de leur coup. Témoins malgré eux du règlement de compte entre gangsters, ils vont passer leur temps à se camoufler, aussi à l'aise sur des talons hauts que dans des maillots de bain pour femme. La séquence où Jack Lemmon, après que la douce Marylin s'est pelotonnée contre lui dans son lit, se retrouve dans sa mini couchette entourée de treize paires de gambettes de femmes est un fantasme à lui tout seul. Marylin, certes un poil rondelette, n'a jamais semble-t-il été autant à la fête et se surpasse à chaque mimique entre deux petits coups de bourbon. Arrivés en Floride, chacun va connaître des fortunes diverses, Tony Curtis flirtant dangereusement avec la belle Sugar Cane - un tournage sûrement terrible vu qu'elle l'embrasse 2315 fois -, pendant que Jack Lemmon fait la bombe avec un "riche milliardaire" finissant, contre toute attente, à se prendre au jeu... Après le polar et les amourettes, on finit dans le burlesque, nos deux musiciennes d'une semaine se retrouvant poursuivies par leur passé. Ca file à deux mille à l'heure, le film est tellement bien emballé qu'on a presque l'impression, alors que "The end" apparaît sur l'écran, que cela vient tout juste de commencer.
Billy Wilder achève ses années cinquante (Sunset Boulevard, Ace in the Hole, Sabrina...) en fanfare, chaud comme la braise. Born to be wild, certes, mais surtout né pour le ciné. Inégalable - s'il n'y avait le père Hawks...