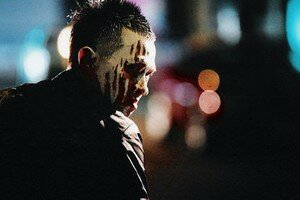 Même si Johnnie To réalise 42 films par an environ, il arrive de temps en temps à nous surprendre, ce qui est tout à sa gloire. Ce Election 1 est magnifique, et prend une distance étonnante par rapport aux sacro-saintes règles immuables du film de yakusas : ici, pas de surenchère, pas de montage hystérique, pas de violence chorégraphiée ; To prend une hauteur tranquille par rapport à son sujet (et au genre dans son entier) pour livrer une oeuvre rigoureuse, mathématique, et en même temps jamais dénuée d'une troublante sensibilité.
On pense au beau film de Im Sang-Soo, The President's last bang, dans cette sorte d'évidage (?) de l'intérieur ; on pense aussi bien sûr à Melville, dans cette façon discrète d'amener la
tragédie antique dans la modernité du polar. Car il s'agit bien plus d'un polar que d'un film d'action. Les scènes de pure action (meurtres, bagarres) sont dirigées avec un calme impressionnant, dans de splendides cadrages qui font perdre tout espoir de projection du spectateur sur les personnages. C'est une course-poursuite en voiture, où les véhicules se cachent tranquillement dans les buissons, où les seules tactiques consistent à se suivre, sans jamais se heurter ; c'est une scène de bataille de rue sans aucun mouvement ou presque, où les machettes s'enfoncent très lentement dans les bides, sans cris féroces de combattants ; c'est une scène de meurtre final implacable, filmée dans la longueur et dans la lenteur (oui, c'est long de tuer un homme), en un mélange étonnant de violence répulsive et de tranquillité formelle.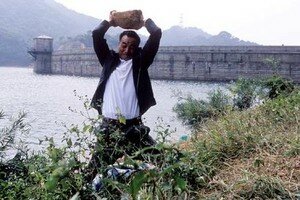 Côté polar, ou plutôt film de mafia, Election 1 est aussi d'un classicisme parfait. Guerre de gangs constituée de tactiques, de discussions, de dessous-de-table, beaucoup plus que de règlements de compte, le sujet devient vite politique. Il n'en est pas moins exempt d'humour, dans l'obsession de cette bande de tueurs pour instaurer la démocratie et le code de l'honneur au sein d'une lutte de gangs bien peu démocratique. Le film met à jour une nouvelle façon d'être un samouraï dans le Hong-Kong d'aujourd'hui : professionnels, institutionnalisés jusqu'à l'absurde, les actes de ces tueurs du XXIème siècle ressemblent finalement à une quête assez métaphysique du "beau geste", de la respectabilité, alors même que la base de leur action est la violence sans sens. To donne un aspect à la fois froid et mélancolique à ce film quasi-abstrait, par un montage d'une rigueur et d'une complexité renversantes, par un jeu en à-plat des acteurs, par une musique lancinante et simple qui revient sans cesse, par une écriture de scénario qui va droit au but. C'est remarquable.
pour Election 2 : cliquez