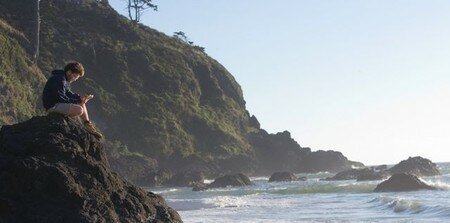 Road movie dans les formes pour Emile Hirsh lorsqu'il décide de tout laisser tomber - famille, études, vie pépère...- et de parcourir les routes sous le nom d'Alexander "Supertramp" (pas le groupe heureusement) jusqu'en Alaska; il fait bien sûr son lot de rencontres, un couple hippie qui bourlingue en caisse, un agriculteur à la coule, une chtite super mimi mais pas majeure (Kristen Stewart, gros potentiel on va dire), un couple de Norvégiens super nature, un vieux tout plein de sagesse... On sent bien que le gars Sean Penn est passionné par ces gens qui vivent en dehors des sentiers battus, qu'en gros le Sean aime tout simplement les gens qui ne se la pètent pas. Beaucoup de regards pleins d'attendrissement, de petits sourires en coin complices lors de ces multiples discussions à la nuit tombante qui forgent notre super clodo. Mais ce dernier est surtout intéressé par le fait de bouffer de la route en solo, de descendre des rapides de la mort en kayak, avant de venir s'installer pour quelques semaines dans un bus perdu au milieu de nulle part en plein Alaska. L'Alexander peut alors méditer sur Tolstoï ou le Walden de Thoreau (forcément incontournable), se demandant si cela vaut vraiment le coup de rejoindre un jour les feux de notre pauvre civilisation, ainsi que ses parents un peu trop froids et matérialistes (genre ingénieurs qui passent leur temps à s'insulter, pas cool pour le gosse).
Le film ne manque pas d'ampleur par la beauté des paysages, et repose sur les épaules d'un Emile Hirsh pugnace prêt à tout pour survivre loin des supermarchés (il chasse, le bougre, et descend même un orignal de la taille d'un 3 tonnes; certes, ça ne vaut pas un épisode de "très chasse" sur la chasse au lièvre à l'arc -il tire à la carabine- mais on voit tout de même de bien jolies bestioles en voie de disparition). Ce rejet radical de la société n'est pas nouveau, ainsi que ce genre de décisions post-adolescentes ("faut voirrr du pays mon chtit gars"), mais Sean Penn parvient à garder un ton empli d'humilité et de modestie sur son sujet : on ne tombe jamais dans une naïveté trop bêtasse (les gens sont en règle générale un peu tous super sympas, mais pourquoi pas - ils ont aussi leurs petits problèmes) ou dans la niaiserie (notre Supertramp trace sa route sans chercher à donner de leçons à qui que ce soit, glanant ici ou là un bon moment). Dommage en revanche que certains effets - notamment lorsque le Supertramp se retrouve en ville, totalement déboussolé - soient à la limite d'un clip de Bruce Springsteen, genre Street of Philadelphia... arrêts sur image, ralentis, un maniérisme visuel un peu gratuit pour évoquer qui plus est une période de dèche pour notre héros. Vraiment pas obligé et par trop facile. D'autant que l'ensemble du film est sur un rythme tranquille, plein d'aérations et de petits moments volés relativement agréables; Sean Penn prend généralement son temps tout en s'attardant pas pendant UNE seconde de trop sur une image un peu trop chromo, genre coucher de soleil ou abeille qui butine (ouais y'en a, mais c'est incontournable quand tu parles de la nature quand même, soyons sportifs)...
Alors qu'on pense qu'on s'achemine sur une classique période de formation pour notre Supertramp, la fin du film est relativement abrupte (c'est pas Grizzly Man, mais bon, il y a tout de même un gros nounours qui fout les boules) et permet également de ne pas rester sur une vision béate d'un retour à la nature forcené. On se retrouve comme deux ronds de flan devant ce destin particulier qui donnerait presque des petites envies fourmillantes d'"hit the road" - mais bon je reviens tout juste d'un mois de vacances avec de bien joulies randos dans nos contrées, c'est pas correct. (Shang - 24/02/08)
---
Into the Wild, pour moi, est réussi à 50%. Vous me direz, sur un film de 2h25, ça vous fait un chouette petit film. Dans l'ensemble, Penn réussit un joli film plein de mignons clichés et de bons sentiments, on verse sa chtite larme comme il se doit, on se dit "ah ouais, p'tain, il a raison, la société c'est pourri", et on redescend sans dommage sur terre après avoir passé un moment sans ennui. Penn a lu les bons livres (plus que Thoreau, c'est les passages London qui m'ont le plus touché, ceux où il saute sans façon dans un train pour sillonner l'Amérique, ceux où il tente d'apprendre les spécificités des plantes...). Bon, mais réussi à moitié, disais-je ; je m'explique :
La partie réussie est la partie "humaine" de la chose. Penn est définitivement un metteur en scène d'acteurs, de personnages, de gros plans, de visages. Il le prouve avec toute cette ribambelle de seconds rôles d'une vibrante humanité qui croisent la route du héros : ma préférence va à un pépé, de toute évidence un personnage réel, qui a construit une sorte de temple dans le désert, et s'en trouve très heureux. La scène dure deux minutes, mais Penn sait capter à merveille le bonheur simple de la rencontre, la sérénité très émouvante de ce vieux gars arrivé à son but. Mais les autres ne sont pas en reste : à p
art deux-trois écueils dans lesquels le script fonce allègrement (les mauvais parents, le vieux catho qui veut adopter le jeune homme, la jeune fille et son chiot craquant qui tombe amoureuse), les scènes de rencontres, scènes purement de dialogue, de jeu entre les acteurs, sont très réussies. Le couple de baboss est tout à fait crédible, lui en sosie de Brautigan bienveillant et calme, elle en maman ratée et désabusée ; pareil pour ce beau personnage d'agriculteur borderline, loin des clichés, et qui porte une scène de beuverie casse-gueule avec une finesse de jeu totale. Le plus petit rôle est parfaitement dirigé par un Penn qu'on sent amoureux des gens, désireux de faire passer un message de partage uniquement par ses acteurs, sans pratiquement jamais tomber dans la culculterie. Bien sûr, il y a des erreurs, toutes les scènes familiales par exemple étant sabotées par le décidément décevant William Hurt, qui se la joue "je suis William Hurt et je suis une légende" avec un cabotinage insupportable. Mais l'ensemble des acteurs est vraiment bien, et ces scènes émouvantes.
Passons maintenant au ratage... Sean Penn, comme la nature, semble bien avoir horreur du vide. Dès que "Supertramp" est seul, c'est assez catastrophique, alors même que Into the Wild voudrait jouersur les vertus de la solitude et des grands espaces. Echouant totalement à rendre compte d'un paysage, et surtout incapable de placer son personnage au sein de la nature, Penn semble s'ennuyer comme un rat mort à chaque fois qu'il doit filmer un paysage. Du coup, il sature ses plans d'éléments artificiels qui en gachent toute la beauté : musique folk planante et gavante à force, couchers de soleil rose bonbon, maniérisme dans les effets (ralentis, accélération, montage haché, éternelles vues d'hélicoptère, tournicotis autour de l'acteur...). On a même droit à une descente en canoë kayak digne d'une bande-annonce d'Eurosport. Tout y passe de ce qu'il aurait fallu éviter. Jamais on n'a l'impression que Supertramp est seul, jamais on ne conçoit sa relation à l'espace, jamais le "fond" du film
(quitter tout et partir) ne devient concret à l'image. Du coup, Into the Wild est extraordinairement bavard, y compris dans les scènes où le héros est seul : voix off redondante, incrustations inutiles et lourdes de mots sur l'écran, paroles des chansons qui soulignent chaque image. Penn ne s'efface jamais devant la nature, visiblement effrayé par ses paysages, convaincu qu'ils ne suffiront pas pour déclencher l'émotion. Il y a d'ailleurs un plan qui en dit long sur son manque de courage à cet endroit : Supertramp bouffe une pomme, et ne peut s'empêcher de parler à la pomme (ça déclenche le rire des spectateurs, mais c'est totalement faux), pour finir par adresser une grimace directement à la caméra ; Penn est là, dans le plan, alors qu'il aurait dû s'en extraire et laisser parler les images. Et Hirsch, de toute évidence, joue pour lui, ou en tout cas pour la galerie : cabot à mort, il peine à faire croire qu'il est seul ; même quand il est censé l'être, son jeu est tellement too much qu'on sent pratiquement l'équipe de tournage le regarder et les filles s'extasier. Bref, c'est tout juste si on n'entend pas les pas du metteur en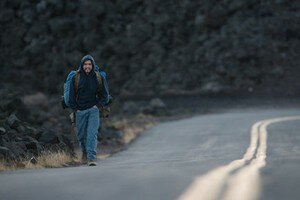 scène crisser dans la neige en même temps que ceux de son héros. Orgueil trop développé, manque d'audace ? En tout cas, la nature dans sa vérité n'apparaît jamais dans Into the Wild : elle est soit déguisée, soit escamotée, soit abordée comme un enfant timide. Peut-être après tout était-ce le projet initial : montrer la faillite de toute tentative de vivre en solitaire dans la nature, et surtout la faillite de rendre compte des beautés d'icelle. Une des phrases de la fin semble bien vouloir dire ça : Supertramp qui écrit dans son cahier "Le bonheur n'est valable que partagé". Pour voir un vrai film sur la solitude, voyez plutôt l'intéressant Cast Away de Zemeckis. (Gols - 09/03/08)