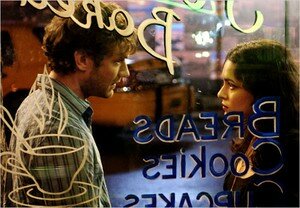 Quoi qu'en disent nombre de critiques, WKW ne s'est pas contenté, pour son escapade aux States, de trimballer sa panoplie d'effets de style. Bien qu'on reconnaisse le gusse à 3000 km, il semble bien qu'il ait réfléchi à la spécificité de ce nouveau territoire cinématographique et géographique avant de le filmer : les USA sont le pays de l'Actor's Studio, du théâtre psychologique, des grands espaces et du glamour ; aussi, My Blueberry Nights va-t-il se concentrer sur les personnages, sur les dialogues, sur la nature et sur le côté pétillant de son scénario.
Pour les premiers (les personnages), c'est là que ça pèche le plus. On préfère quand WKW filme une Maggie Cheung fantômatique plutôt qu'une Norah Jones qui se veut concernée : elle est assez mauvaise, ainsi malheureusement que l'ensemble de la distribution, qui minaude à qui mieux mieux comme pour montrer ce que c'est qu'un acteur américain. A force de beautés fatales qui n'ont rien d'autres à proposer qu'une plastique spectaculaire et des poses de stars, le film finit par s'enfoncer
dans un aspect "toc" bien dommageable. La deuxième partie (il y a trois histoires en tout) est la plus artificielle, les personnages se trouvant totalement effacés par des acteurs pénibles qui surjouent et grimacent inlassablement (le combat Norah Jones-Rachel Weisz se termine par un match nul, vraiment nul). Un manque de direction, sûrement, ou une mésentente de la part de ces comédiens du style-WKW : certes, les personnages de 2046 ou de In the Mood for Love n'étaient pas beaucoup plus épais, étaient là comme des archétypes plus que comme des caractères ; mais le jeu "blanc" de Cheung ou Leung servait autrement mieux l'ampleur du projet que ces comédiens roublards et jolis. Seule la précieuse Chan Marshall/Cat Power s'en tire à merveille, dans une trop courte scène, puisqu'elle a compris qu'il ne fallait pas ajouter de la manière à la manière. Le style de WKW est voyant, on est d'accord, autant s'effacer et le laisser filmer, sans vouloir prendre le premier plan.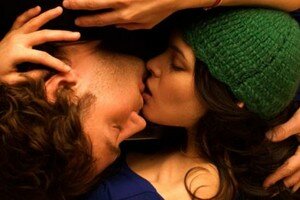 Pour ce qui est des dialogues, et du scénario en général, c'est beaucoup mieux. La chose est joliment construite autour de trois histoires, donc, la première (portée par Jude Law) s'infiltrant doucement dans les deux autres. Si la partie centrale est bien terne, le début et la fin du film sont assez réjouissant. On est dans la légèreté, dans les gentilles idées, mais c'est tout de même très joli : la première partie est une histoire de clés abandonnées par des couples séparées, de femme qui vient chaque soir manger une tarte aux myrtilles et dont on découvre la vie par bribes, de huis-clos sentimental bien dessiné. La dernière est un road-movie attachant autour du fric et de la complicité de deux femmes, bien écrite. Les dialogues fusent, très artificiels là aussi, mais bon, c'est du Wong, on n'est pas chez Rosselini. My Blueberry Nights est sûrement le film le plus bavard du maître, et il montre qu'il est tout à fait capable d'écrire des dialogues fins et gentiment profonds. Les idées d'écriture sont nombreuses, et le film bien charpenté. Au final, cette histoire de voyage initiatique qui consiste à traverser la rue pour trouver l'amour est "wongkarwaissime" en diable. C'est glamour, léger, pétillant comme du champagne, souvent touchant, souvent drôle. Parfait.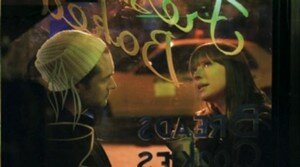 Le reste, filmage et mise en scène, c'est là aussi du grand spectacle. WKW sur-utilise ses ralentis improbables, qui renversent à chaque fois (sublime photo, couleurs incroyables, du nouveau venu Darius Khondji, qui ne fait pas regretter Christopher Doyle), monte son film au taquet et s'éclate à filmer les rues et les intérieurs américains (je vous laisse imaginer ce que peut donner un casino filmé par WKW). C'est magnifique, il faut le reconnaître, et en plus il évite la plupart du temps le côté clipesque qu'il a tendance à draguer de temps à autre. La musique de Ry Cooder est très belle, rendant même un hommage bluesy à celle de In The Mood, laissant la place aux sublimes chansons de Cat Power ou de Norah Jones quand il le faut. Et puis, il y a ces grands espaces américains, que Wong montre avec amour et passion : longues routes sans fin, montagnes désertiques, villes tentaculaires...
My Blueberry Nights passe comme une petite bulle de fraîcheur, d'une légèreté peut-être un peu trop... légère, mais avec un sens toujours aussi aigü de l'esthétique et des rythmes. Ca se vautre carrément dans le maniérisme, mais c'est aussi un peu ce qu'on était venu voir. (Gols - 29/12/07)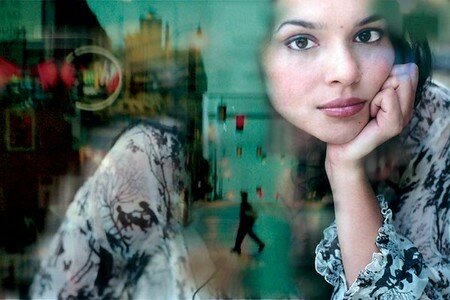 Ouais grosse déception tout de même que cet essai américain du Wong Kar-Wai. On retrouve les trains qui passent dans la nuit de Chungking Express, les couleurs rouges-vertes-bleues pétantes de Falling Angels, un poil de la BO d'In the Mood, des portes qui se referment deux fois comme dans 2046, l'éternelle passion un peu systématique pour les ralentis, et même des plans sur des bagnoles (la nouvelle passion de Wong depuis sa pub pour BMW?), mais plutôt que des "clins d'oeil" obligés à ce qui constitue son style, cela finit par apparaître comme de simples "ficelles" (comme disait justement le père Julien hier soir à propos de Terrence Malick et de tant d'autres qui ont du mal à se renouveler). D'autant qu'ici point de maestria dans la narration, des dialogues que j'ai trouvés pour ma part relativement raplapla, des acteurs qui ne font jamais que montrer leurs jolis minois sans aucun feeling, sans parler d'une absence totale d'humour, voire de rythme. Si ce n'est la jolie idée d'un gardien des clés comme des promesses toujours possibles d'un éternel retour d'une femme ou d'un homme aimé(e), que de discussions de comptoir usantes autour de personnages qui se lamentent sur leur sort. Jude Law ou Norah Jones s'improvisent consolateurs d'un soir, mais Dieu qu'on s'ennuie en écoutant 4 ou 5 fois le même air de Norah Jones pour venir combler les vides et permettre à Wong un petit travelling au passage sur des néons. Certes, une trace de glace à la vanille sur les lèvres pulpeuses de la Norah c'est tentant, mais il n'y a pas de quoi tenir 1 heure et demie en attendant que le Jude se décide à l'embrasser; cela d'autant que la fin se devine dès la première minute, et on voit d'ailleurs mal ce que la pauvre Norah a appris entre temps dans son périple américain en tant que serveuse sur la psychologie humaine - ah si, l'alcool est dangereux, et le poker faut aussi faire gaffe. Fan ultra-cosmique de Wong, j'ai du mal à exprimer mon désappointement. Et même po un bout de tarte aux myrtilles sous la main pour se consoler, gosh. (Shang - 24/02/08)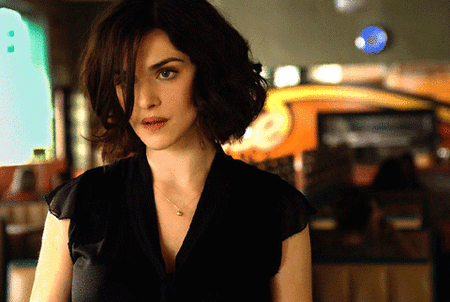 Tout WKW : cliquez