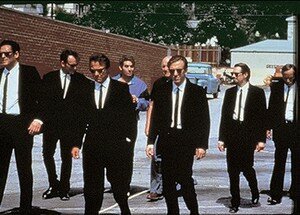 Pas la peine d'en faire des tonnes sur ce film (si vous ne l'avez pas vu vous êtes né en quelle année? en 1985? Ca existe ça?), tout a été dit sur le Tarantino; malgré tout, à cette énième revoyure (et pourtant je suis pas forcément un fana du type), on reste bluffé par ce sens de la multiplicité des cadres, cette maestria dans l'enchaînement du montage et cette direction d'acteur au millimètre.
D'entrée de jeu, lors de cette discussion ô combien philosophique autour de Like a Virgin de Madonna, il y a une variation de plans hallucinante (il a fait combien de prises, nom de Dieu ?) que ne dément jamais la suite; plongée, contre-plongée, travelling arrière, plan d'ensemble, plan américain, il récite toute la grammaire du petit (oui, bon, du grand) cinéphile; ma préférence va notamment à ces plans caméra à l'épaule lorsque les braqueurs sortent du hangar (on se sent encore plus fébrile qu'eux) et à ces mouvements de caméra tanguant pour suivre la danse improvisée sur Stuck in the Middle with you, avant que celle-ci se détourne pudiquement lors du découpage d'oreille (qui a dit que Tarantino se complaisait forcément dans la violence ?... oui bon, il y a de ça, mais il sait aussi en jouer). Steve Buscemi en Mr Pink super énervé trouve dans le très sobre Harvey Keitel le parfait sparring partner, Tim Roth en type qui jure sa race qu'il ne veut pas crever ici bêtement est d'un réalisme troublant, bref tout le monde est à donf dans son personnage et ça fait plaisir à voir. Docteur es musique, Tarentino sait toujours en user dans les moments forts ; quant à ce sens inné du montage qui fera sa marque de Pulp Fiction à Kill Bill en passant par Jackie Brown (le film tombe toujours sur ses pieds malgré un éclatement du récit), il permet d'illustrer le fait que l'on peut flash-backer sans jamais embrouiller (c'est un peu l'inverse de Lelouch quoi)
Reservoir Dogs reste mon plus grand émoi quentinesque, le film où l'on ressent le plus sa furieuse envie de passer à l'acte. (Shang - 20/11/06)
---
Je suis mon collègue pour l'essentiel de la critique : Reservoir Dogs, c'est mythique, toutes les bases du Quentin sont déjà posées, et c'est sûrement pas loin d'être son meilleur film. On est loin du chef-d'oeuvre total quand même, reconnaissons-le : Tarantino est déjà le grand réalisateur formel qu'on connaît, mais c'est déjà aussi le faiseur un peu roublard et privé d'encéphale qu'il n'a cessé d'être. Reservoir Dogs, c'est con, comme l'ensemble de la filmographie du gars. Ce qui ne veut pas dire qu'il n'est pas bon ; il faut simplement accepter le fait que Tarantino n'a pas grand-chose à dire. Ici, donc, pas d'explications particulières à fournir : on assiste simplement (et avec plaisir) à la décimation (...) d'un clan de voyous, avec force jets de sang et moults grimaces d'agonie, tout le délice venant de la forme et non du fond, totalement absent.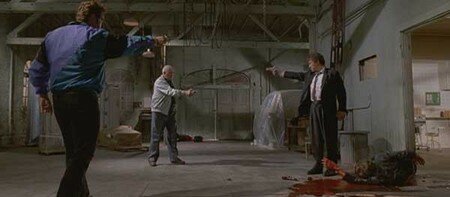 Ceci dit, au niveau de la forme, on est effectivement dans le grand de chez grand. Je ne reviendrai pas sur ces plans hallucinants déjà décrits avec brio par le Shang. Reservoir Dogs est un festival visuel, où la caméra impose délibérément sa présence : jamais on n'oublie Tarantino derrière le scénario, il est omniprésent, faisant de la mise en scène et du montage les vrais héros de cette histoire. Le petit rôle qu'il s'est octroyé est loin d'être modeste : c'est lui qui imprègne le film, en tant que réalisateur, sur-formalisant chaque geste, rendant mythique chaque expression de visage, chaque ligne de dialogue.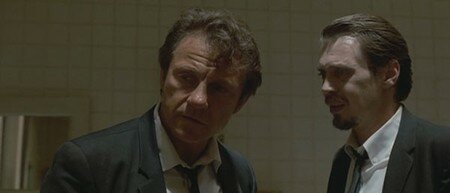 Euh, là où je ne suis pas trop mon collègue, c'est sur le jeu "sobre" de Keitel : s'il est sobre, Jim Carrey est un acteur straubien. Il faut le voir pousser un cri de grizzly en phase terminale, ou hurler de sa voix sur-aigüe pour se conforter dans l'idée que la direction d'acteurs de Quentin, impeccable effectivement, n'est pas du tout tournée vers le réalisme, mais vers le grand-guignol, l'excès, l'emphase. Il en va de même de Chris Penn, qui utilise son regard avec la finesse d'un bulldozer enrayé, ou de Tim Roth, que mon camarade juge "d'un réalisme troublant".... ça laisse rêveur quand on le voir ruer des quatre fers dans une voiture après s'être pris une balle dans le ventre (fuck, I don't fuckin' wanna die, fuck fuck), ou livrer une copie du jeu de Pacino dans Scarface. Tarantino ne fait tout de même pas dans le documentaire et a peu de rapports évidents avec Rossellini. Je reconnais que les acteurs sont excellents, hein, comprenez-moi bien, mais justement parce qu'ils sont totalement hors de la réalité, condamnés à être des personnages de cinéma "bigger than life", ce qui fera la marque des acteurs tarantinesques futurs (Travolta dans Pulp Fiction ou récemment Kurt Russell dans Deathproof). C'est l'exagération qui fait la qualité des films du gars, et Reservoir Dogs est un de ses films les plus excessifs. Définitivement immanquable, en tout cas. (Gols - 10/02/08)