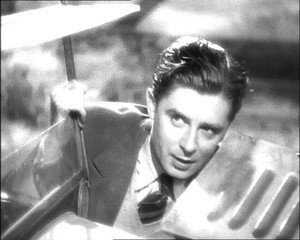 Bien que manquant un peu de réelles inventions, Young and Innocent est un joli film de la période anglaise de Bouddha. Ce n'est pas révolutionnaire, il ne fait pas partie des Hitch que je regarde avec des petits bonds de joie et des jappements de plaisir, mais le charme est bien là. Grâce en soit rendue certainement au scénario, qui fait la part belle au glamour et aux personnages : un jeune éphèbe so british, accusé de meurtre et qui prend ça avec un flegme et un humour très élégants, profitant de sa fuite pour se marrer un peu parce que y a pas de raison ; une vierge énamourée qui lui jette des regards de chaton ; un clodo rigolo ; et une tata possessive et coincée du bulbe. Galerie de portraits qui fait le charme du film, à laquelle Hitch adjoint quelques flics résolument foireux, incapables de trouver le moindre indice : ils sont bloqués par des trains, ils sillonnent la forêt quand le fuyard est en ville, ils tombent en panne d'essence, ils se font attaquer par des clébards... Bouddha règle gentiment son compte à la maréchaussée, et c'est plutôt réjouissant.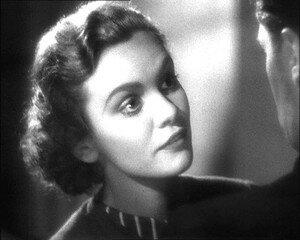 Le scénario, classique mais bien construit, ménage son lot de décors changeants (auberge, plage, mine, grange pleine d'araignées, foyer de SDF, demeure bourgeoise, grand hôtel), et sait aussi arrêter le récit pour se concentrer sur des détails touchants. Il y a de nombreuses scènes qui n'ont pratiquement rien à voir avec le récit, mais sur lesquelles Hitch s'attarde, et qui participent pleinement à l'ambiance du film : un petit garçon qui n'arrive pas à servir l'essence à la station, une bagarre de pochtrons dans un bar, un plan qui s'attarde sur des ouvriers au travail... Young and Innocent est en ce sens un joli tableau de la vie de province en Angleterre, qui prend le temps de regarder une famille en train de manger, par exemple, ou de construire une de ces immanquables maquettes de trains sans lesquelles Hitch ne serait pas tout à fait Hitch.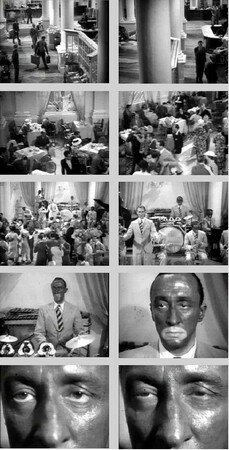 Trois coups de génie malgré tout dans ce film assez tranquille par ailleurs : d'abord un plan furtif qui fait se rencontrer les cris d'horreur de deux jeunes filles avec les hurlements des mouettes (le gros plan sur les volatiles rappelle immédiatement Les Oiseaux) ; une longue séquence ensuite où le suspense repose sur des enfants qui fêtent un anniversaire (nos deux héros parviendront-ils à échapper à la partie de colin-maillard pour continuer leur périple ?) ; et surtout le mythique travelling avant qui démarre sur une salle de réception en plongée, prise dans son ensemble, pour focaliser en une minute sur les yeux de l'assassin perdu au milieu de la foule (même idée que dans Notorious, avec la scène de la clé) : plan effectivement virtuose, qui place le minuscule drame au milieu d'un grand barnum, et qui amène un des meilleurs suspenses de Hitch. Le public sait où se trouve le coupable, les héros l'ignorent, et toute la tension de la scène est basée sur ce que va faire Hitch pour les aider à boucler l'histoire. Immense.
Voilà, un très joli petit Bouddha qui ne paye pas de mine, modestement raconté, qui ne s'énerve pas et suit fièrement son bonhomme de chemin. (Gols 01/02/08)
---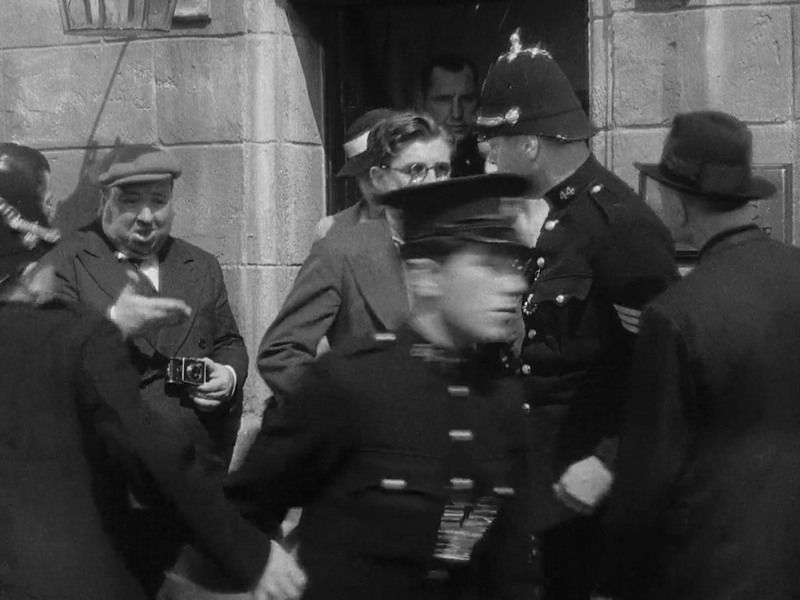 C'est vrai qu'il s'agit d'un film particulièrement léger dans l'œuvre de Bouddha, une sempiternelle histoire de faux coupable fuyant en bagnole avec sa douce - si proche d'autres œuvres d'ailleurs qu'on finit forcément par les confondre un peu. Ce faux coupable là, aura droit à sa quête (celui de son propre manteau qui devrait l'amener au coupable), à sa romance (elle est très bien cette petite Nova Pilbeam, pas prétentieuse pour un sou), à ses aventures (impressionnante scène que celle de la voiture qui s'effondre dans la mine avec une scène incontournable chez Hitch : cette victime qui tombe dans le vide, secourue d'un doigt par son sauveur). Petit film mais avec en effet des motifs très reconnaissables de la patte bouddhiste (Bouddha qui au passage semble lui-même s'amuser comme un petit fou : pour preuve cette apparition avec un appareil photo, à la sortie du commissariat, et ces petits gestes démonstratifs d'énervement feint) : on retrouve cette façon toujours très potache pour le faux coupable de tromper la vigilance des flics ou d'autres éléments perturbateurs ; une paire de lunettes pour passer incognito, une défenestration un peu maladroite dans un vieux moulin désaffecté (Hitch aime bien les vieux moulins), une partie de colin-maillard qui tire en longueur, comme si finalement l'essentiel était dans ces petits moments de suspense sans véritable danger : Nova et son compagnon tentent désespérément de s'extraire de cette famille collante et l'on sent tout l'importance qu'Hitch attache à cette séquence, montrant une Nova en marge de ce pataquès de fête, de cette lourdeur festive ; il faut s'échapper par tous les moyens de ce quotidien si morne, de ces gens si plats, si prévisibles... Et tant mieux finalement si c'est pour un meurtre, cela donne un peu plus de piquant à la chose...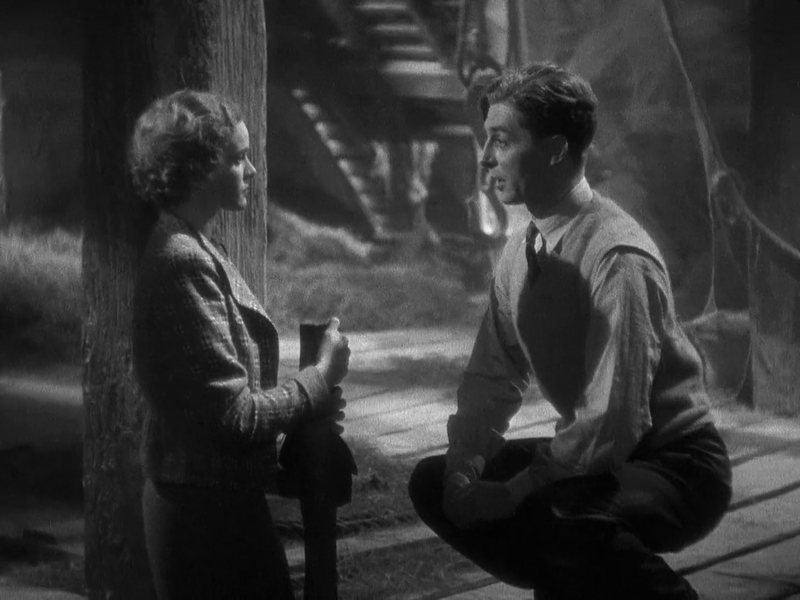 Gols en parlait et c'est en effet évident et jouissif : Young and Innocent possède une petite séquence de maquette ferroviaire du meilleur goût, avec un soin apporté au détail absolument délicieux... Cette locomotive fumante qui amène sa stridence et ses éclairs de lumière dans la nuit apporte un cachet indéniable à cette fuite de nos deux tourtereaux qui s'embourbent un brin. Ils sont seuls, perdus, dépités, et puis il y a ce train qui les sort en quelque sorte de leur torpeur comme il les protégera plus tard dans leur fuite ; il y a toujours ce motif d'aller ailleurs, de progresser, d'avancer coûte que coûte même si en route les deux héros se demandent un peu où tout cela peut bien les mener... Le doute et puis finalement le hasard qui permettra enfin de confondre le vrai coupable ; Nova avait fait la rencontre de Robert en lui prodiguant des soins, elle le sauvera en allant en prodiguer au meurtrier : la boucle est bouclée, nos deux gentils compagnons, jeunes, innocents et parfois par trop naïfs, parviennent tout de même à remporter la manche face à cette tribu de flicaille inutile et à ce daron incrédule. Il a fallu s'employer nom d'un chien pour que tout finisse bien. Toujours frais, ce bon petit polar sans prétention, mais avec de vraies pépites d'Hitch. (Shang 26/11/20)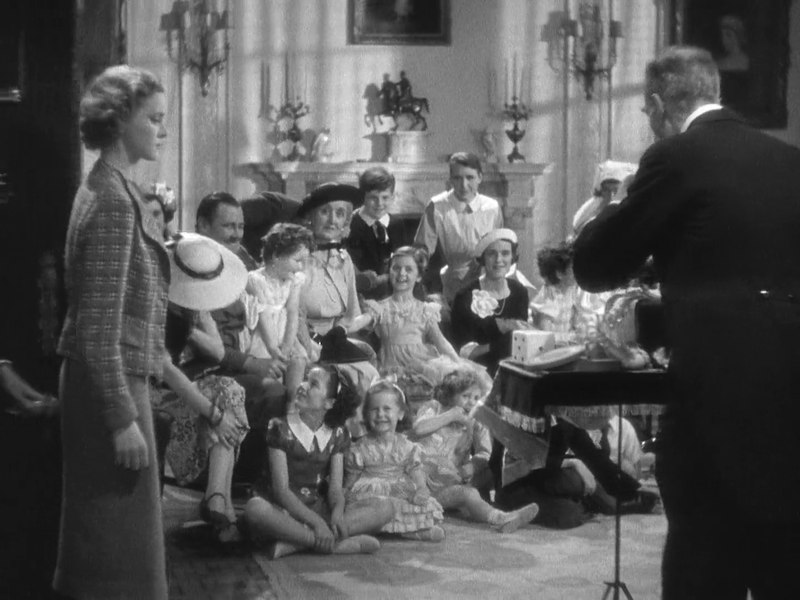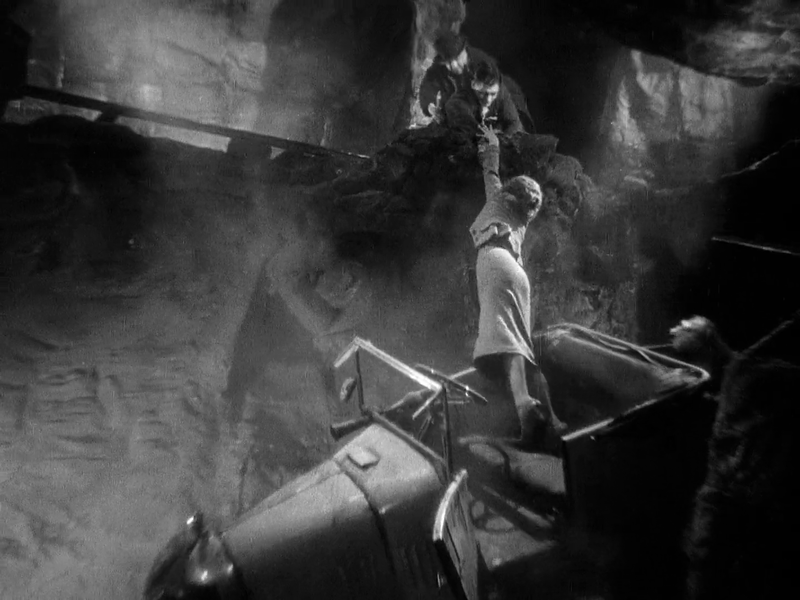 sommaire hitchcockien complet : clique avec ton doigt