Ca me coupe un bras d'être d'accord avec la majorité (et même d'aller dans le sens du coup de coeur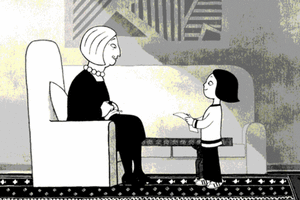 Allociné, mon Dieu), mais voilà : j'ai adoré ce film. Courageux, drôle, poignant, supra-intelligent, raffiné, viscéral, Persepolis est un petit chef-d'oeuvre de subtilité et de beauté. Maniant la politique comme on doit la manier, c'est-à-dire frontalement, subjectivement, subversivement, les réalisateurs pondent tout simplement le film le plus engagé depuis bien longtemps. Ken Loach ferait bien de visionner 30 fois ce film avant de produire son prochain navet bien-pensant : Satrapi et Paronnaud sont 10 fois plus courageux, 10 fois plus de gauche que lui, et savent toujours garder la bonne distance par rapport à leur engagement, c'est-à-dire saisir à bras-le-corps leur discours, pour affronter, dénoncer, dire.
Et pourtant, jamais le film n'est pesant ou didactique. Grâce à une mise en scène sans arrêt inventive (il y a
au moins une idée de cinéma par seconde), Persepolis fait passer son message dans la joie et la légèreté, alors que le sujet (la vie d'une jeune fille dans l'Iran du Chah et des intégristes religieux) aurait pu plomber à mort. N'importe quel cinéaste s'y serait cassé les dents ; pour leur premier film, les deux gugusses affichent une maturité, une maîtrise et uen assurance qui renvoient tous les "cinéastes de gauche" à leurs études. Le ton presque libertaire de l'ensemble (on dit "Ta gueule" à Dieu, on parle de la bite de ces messieurs les talibans, on beugle "Eye of the Tiger" dans les couloirs de la fac), allié à une esthétique absolument impeccable, font oublier tous les discours assommants de sérieux des philosophes. Et puis ici, contrairement aux pauvres dessins animés qui envahissent nos écrans et la tête de nos bambins, les références ne s'appellent pas Playstation ou Mickey Mouse, mais Hokusaï, Münch, Klimt ou Bacon ; on ne parle pas de Charles Perrault mais de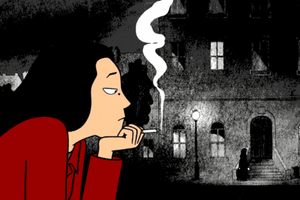 Marx ; on n'écoute pas Phil Collins mais Iron Maiden. Enfin un vrai dessin animé fait par des adultes pour des adultes, qui ne nous prend pas pour des ados attardés (les nazes machins de science-fiction) ou pour des bébés (tout Pixar et Walt Disney), mais qui éveille nos curiosités artistiques autant que nos envies de révolte. Top dédicace, de ce point de vue, à la jeune femme devant moi au cinéma, qui a amené son gamin d'une dizaine d'années à ce film, et qui a pris le temps, pendant le générique de fin, de lui expliquer les arcanes de cette sombre histoire. Dieu te le rendra, madame.
Voilà. Pour résumer, je suis sorti en larmes de Persepolis, convaincu qu'il reste quelques traces de beauté dans ce monde de consommation à tout crin, quelques espoirs de démocratie dans ce monde d'intégrisme con, et quelques secondes de bonheur pour qui aime le cinéma. (Gols - 17/07/07)
---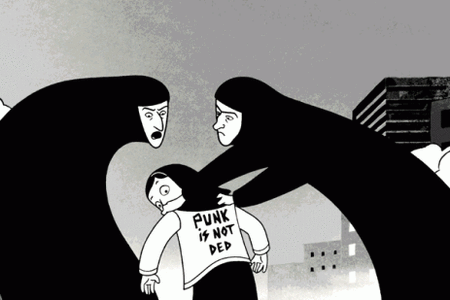 Bien content de savoir que ce film représente la France pour les Oscars, cela change de certaines niaiseries à gros budget. Je ne peux qu'aller dans le sens de mon co-blogueur vu la finesse de la pensée, la sensibilité qui émane de la plupart des séquences et l'épure des dessins. J'ai pour ma part adoré pour la première fois de ma vie Iron Maiden (il n'y qu'en Iran je pense que cette musique prend toute sa dimension métaphysique (...)), les réflexions toujours franches et honnêtes (comme quoi un "merde" bien placé peut être intelligent, de quoi faire réfléchir le chanoine Bigard) de la grand-mère avec une Danielle Darrieux en pleine bourre ("Dans la vie tu rencontreras des cons, ma fille"; "Pour garder des seins fermes il suffit de les tremper 10 minutes chaque jour dans l'eau glacée" - je commence demain), les passages tristounes évoqués (de la guerre à la première déception amoureuse en passant par la phase de dépression de l'héroïne) qui ne tombent jamais dans le pathétique, la justesse de ton de l'ensemble qui oscille constamment entre un humour dévastateur (la femme qui écrase le raisin dans sa baignoire en répétant inlassablement un "pardonne moi mon dieu" ) et une lucidité qui frappe juste (aussi bien dans la description de Vienne (quel rêve européen????) que dans celle de Téhéran (ben non il n'y po que des intégristes mais surtout des gens, c'est bizarre hein?). Les deux réalisateurs emploient avec une grande parcimonie les couleurs et parviennent à laisser au film tout le charme des traits de la B.D (la seule que j'ai lue en 10 ans, je l'avoue). Bref une réussite totale qui ne devrait pas tarder à finir d'ici peu sur un écran chinois (je suis sûr qu'on peut faire deux-trois parallèles, si si... On parlera de Bruce Lee tiens... Quelle que soit la culture, une œuvre intelligente a toujours une résonance, ouais). Satrapi (c'était une journée "pi" pour moi, allez savoir pourquoi...), mes hommages. (Shang - 05/01/08)