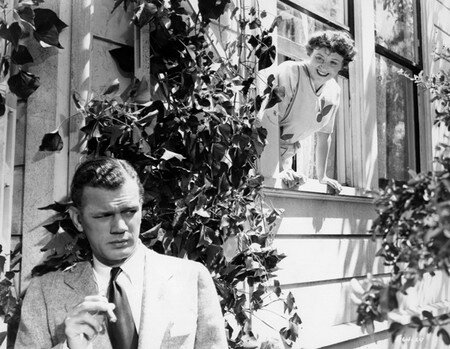 "Le monde est une immense pourriture"... On peut le voir comme ça, et c'est bien une des forces de ce film de nous montrer un Hitch flirtant délicieusement avec le nihilisme le plus noir, dans cette histoire de monstre attachant investissant une famille américaine moyenne et disneyenne. Cotten y campe l'un des plus beaux méchants de la filmographie de Bouddha, trouble, désespéré, "à bout de souffle", à deux doigts de la mort, qui décide de passer ses derniers jours avant la chaise électrique au sein du cocon familial de son enfance. Hitch ne trompe personne : c'est bien à Cotten que va toute notre admiration, et non à cette micro-société lisse, petite-bourgeoise, préoccupée uniquement par les apparences (surtout être convenable sur la photo), l'argent et les conventions sociales. C'est à peine si l'harmonie familiale est tempérée par deux ou trois "tares" innocentes : le mari passe ses loisirs à rêver de meurtres avec son pote, la petite fille a des lectures beaucoup trop sérieuses pour son âge, et le petit garçon a des comportements quasi-autistes dans son obsession des chiffres. A part ça, on est bien dans l'Amérique profonde, et l'arrivée de Dracula-Cotten apporte un bon souffle frais là-dessus, tout en venant tromper l'ennui de la jeune Charlie.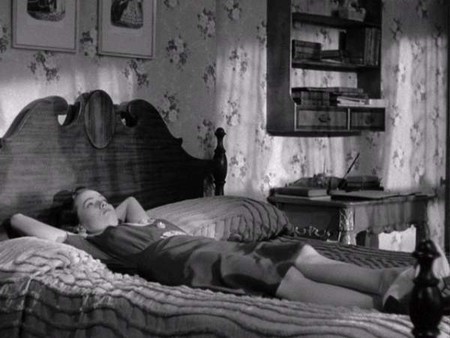 Dracula semble bien être la référence principale de Shadow of a Doubt : l'arrivée de l'oncle est précédée de cette magnifique fumée noire, équivalente aux rats et à la peste du roman de Stoker ; sa hantise d'être pris en photo, ainsi que ses étranges phénomènes de télépathie avec sa nièce complètent le tableau. Mais c'est bien souvent à Welles que l'on pense aussi, non seulement par la présence de Cotten, mais aussi par cette mise en scène tout en contre-plongées, par ce travail sur les voix (très souvent hors-champ, comme pour prolonger le cadre au-delà de l'écran) et par la puissance maléfique/fascinante de son personnage principal.
Et puis il y a bien sûr cette délicieuse ambiguité sexuelle entre les deux protagonistes, qui trouve son apogée dans la bagarre finale dans le train : bas qui se plissent, pieds qui se croisent, enlacements des corps, cris étouffés, et montée de l'orgasme en même temps que la vitesse s'accélère et que la musique tonitrue. Bouddha fouille merveilleusement les rapports entre Charlie et son oncle : affublés du même prénom, en constant lien télépathique l'un envers l'autre, ils sont les deux faces d'une même pièce, lui dans le mal, elle dans le bien. Les plans sont d'ailleurs nombreux où ils sont filmés face à face, de profil, comme une image et son reflet. Le génie de l'espace sert parfaitement ces troubles rapports, en plaçant systématiquement l'un des deux sous le regard dérobé de l'autre. Ces deux-là sont faits pour se haïr, et donc pour copuler sauvagement, puisqu'on sait que c'est la même chose dans l'esprit déviant d'Hitchcock, qui n'en est pas à sa première théorie fantasmatique sur les hommes et les femmes.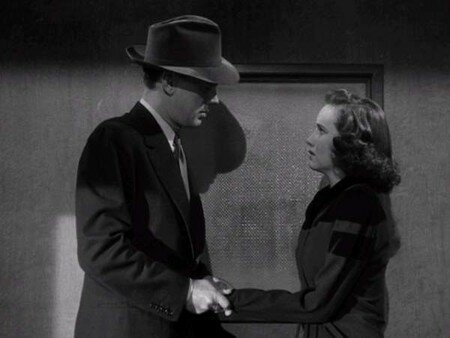 Autour d'eux, les autres personnages sont parfaits, à commencer par la mère, plus trouble qu'il n'y paraît, en protectrice de son petit frère envers et contre tout. Magnifiquement interprétés, ils ont tous leur caractère, leur richesse, leur profondeur. Seul le pâlot détective déçoit un chouille, trop propre sur lui et posant visiblement pour la caméra. Bref : Shadow of a Doubt, peut-être moins "hitchcockien" que les autres films vu le grand réalisme de l'ensemble (malgré des signatures hyper-reconnaissables, le gros plan sur la bague, l'utilisation de la musique, le thème "psychosien" du double), est un chef-d'oeuvre d'ambiguité et un de ses films les plus ouvertement malpolis. (Gols 27/11/07)
---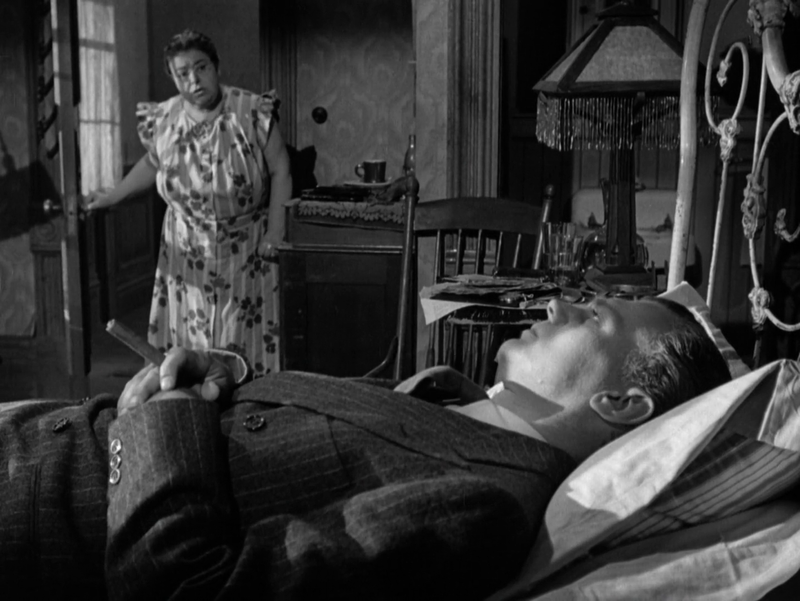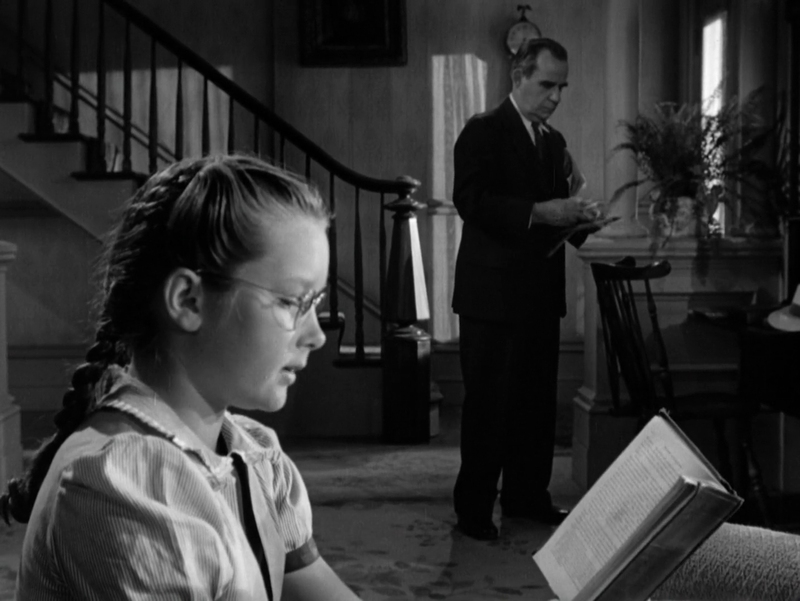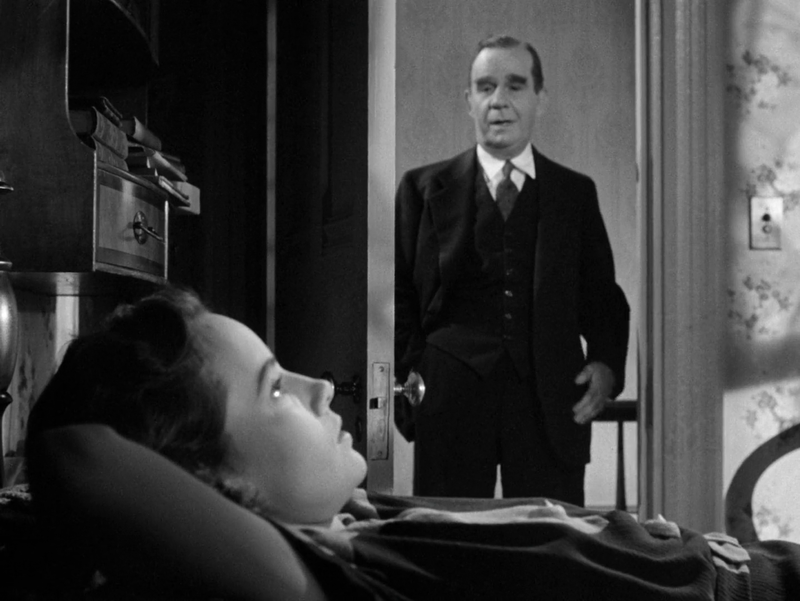 Ah oui, point étonnant qu'il s'agisse du film préféré d'Hitch : on est dans le noir pur jus, avec, une fois n'est pas coutume, non pas un faux coupable mais un vrai coupable qui va, malgré ses accès de colère, de violence, ses dissimulations multiples, ses humeurs noires, tenter de garder une certaine ambiguïté (pour faire la transition avec la chronique de mon collègue) jusqu'au bout (on se dit d'ailleurs qu'il paraît tellement coupable, qu'il est possible qu'on fasse fausse route... mais c'est aussi parce qu'on a l'esprit aussi pervers que ce bon Alfred, tranquille joueur de cartes dans le train avec sa suite ultime à piques...). On aime, tout d'abord, sans faire de redite, ces divers plans où la profondeur de champ est magnifiquement exploitée : un personnage au premier plan, sur son lit, allongé, alangui et un second (personnage) au second (plan) qui vient s'immiscer dans l'image pour venir le perturber, ou tout du moins, le déranger... Il sera ici beaucoup question de contrariété, à l'image de cet oncle Charlie attendu comme le messie qui se révèle d'une part n'être pas franchement un troubadour (il n'apporte pas vraiment de folie au foyer) et qui, d'autre part, se fera de plus en plus menaçant envers sa nièce "adorée" - elle qui l'adulait, elle en sera pour ses frais (déjà, elle a la chance de ne pas se faire violer (il les préfère plus vieilles, plus molles apparemment), mais comme le soulignait Gols, la façon qu'a Cotten, à chaque fois, de venir lui "prendre" violemment les mains est on ne peut plus signifiante...). En parlant de jeu de mains, justement, parlons de ce vilain ultime (j'adore Cotten, ce côté sombre, sa voix grave, ce petit sourire subrepticement lumineux suivi de ce regard qui foutrait les boules à un oursin) : notre homme peut se faire aussi bien affable que sombre con – il a beau essayer de se contrôler, il se trahit plus souvent qu'à son tour par son attitude revêche ; sa façon brutale de se jeter sur sa nièce, cette main menaçante qu'il tend vers le photographe pour récupérer la pellicule, ces mains qui triturent tout ce qu'il trouve lorsqu'il est nerveux... On a absolument aucun doute, sans même que cela ne soit jamais énoncé, sur le fait que les vioques il les a étranglées (avec une certaine jubilation ? Fort possible). On aime, enfin, chez le gars Hitch, cette façon de faire sa cuisine dans son petit coin en laissant le soin au spectateur de se faire une idée sur chaque personnage et de reconstituer éventuellement les événements - très vicieuse, notamment, cette séquence dans le garage (avec les gaz d'échappement et cette porte qui se referme comme un piège) où le gars Charlie est à deux doigts de se défaire de la gâte Charlie ; mais on ne le voit jamais passer à l'action et c'est ce qui fait tout le "trouble" de ce film noir : alors même que le Cotten annonçait fièrement au début du film que les deux flics qui le suivaient n'avaient rien sur lui, nous-mêmes, pauvres spectateurs, n'avons rien de concret à nous mettre sous la dent pour l'accuser... Et on comprend forcément avec quelle facilité le Cotten parvient à chaque fois à se sortir de ce mauvais coton. Pas de preuves, à lui les veuves !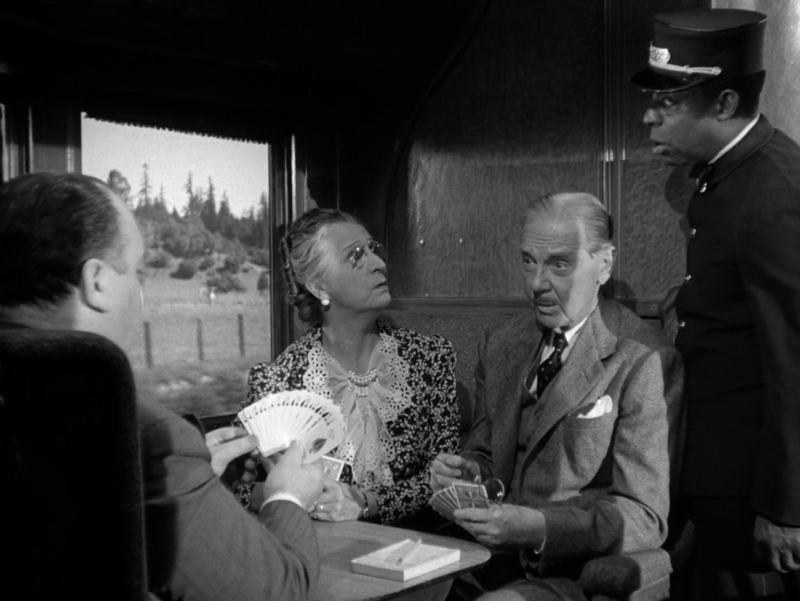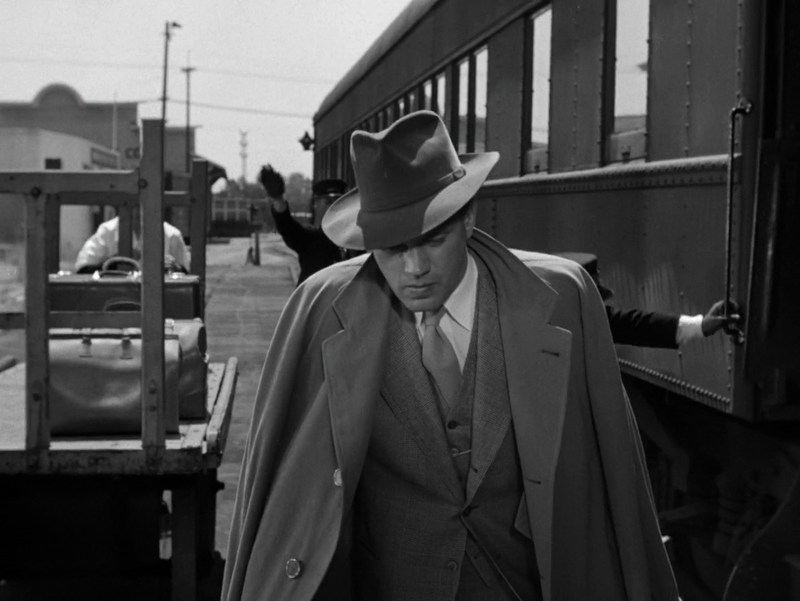 Si je peux me permettre une tout petite réserve, ce serait sûrement sur ces flics les plus couillons et les plus inaptes du monde... Ils parviennent à réaliser ce magnifique tour de force : lâcher leur proie alors que les suspicions n'ont jamais été aussi fortes. C'est la pauvre nièce qui se retrouve en première ligne et son bâtard de futur compagnon se révèle absolument incapable de la protéger - il méritait presque, ce con, qu'elle y passe dans le train ; du même coup, cela renforce cette idée que les méchants sont beaucoup plus malins que les autres, et que, dans ce monde pourri jusqu'à la moelle, ils auraient presque tort de ne pas en profiter... Noir, disais-je, et parfaitement serré (leçon de cadres et de grammaire filmique, once again)... (Shang 16/09/19)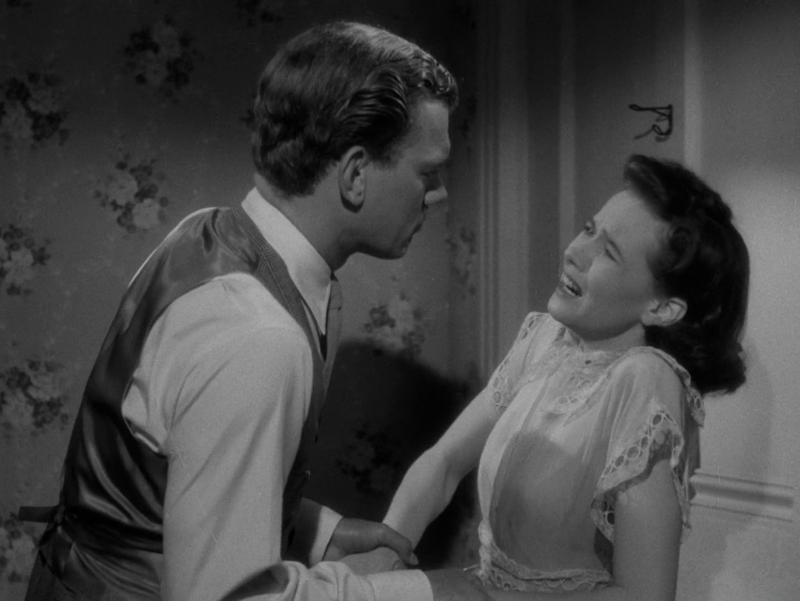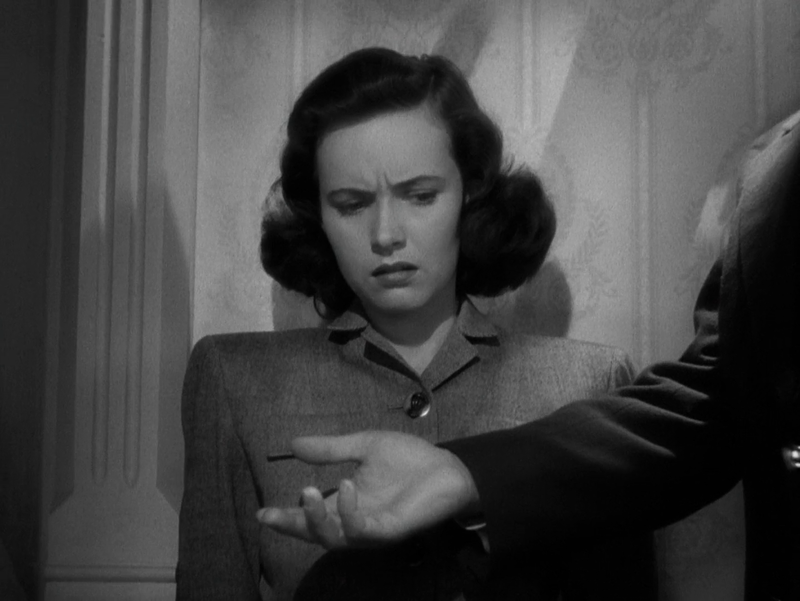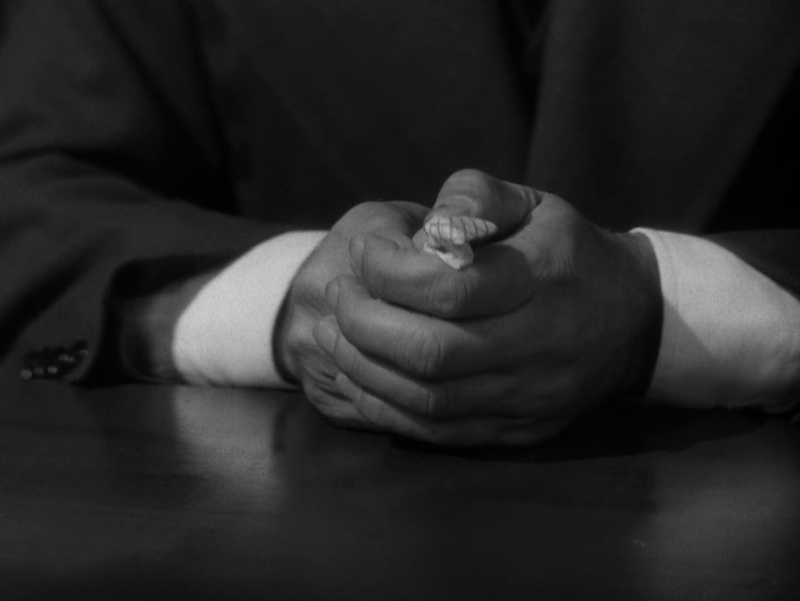 sommaire hitchcockien complet : clique avec ton doigt