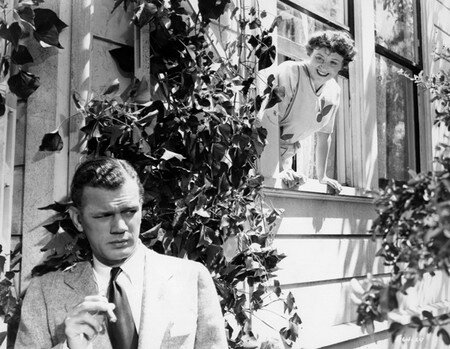 "Le monde est une immense pourriture"... On peut le voir comme ça, et c'est bien une des forces de ce film de nous montrer un Hitch flirtant délicieusement avec le nihilisme le plus noir, dans cette histoire de monstre attachant investissant une famille américaine moyenne et disneyenne. Cotten y campe l'un des plus beaux méchants de la filmographie de Bouddha, trouble, désespéré, "à bout de souffle", à deux doigts de la mort, qui décide de passer ses derniers jours avant la chaise électrique au sein du cocon familial de son enfance. Hitch ne trompe personne : c'est bien à Cotten que va toute notre admiration, et non à cette micro-société lisse, petite-bourgeoise, préoccupé uniquement par les apparences (surtout être convenable sur la photo), l'argent et les conventions sociales. C'est à peine si l'harmonie familiale est tempérée par deux ou trois "tares" innocentes : le mari passe ses loisirs à rêver de meurtres avec son pote, la petite fille a des lectures beaucoup trop sérieuses pour son âge, et le petit garçon a des comportements quasi-autistes dans son obsession des chiffres. A part ça, on est bien dans l'Amérique profonde, et l'arrivée de Dracula-Cotten apporte un bon souffle frais là-dessus, tout en venant tromper l'ennui de la jeune Charlie.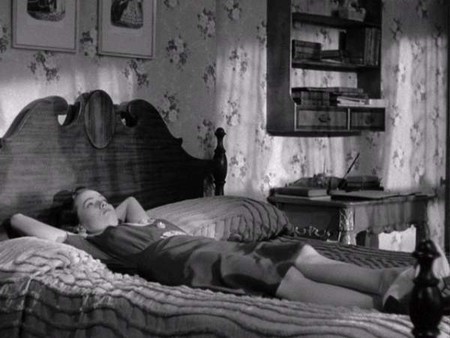 Dracula semble bien être la référence principale de Shadow of a Doubt : l'arrivée de l'oncle est précédée de cette magnifique fumée noire, équivalente aux rats et à la peste du roman de Stoker ; sa hantise d'être pris en photo, ainsi que ses étranges phénomènes de télépathie avec sa nièce complètent le tableau. Mais c'est bien souvent à Welles que l'on pense aussi, non seulement par la présence de Cotten, mais aussi par cette mise en scène tout en contre-plongées, par ce travail sur les voix (très souvent hors-champ, comme pour prolonger le cadre au-delà de l'écran) et par la puissance maléfique/fascinante de son personnage principal.
Et puis il y a bien sûr cette délicieuse ambiguité sexuelle entre les deux protagonistes, qui trouve son apogée dans la bagarre finale dans le train : bas qui se plissent, pieds qui se croisent, enlacements des corps, cris étouffés, et montée de l'orgasme en même temps que la vitesse s'accélère et que la musique tonitrue. Bouddha fouille merveilleusement les rapports entre Charlie et son oncle : affublés du même prénom, en constant lien télépathique l'un envers l'autre, ils sont les deux faces d'une même pièce, lui dans le mal, elle dans le bien. Les plans sont d'ailleurs nombreux où ils sont filmés face à face, de profil, comme une image et son reflet. Le génie de l'espace sert parfaitement ces troubles rapports, en plaçant systématiquement l'un des deux sous le regard dérobé de l'autre. Ces deux-là sont faits pour se haïr, et donc pour copuler sauvagement, puisqu'on sait que c'est la même chose dans l'esprit déviant d'Hitchcock, qui n'en est pas à sa première théorie fantasmatique sur les hommes et les femmes.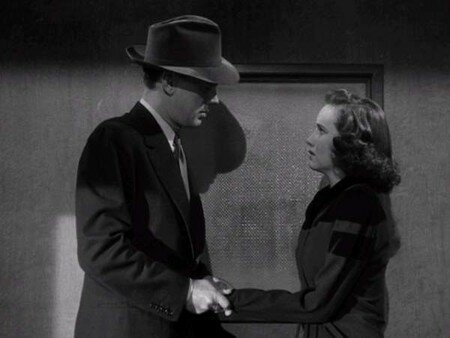 Autour d'eux, les autres personnages sont parfaits, à commencer par la mère, plus trouble qu'il n'y paraît, en protectrice de son petit frère envers et contre tout. Magnifiquement interprétés, ils ont tous leur caractère, leur richesse, leur profondeur. Seul le pâlot détective déçoit un chouille, trop propre sur lui et posant visiblement pour la caméra. Bref : Shadow of a Doubt, peut-être moins "hitchcockien" que les autres films vu le grand réalisme de l'ensemble (malgré des signatures hyper-reconnaissables, le gros plan sur la bague, l'utilisation de la musique, le thème "psychosien" du double), est un chef-d'oeuvre d'ambiguité et un de ses films les plus ouvertement malpolis.
sommaire hitchcockien complet : clique avec ton doigt