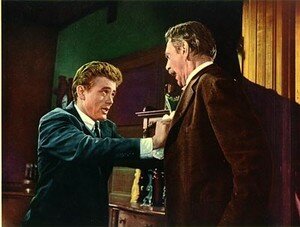 Très joli film que ce East of Eden, qui prouve encore une fois que Kazan fut un grand metteur en scène, qu'on aurait tort de confiner dans son seul talent de scénariste. Ici, bien au contraire, c'est bien la réalisation qui touche, beaucoup plus que le scénario, un peu passé dans son admiration béate devant Freud et ses maladresses symboliques. Certes, Steinbeck est derrière tout ça, mais ce n'est pas le meilleur Steinbeck, c'est celui des grandes théories psychologiques, qu'on est en droit d'aimer moins que les envolées minérales de ses bouquins plus directs (Voyage avec Charlie ou Tortilla Flat sont des chefs-d'oeuvre, Des Souris et des Hommes ou A l'Est d'Eden moins).
Ce film est donc un brillant exercice de mise en scène ; les plans y sont toujours audacieux et originaux : alternances de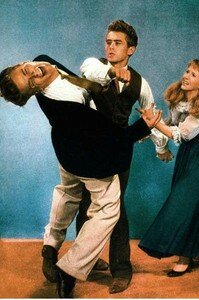 plongées et contre-plongées du meilleur effet, qui place d'emblée les personnages dans un rapport très puissant les uns par rapport aux autres ; cadres complètement tordus, lors des deux sommets du film (la première conversation entre Cal et son père, tendue comme c'est pas permis, et la soirée d'anniversaire du père, summum "d'hystérie rentrée" à laquelle le cadre ajoute encore plus d'énergie) ; très beau renouvellement des champs/contrechamps, entièrement dédiés aux acteurs et à leur subtilité ; dosage au taquet des plans larges, qui donne un final de toute beauté ; et surtout cette fameuse figure de style, qu'on devrait appeler la "Kazan Touch", qui enferme systématiquement les acteurs dans des cadres de portes, des couloirs interminables ou des châssis de fenêtre. Le monde de Kazan est d'autant plus sclérosé, d'autant plus figé dans ses certitudes morales, que les personnages sont littéralement emprisonnés dans les décors. Il crée un deuxième écran à l'intérieur du grand, et ça fait vraiment son effet. Le plus bel exemple en est cette magnifique scène où James Dean, fou de douleur devant sa solitude d'enfant mal-aimé, propulse son frère face à sa mère, puis ferme la porte sur leurs cris, et s'enfuit dans le couloir d'un bordel. C'est la mise en scène uniquement (aidée c'est vrai par une musique franchement hermannienne, mélodramatique mais intelligente) qui donne cette impression de prison morale, chapeau.
Et puis, forcément, il y a James Dean, absolument génial. Autant on pouvait le trouver un peu too much dans Rebel without a Cause, autant il est ici extraordinaire, construisant son personnage cassé par la vie avec une totale maîtrise et une totale sensibilité. A mi-chemin entre l'enfance et l'âge adulte, il est bouleversant, et c'est un bonheur de le voir construire son jeu en direct. On assiste quasiment à un work-in-progress dans ses scènes "intimes", on le devine en train de réfléchir à sa moindre intonation, au moindre rythme qu'il va pouvoir trouver pour faire naître l'émotion. Très émouvant de voir un acteur en train de naître, on est très proche du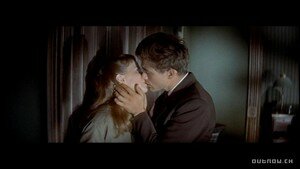 Brando de On the Waterfront. Sa scène avec Jo Van Fleet, actrice américanissime à l'ancienne, est un pur moment de beauté : deux acteurs qui se regardent, s'admirent, et jouent ensemble comme des gosses.
East of Eden est par ailleurs un mélo flamboyant de la plus belle eau, très bien photographié dans des couleurs qu'on n'oserait plus, et rythmé au millimètre. On verse sa larme plus d'une fois, ce qui n'est pas la plus mauvaise façon de réagir au cinéma.