Avant tout, je tiens à prévenir que je ne peux pas être complètement objectif sur ce film. Le dvd que je viens de voir est en-dessous de tout : on dirait que le projectionniste a machouillé puis recraché la bobine avant de la placer dans son appareil, les sous-titres sont folklo et bourrés de fautes d'orthographe, le son est inaudible, et la musique saturée. Les vrais criminels là-dedans, ce sont les éditions "Ciné-club", qui éditent des bouses de ce niveau dans des coffrets élégants. Les références : ©Grayfilm/la 8 production, code-barre n°3700173204270. Voilà.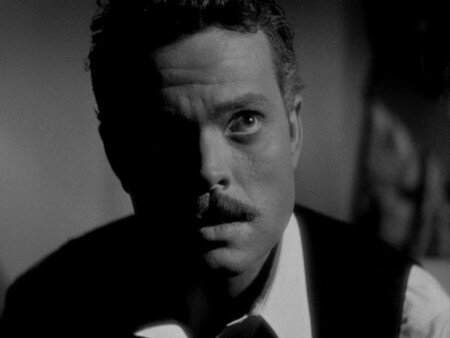 Ceci dit, à travers le brouillard, on parvient à deviner que The Stranger avait quelques qualités : la première demi-heure, par exemple, est plutôt bien, toute en contrastes éclatants et en tension. Welles ne dévoile son intrigue que lentement, et nous perd gentiment dans les actes de ses personnages, dont on ne sait rien. Son jeu d'acteurs, baroquissime, fait merveille, et il fait rouler ses yeux comme des billes avec une jubilation évidente. D'autant qu'il se donne encore une fois un rôle très trouble, et qui le laisse déployer tout son talent dans la démesure.
Après, malheureusement, ça se gâte sévèrement. Le scénario s'effondre à mi-chemin, peut-être parce qu'il ne comprend pas qu'à trop nous dévoiler les mystères, il perd en suspense. Hitch avait bien mieux géré ça
dans Shadow of a Doubt, auquel on pense forcément : même sujet (le citoyen au-dessus de tout soupçon est-il un salaud fini ?), même jeune première innocente et confiante, même façon de resserrer l'étau autour des soupçons de plus en plus fort. Ben oui, mais là, on sait dès le départ que Welles est bien le nazi recherché par Edward G.Robinson, et du coup, on s'ennuie un peu en attendant la chute. Et puis, est-ce la faute de ces maudits producteurs qui ont gâché la carrière d'Orson en remontant ses films, toujours est-il qu'après ce premier tiers plutôt sympa, les idées visuelles manquent cruellement. Tout ça devient très lourd, de la musique illustrative et épaisse aux dialogues impossibles (un ancien nazi en cavale dénigrerait-il Marx avec une telle franchise ?), des rebondissements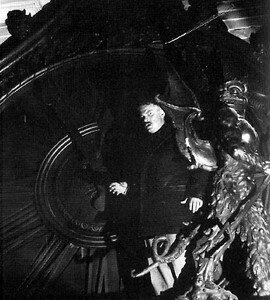 improbables (le coup de l'échelle au barreau scié, c'est dans Pif et Hercule, non ?) aux caractères grossiers des seconds rôles. C'est certainement courageux de la part de Welles de traiter un tel sujet juste après la fin de la guerre, mais on aurait préféré qu'il prenne un peu de recul pour mieux comprendre son personnage. Accordons-lui un final spectaculaire (malheureusement gâché par cette éternelle musique), et rappelons nous Citizen Kane pour nous rassurer sur le génie effectif du gars.