Il était tellement rare de voir un film de 1972 qui a moins vieilli que soi-même que cela touche vraiment à la magie. Peckinpah réalise LE polar des années 70 avec un Steve Mc Queen au top de sa forme.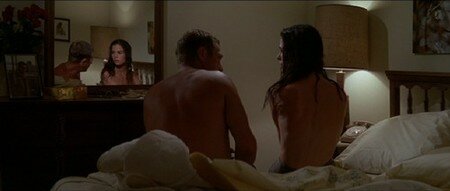 The Getaway est définitivement un excellent film qui s'ouvre sur 20 premières minutes hallucinantes de justesse, de profondeur, de rythme, de sens : on découvre un Mc Queen le visage fermé, le regard éteint, qui se voit refuser sa remise en liberté provisoire après 4 ans en tôle : le bruit lancinant des machines dans l'atelier dans lequel il bosse tous les jours suffit à nous faire bien comprendre qu'il en a ras la casquette - superbe générique aussi avec ces arrêts sur images qui figent pour un temps inifini le Steve; il demande à sa compagne de tout faire pour le faire sortir et c'est chose faite dans le plan suivant (efficacité totale, du propre). La séquence derrière envoie du lourd lorsque Mc Queen ne peut s'empêcher d'imaginer les choses qu'il va faire avant même de les faire (sauter dans la rivière tout habillé avec sa compagne) comme s'il ne pouvait se défaire de l'habitude contractée en prison de ne vivre qu'en imagination. La séquence est parfaitement emballée et parvient à nous faire comprendre l'état psychologique du type ; la scène au lit dans la foulée avec ce miroir qui renvoie sa détresse, comme si ces désirs sexuels appartenait à un autre monde - en tout cas pas à la réalité - est tout autant au diapason et d'une tristesse inifinie. On retrouve enfin notre Steve en tête à tête avec l'homme qui l'a fait sortir de prison sur une barge flottante : il a quitté sa cellule mais sa situation est loin d'être plus stable. Bref, on pourrait enquiller comme ça jusqu'au bout, les superbes idées de mise en scène qui permettent de traduire parfaitement les fêlures internes du personnage, le trouble dans le couple. Car si on a notre lot de cascades de bagnoles, de dézinguages avec des balles qui traversent les portes et les murs, de policiers à l'affût à chaque coin de la ville, ou de personnes prêtes à dénoncer les deux fuyards qui ont à moitié foiré leur casse, la véritable tension tout au long du film est bien celle qui se passe au sein du couple : Mc Queen ne semble pas pouvoir pardonner à la chtite Mac Graw d'être allée "aussi loin" pour le sauver (on devine qu'elle a dû se taper le méchant moustachu responsable de sa libération) même si tout du long on se demande s'il ne s'agit pas pour lui d'un échappatoire qui lui permette d'oublier qu'il s'est comme blindé vis-à-vis de toute émotion. Il faudra qu'ils se retrouvent dans l'intimité d'une benne à ordures pour se débarrasser de toutes les scories du passé.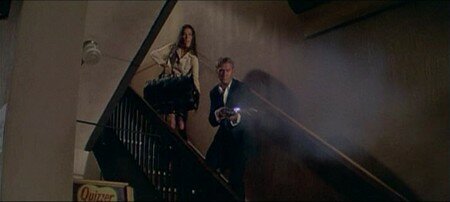 2h menées tambour battant, avec toujours des petites idées en passant qui donnent un charme dingue au film, comme ces regards d'enfants qui s'amusent des échanges violents de balles dans la rue (comme si cette génération était déjà loin du temps de l'innocence...) ; comme ce malfrat qui ressemble comme deux gouttes d'eau à Jean-Luc Bideau - il prend en otage une femme et son mari et il attache ce dernier sur une chaise pendant qu'il couche avec cette dernière pleine de bonne volonté ; le mari muet et tétanisé finira par se pendre (la séquence où elle caresse le pistolet de Jean-Luc avant de se diriger vaillamment vers sa braguette ferait frémir de nos jours l'ensemble de cette Amérique profonde puritaine et bushienne) ; ou encore comme ce jeu entre le Steve et l'Ali qui passe plus par des regards, des mines anxieuses que par des mots (devrait faire stage chez Peckinpah le Tarantino pour éviter ses surplus de bavardage). The Getaway, go in. (Shang - 18/09/07)
---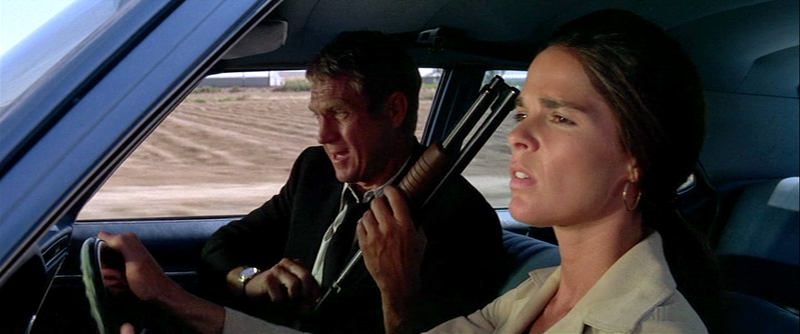 La même satisfaction de mon côté, même si je suis beaucoup moins fan des montages hyper serrés de Peckinpah que mon compère. On ne peut que s'incliner devant cet impeccable savoir-faire, cette direction d'acteurs sans tâche, ce glamour et cette complexité dans les personnages, ce goût pour l'action et le fun. On comprend ce que Tarantino a aimé là-dedans : une façon de faire du spectacle à tout prix, de rendre la violence cool et graphique, sans jamais laisser tomber les personnages et la construction d'ensemble. En tout cas, voilà un polar grand cru, on est d'accord, qui vous rassasie avec panache. Pas très fan de ces scènes d'exposition, je l'avoue, qui sont la partie qui a le plus vieilli du film : ce générique aux images arrêtées ou ces scènes de fantasme au ralenti sur la musique très malaisée de Quincy Jones m'ont pour ma part fait un peu froid dans le dos. La courte scène de rencontre entre Ali MacGraw et Ben Johnson est même aberrante, très maladroite (le montage d'une chanson qui arrive comme un cheveu sur la soupe, des champs contre-champs complètement explosés).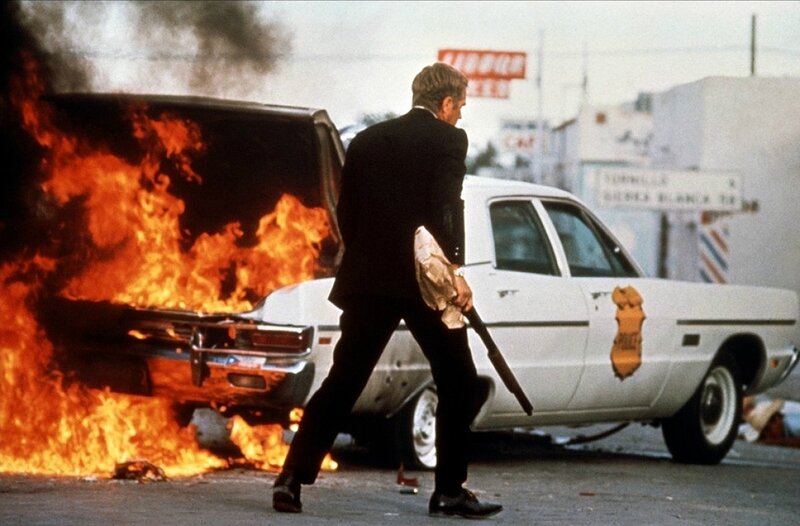 Mais bon : Steve McQueen sort de prison, et là le film commence à devenir palpitant. Peckinpah, tout en restant très formel, pose un peu ses gadgets, et réalise un film efficace et gouleyant comme un vieux rhum. Comme dit mon camarade, c'est moins les enjeux de ce braquage foireux qui comptent que les rapports de couple ; couple parfait, mené par la grande Ali MacGraw, assez géniale, et par One-face-Steve : les deux se livrent à un duo d'abord classique (lui, le dur qui prend des décisions, elle, qui suit, la scène archétypale se situant au milieu du film, quand Steve doit récupérer un sac volé par un petit malfrat dans un train), mais qui grandit doucement vers un équilibre qu'on pourrait presque qualifier de féministe. Ils sont glamour, ils sont beaux et ils sont drôles, l'humour ne manquant pas dans ce film, road-movie et buddy-movie à la fois, qui en passe par une benne à ordure pour trouver l'amour fou. Mais on n'est pas chez Claude Sautet, le film est également bien burné quand il le faut, en atteste la fusillade dans l'hôtel, montée spectaculairement (48 plans de 3 milli-secondes pour montrer l'effarement des méchants à se trouver subitement face à un McQueen armé jusqu'aux dents), et qui envoie du steak dans tous les sens. Un excellent petit film de genre, on est bien d'accord. (Gols - 07/02/18)