Je suis en train de me dire - arrêtez-moi si je me trompe : William Friedkin ne serait-il pas un des plus gros malentendus de l'histoire du cinéma, en tout cas un auteur surestimé à mort ? A force de revoir ses "classiques", je me rends compte qu'il y a bien peu à garder dans tout ça, et The Exorcist ne fait rien pour démentir cette sévère désillusion.
Passons sur le fait que le film ne fait plus du tout peur, que l'âge a fait son travail, et que le résultat est beaucoup plus rigolo que vraiment dérangeant. Je reconnaîs d'ailleurs que certaines images font encore leur effet, notamment cette petite fille complètement mise à l'envers qui descend les escaliers comme une araignée. Sans réellement effrayer, ce genre de plan a tout de même un intéressant pouvoir de fascination gênée, de même, je veux bien le reconnaître, que toutes ces allusions à la sexualité (règles, défloraison, urine) subversivement placées dans le corps d'une petite fille innocente. Pour le reste, les recettes sont tellement éprouvées depuis que le film ne déclenche plus aucune angoisse réelle. Il y a dix fois plus d'horreur dans Massacre à la Tronçonneuse ou dans Halloween (avec beaucoup moins de moyens), vrais classiques du genre, qui eux ont vraiment une grande puissance subversive. C'est pas de la faute de Friedkin, admettons-le.
Non, ce qui est vraiment totalement raté dans The Exorcist, c'est le côté soi-disant sulfureux de cette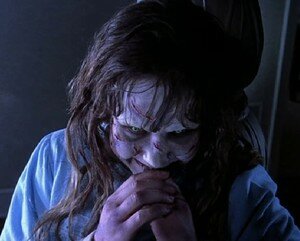 histoire, qui fit que le film fut censuré, comme l'annonce fièrement la jaquette du DVD. Très honnêtement, qu'est-ce qui choque réellement là-dedans, où est le discours, où sont les risques (politiques ou autres) qui font la marque des grands films fantastiques ? Le film est même assez dégueulassement ambigü par endroits : que voit-on en effet à part le bête face-à-face entre une religion musulmane qui représente la Mal (c'est par des fouilles en Irak que se déclenche l'arrivée du Malin) et une religion catholique finalement salvatrice (c'est par elle que se résoudra le problème). Friedkin, en bon Américain, considère la religion du point de vue de sa superstition idiote et renfermée sur elle-même. Il a beau nous dresser le portrait de personnages athées et déplacés (la mère divorcée, le réalisateur alcoolique, le prêtre qui doute), il ne trompe personne : sa famille est dégoulinante de tradition, au point que la petite Regan est plus attachante quand elle se met à vomir du liquide verdâtre en proférant des insanités que quand elle est normale, tête à claques insupportable. S'appuyant soi-disant sur une histoire vraie (laissez-moi rigoler, il faut arrêter avec ces croyances d'il y a 5 siècles), The Exorcist finit par dire en creux un message trouble et naze : pour sauver la cellule familiale, il faut en passer par un catholicisme bêlant et décérébré. Berk, si je peux me permettre.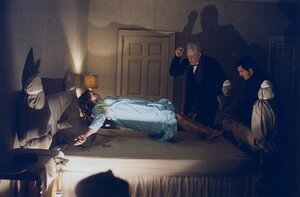 Ajoutons à cela une mise en scène très ennuyeuse et plate (la première demi-heure est absolument vide, et ensuite on va de pics en pics sans lien, sans esthétique), une bizarre construction de scénario (des "trous" impossibles dans l'intrigue), et des acteurs mauvais (le pauvre Von Sydow se demande bien comment il a pu passer du Septième Sceau à ces scènes où il se fait vomir dessus), et vous obtenez un film finalement très chiant, qui en plus de nous asséner une morale dégoulinante, n'a même pas la politesse de nous prendre dans une vraie angoisse. Tout ça n'est même pas rigolo, ce qui serait toujours ça de pris, ni malpoli (malgré les allusions données par la petite fille comme quoi la mère du héros prodiguerait des caresses buccales en enfer). Tony Blair est beaucoup plus effrayant que Linda Blair, et Ronald Reagan que la petite Regan.