Encore une fois Bouddha confine à la perfection avec The 39 Steps, en tout cas dans la catégorie "pur divertissement sans conséquence". c'est sans aucun doute un de ses films les plus enlevés, les plus drôles, les plus inventifs, les plus passionnants, les plus géniaux, etc, même s'il n'atteint pas les sombres arrière-plans de ces grandes oeuvres en couleur.
C'est la classique histoire du type accusé de meurtre à tort, et qui doit retrouver lui-même les coupables s'il veut s'innocenter aux yeux de la police et de la jeune première. Mais si cette trame n'a pas grand-chose d'original, Hitch sait à merveille la truffer de rebondissements jouissifs, et de tout un tas de petits détails de scénario qui font bondir de joie. Les différents épisodes s'enchaînent avec une tenue et une invention constantes : tel détail en permet tel autre, qui enchaîne sur tel autre, etc, et ce sur 1h22 sans aucune faiblesse. C'est par exemple une magnifique séquence au fin fond de l'Ecosse, où le héros, recueilli par un paysan trouble, est obligé de se faire une complice de la femme d'icelui, d'où soupçons du même, d'où dénonciation à la police, d'où fuite, d'où camouflage avec la gabardine du paysan, cette série de conséquences débouchant sur un swing final qui sauvera la vie du héros (la gabardine contient une Bible qui arrêtera la trajectoire d'une balle). Le film est ainsi, d'un seul bloc, malgré la foule de digressions astucieuses.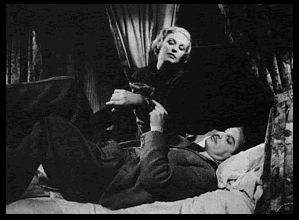 Encore une fois, Hitch s'amuse avec les détails, ici une phalange coupée, ou une paire de menottes (encore!). Encore une fois, la résolution de la trame se fera en public (comme dans 50% de la filmographie de Bouddha : le criminel est à chaque fois démasqué dans un théâtre ou un cinéma, avec force rideaux qui tombent et moult cris horrifiés du public). Avec ici, une des plus grandes idées qui soient : un "Mr Memory" doté donc d'une mémoire gigantesque, et qui s'éteint comme une chandelle dès qu'il a vidé son cerveau des données qu'il contenait. Idée très poétique, très belle, et qui donne une dernière séquence sublime. D'autre part, le couple Donat/Carroll fonctionne à merveille : complices en même temps qu'adversaires, ils rivalisent tous les deux d'humour et de distance toute britannique (Donat ne commence à être réellement bon que quand il rencontre la jeune femme, d'ailleurs).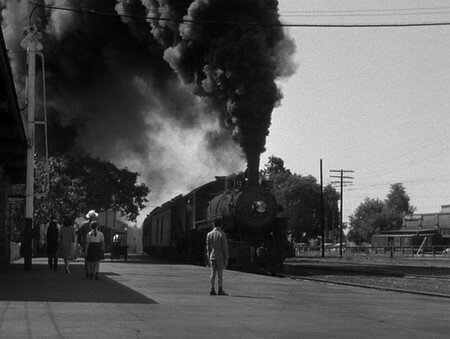 Au niveau de la mise en scène, c'est bien sûr immense. Bouddha utilise ses décors dans toutes leurs possibilités, et confirme une nouvelle fois son intelligence quand il s'agit de tirer profit des "contingences géographiques" de son histoire. La plus grande part de The 39 Steps se déroule en Ecosse, et Hitch utilise donc la campagne, les moutons, l'austérité des hameaux, pour faire de toutes ces choses des éléments concrets de son action. Pratiquement entièrement dépourvu de musique (d'ailleurs terne), le film utilise pourtant magnifiquement les sons, entre la sonnerie incessante d'un téléphone sur une scène tendue comme un arc et le cri d'une femme chevauchant le hurlement d'un train, entre une voix récitant le bénédicité monté sur une scène de regards et toute une série de silences pesants chaque fois que l'action s'emballe. Curieux d'ailleurs qu'on ait beaucoup parlé du silence dans Torn Curtain et pas dans ce film-là ; il me semble que Hitchcock utilise encore mieux la tension contenue dans le silence ici que là-bas. Enfin, bon, tout est génial dans ce film, que voulez-vous que je vous dise. C'est un plaisir de gamin autant qu'un brillant exercice de style. Bouddha est grand pour les siècles des siècles.
sommaire hitchcockien complet : clique avec ton doigt