The Hustler est peut-être moins populaire que The Sting (ce dernier étant bien passé 324 fois à la télé ces dix dernières années - et admirons au passage les traductions françaises: L'Arnaqueur et L'Arnaque, du très fin) et semble pourtant à mes yeux bien supérieur: derrière ce petit arnaqueur/ grand joueur de billard (lorsqu'il entube les autres, ça va jamais bien haut, risquant de se faire casser les pouces au passage, ouille) se cache un véritable joyau en noir et blanc: à la fois une magnifique histoire d'amour de losers et la revanche d'un homme qui se sort les tripes pour enterrer définitivement sa trop grande fierté et son côté hâbleur. Du très très grand Newman.
Ca commence gentiment avec une petite arnaque à 100 dollars, suivi d'une partie d'anthologie entre Fast Eddie, le Newman, et Minnesota Fats (admirons le quasi chiasme) qui dure plus de 24 heures. Si le Eddie semble pouvoir garder l'avantage haut la main, le gros Minnesota va finir par la jouer à l'expérience avant de plomber notre Eddie vaincu par trop de fanfaronnade et victime de la fatigue. Obsédé par cette défaite alors qu'il reste persuadé d'être le meilleur joueur (un peu comme moi et Bas***n, en moins précis), il trouvera une sorte de rédemption dans les bras de Piper Laurie qui a cela dit un méchant penchant pour la dive bouteille, l'alcool fort pour être exact. Deux paumés qui tentent de s'épauler malgré tout et qui survivent ensemble à défaut de trouver un véritable équilibre. L'accident (une arnaque qui tourne en eau de boudin) qui lui coûte deux pouces brisés ne va apporter qu'une demi-once d'humilité à notre Newman, qui continue contre vents et marées à se prendre pour le Dieu du billard. Il faudra un événement tragique et glauque pour qu'il se retrouve sur le tapis - vert - et se forge définitivement le caractère - devienne un homme quoi.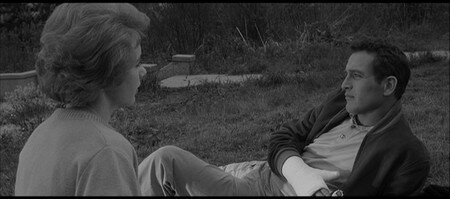 Drame relativement noir, au happy end bien amer, dans lequel les parties de billard n'offrent que quelques bouffées d'air. Newman dans ce rôle de petit génie de la boule (de la queue, ça le fait encore moins) trouve un rôle immense, faisant mouche à chacun de ses sourires provocateurs ou tirant des larmes avec ses yeux de chien battu - un regard gris acier (même en noir et blanc) d'une tristesse sans fond. Bref The Hustler a sa place dans ces grands films américains en noir et blanc où l'American dream, la victoire et la gloriole, laissent dans la bouche un arrière goût de cauchemar, de cendres bleues. Une grande leçon du Robert, beaucoup moins tape à l'oeil que le nôtre.