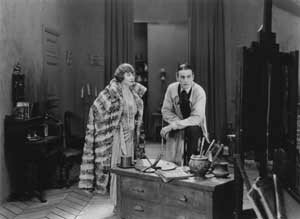 Est-ce scandaleux que de prétendre que A Woman of Paris est le meilleur film de Chaplin ? Peut-être un peu, dans le sens où c'est son seul film dans lequel il ne joue pas, et que c'est son seul vrai drame. Mais au niveau de la pure mise en scène, ce chef-d'oeuvre est sûrement son sommet, et un sommet du cinéma muet de ce fait.
Pourtant, à première vue, il y a de nombreuses maladresses dans ce film : Chaplin y est souvent étouffé sous ses somptueux décors d'intérieurs luxueux, et trouve rarement l'inspiration nécessaire pour varier ses plans d'ensemble. Comme dans ses comédies, il se contente la plupart du temps de filmer les décors "comme au théâtre", caméra placée frontalement devant l'action, et livre même quelques plans franchement bancals, comme ces brusques coupes "zoomées" au sein d'un même cad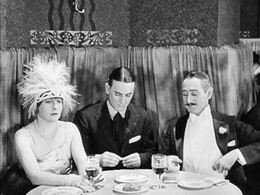 re. De même, le jeu du jeune premier, Carl Miller, est beaucoup trop théâtral pour fonctionner dans cette tentative de réalisme social. On sent d'ailleurs que certains acteurs ont été dirigés avec trop peu de marge de liberté, à l'image de ce petit rôle de masseuse (très drôle par ailleurs) dont le jeu est calqué trop clairement sur les mimiques chaplinesques (cf le barbier de The Great Dictator). La musique enfin, ajoutée par la suite par le maître, est trop "jôôôlie", et souligne chaque évènement avec la légèreté d'un bulldozer.
Mais si on excepte ces quelques défauts, A Woman of Paris contient nombre de pépites intersidérales qui en font un vrai monument. On peut citer ce train qui arrive hors-champ, symbolisé uniquement par une rangée de lumières carrées qui passe sur Edna Purviance ; ou la maîtrise totale de l'ellipse, subtile, finaude, qui fait que le récit se déroule sur une longue période sans jamais être pesante ou démon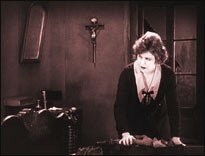 strative ; ou le jeu d'Adolphe Menjou, plus que génial de sobriété dans le rôle pourtant casse-gueule d'un dandy parvenu et fatigué ; ou le symbolisme précieux des quelques scènes d'extérieur, qui représentent un univers de simplicité qui échappe à l'héroïne (on y voit un clochard subitement devenu riche à la découverte d'un collier, un petit chien qui court derrière lui, un flic impassible, un petit enfant à la bouche pleine de chocolat, une charrette remplie de musiciens, autant de thèmes éminemment chaplinesques qu'on a plaisir à retrouver) ; ou cette scène d'orgie, où une jeune femme entourée de bandelettes se voit déshabillée par un vieux beau (image subtile de la pellicule de film qui passe de bobine en bobine) ; ou encore la beauté de l'esthétique d'ensemble, photo, lumières, jeux d'ombres, profondeur de champ. Les tout petits gags qui émaillent le film sont rigolos comme tout, avec une préférence pour ce cuisinier qui prépare un oiseau qui pue en se
plaignant du parfum des pochettes de ces messieurs, ou cet ivrogne qui se réveille pour apercevoir une femme nue et retombe dans les pommes aussitôt. En 1923, Chaplin semble bien inventer quelque chose qui ressemble au cinéma moderne, enfin privé (en partie seulement pour l'instant) de sa trop grande théâtralité, de ses excès de jeu et de la lourdeur de ses histoires. Alors bien sûr, on n'a pas droit au jeu sublime du gars ; mais si c'est pour nous servir de telles merveilles, on veut bien que Chaplin fasse autant de drames qu'il voudra... C'est raté : ce film fut un échec, et Chaplin rentra bien vite dans son costume de clown. C'est bien aussi.