Désolé pour notre fidèle lecteur Karamzin, mais c'est ce que j'ai trouvé de plus classique dans ma pile de dvd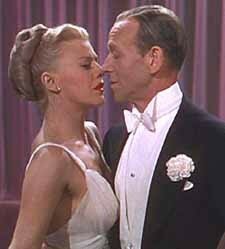 en attente pour l'instant.
J'ai un peu de mal avec Fred Astaire, il faudra bien que je finisse par le reconnaître un jour ou l'autre. Ses goûts en matière de chorégraphie feraient passer Jean-Claude Petit pour un dangereux moderniste ; son jeu d'acteur est crédible comme moi en Bilbo le Hobbit ; et sa ressemblance troublante avec Stan Laurel fait que je ne peux m'empêcher d'avoir un rictus condescendant à chaque fois qu'il essaye d'être un peu profond. En plus, les claquettes, ça me gave. Or, dans The Barkleys of Broadway, on a droit à un festival Fred Astaire. Le film est donc à son image : sirupeux, légèrement chiant, cheap, démodé et de peu d'inspiration. Ceci dit, j'aime beaucoup Ginger Rogers, il faudra bien que je finisse par le reconnaître un jour ou l'autre. Sa fantaisie, sa voix improbable, sa "modestie" quand il s'agit de danser (elle laisse toute la place à son partenaire, Freud serait fou de cette fille) éclatent complètement dans ce film, et c'est un vrai plaisir de la regarder. Alors... alors... le film est aussi un peu à son image : naïf, sincère, finalement assez touchant.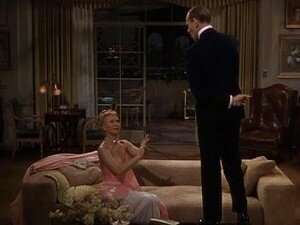 Il faut dire que ce n'est pas au tâcheron assigné à la mise en scène qu'on doit ce demi-succès. Walters est désespérément dépourvu de la moindre idée, et on souffre franchement devant le peu d'inspiration des décors, du filmage, du rythme d'ensemble. Il se contente la plupart du temps de montrer des danseurs devant un rideau gris, peut-être par manque de moyens, sûrement par manque d'inspiration. Trop long, trop lent, franchement décousu, The Barkleys of Broadway manque totalement de cette petite flamme qui fait les grandes comédies musicales. D'autant que le scénario fait sourire : une star de l'entertainment qui a des velléités de drame bourgeois, et qui se rend vite compte que, non, c'est bien dans le spectacle populaire qu'est la vraie voie du succès. Laurent Gerra n'aurait pas dit mieux. Bon, admettons, c'est l'époque qui veut ça, et cette attaque en règle contre le théâtre intello (donc, de gauche, lit-on en filigranne) passe,en fin de compte. A l'arrache, mais elle passe. Non, ce que je reproche à ce truc mal fagotté, c'est plutôt sa pauvreté quand il s'agit de créer du spectacle pur : danses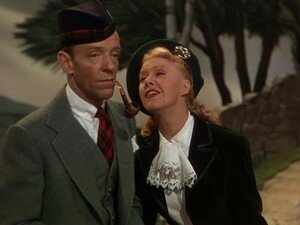 ringardes, digressions musicales qui cassent le rythme (des concertos pour piano joués avec une finesse de Teuton soûl), chansons à trois balles... Heureusement, les scènes de pure comédie rehaussent un peu le ton, grâce, comme je l'ai dit, à une Ginger toute en frou-frou, et à un couple qui éclate de complicité. On a même droit à une interprétation absolument hilarante de La Marseillaise par Ginger Rogers, séquence qui se veut le sommet d'émotion du film, et dont je ne me suis pas encore remis. Du coup, ça passe. A l'arrache, mais ça passe.