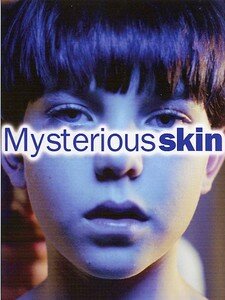 Voilà un pur trésor qui redonne confiance dans l'existence d'un cinéma américain "narratif" intelligent. On en vient même à douter de la nationalité de ce film : qui sait aux Etats-Unis, filmer avec cette subtilité et cette pudeur, surtout dans le champ du ciné indépendant qui nous assène toujours la même esthétique, et toujours la même fausse sensibilité (voir The Squid and the Whale par exemple) ?
Araki est pourtant bien dans la lignée de quelques-uns de ses glorieux prédecesseurs, disons entre Larry Clark (mais sans la provocation forcenée) et Gus van Sant (mais sans le côté expérimental). En filmant frontalement cette histoire de pédophilie qui déclenche une série de troubles psychologiques chez ses jeunes victimes (de la prostitution outrée à la perte d'identité, du fantasme au délire, du besoin d'amour compulsif à l'autisme), il aborde un sujet sur lequel tout le monde se serait méchament pêté les dents. Or, Mysterious Skin est miraculeux d'intelligence. Araki trouve toujours l'exacte distance, sentant avec un instinct impeccable ce qu'il peut m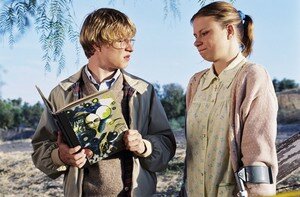 ontrer et ce qui doit rester caché. Sans jamais tomber dans la crânerie provocatrice, son film frappe très fort, avec une audace et une prise de position radicales. Terrassant, très dur, ce truc est pourtant étonnamment doux, malgré les pics de violence et la noirceur totale du fond. Les scènes de viol pédophile, écueil infranchissable, sont traitées avec un calme impérial, et avec un courage total : on a l'impression qu'Araki nous montre tout, sans pourtant jamais sortir de la seule évocation. Voilà un gars qui a compris la valeur d'un hors-champ, la force que peuvent prendre un simple plan sur un visage ou un son. Le mot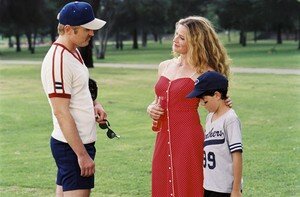 "pudeur" n'est pourtant pas le bon, puisque ces scènes sont d'une crudité totale, et gênent vraiment. On a envie de détourner les yeux, alors que, justement, on ne voit rien, rien d'autre en tout cas que les troublants élans amoureux de pédophiles aussi malheureux que leurs victimes. Choquant dans le fond, mais hyper-sensible dans la forme, Mysterious Skin ne cesse jamais de nous balader dans ce trouble malsain sans jamais nous indiquer quoi penser. Et ça c'est magistral.
Ajoutons que, malgré une phot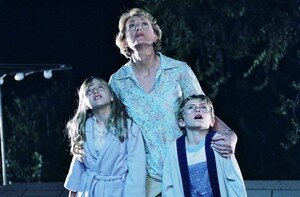 o et une bande-son pour le coup trop repérées "Sundance", ce film est très agréable à regarder, notamment grâce à des jeunes acteurs impeccables, des sous-trames assez drôles (une histoire d'OVNI improbable, ou les rapports de fascination du héros et de son copain), et un humour trash très bien amené (Araki rit, quoi... désolé). Sur ce sujet épineux, un film nécessaire, peut-être le seul à avoir su injecter de la réflexion dans ce thème propre à déclencher l'hystérie. Remarquable.