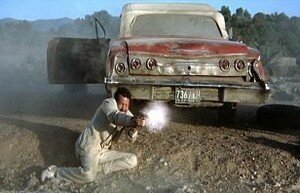 Pas que je sois un grand fan, habituellement, des montages épileptiques du Peckinpah, mais force m'est de reconnaître que Bring me the Head of Alfredo Garcia est diablement efficace. Malgré une photo absolument immonde (mais c'est l'époque) et des costumes ringardissimes (mais c'est l'époque), ce film âpre et désespéré passe comme une lettre à la poste, dans ses élans westerniens autant que dans ses tendances à la romance.
Ce film, c'est d'abord et avant tout Warren Oates, génial : tout en rictus nerveux, le visage entièrement bouffé par des
lunettes de soleil qu'auraient reniées Starsky et Hutch, une barbe de cinq jours bouffant le reste, il gère la progression de son personnage en grand maître. De losser ringard à héros sacrificiel, en passant par le romantique refoulé qu'il dévoile subtilement dans les scènes avec la profonde Isela Vega, il est crédible dans tous les registres. Les scènes de la deuxième partie du film, où il se retrouve seul à trimbaler la tête du titre, le font définitivement passer dans le génie pur. D'autant que son personnage est très bien écrit, un caractère direct et sans complexité a priori, mais dont les motivations s'épaississent tout au long du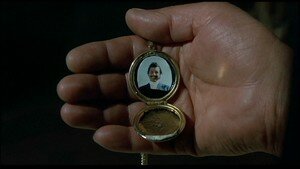 scénario avec une finesse inaccoutumée chez Peckinpah.
Et puis il y a toujours cette formidable efficacité, cette aridité, ce professionnalisme imparable qui éclatent dans la mise en scène, dynamique et allanguie à la fois. Certaines idées font froid dans le dos, notamment dans les scènes du cimetière, ou dans les plans sur les bords des routes mexicaines, où pour le coup le montage évoque plus d'une fois North by Northwest.
Peckinpah fait le lien entre les grands westerns (disons entre ses propres films et ceux de Hawks) et le polar urbain contemporain (mettons Don Siegel) et livre un bidule étrange, moderne puisqu'hybride, qui accuse autant la fin d'une époque que celle d'un amour. Très bel objet au final, comme dirait mon pote fabricant de vitraux.