Cela faisait un petit bout de temps que je n'avais pas revu Les Anges Déchus dont je gardais un souvenir relativement flou et c'est toujours un grand bonheur de revoir ce que Wong Kar-Wei faisait dans les années 90, peut-être un des seuls cinéastes à vraiment avoir su capter cette époque, esthétiquement et psychologiquement (oui bon je sais, même si Moulins n'est pas Hong-Kong).

Ca se croise, ça se frôle, ça flingue à toute bastringue, ça se masturbe, ça s'aime, ça se quitte, ça s'évite, ça se cherche, ça se trouve provisoirement, ça déconne grave, ç
a fait de la moto, ça se filme, ça marche au ralenti, ça fume, ça... Un film de Wong Kar-Wei, c'est un monde de sensations, de petits sentiments passagers, de vide existentiel, d'amour passionné et d'amour déçu, de coups de folie et d'accélération fulgurants, de musiques qui prolongent indéfiniment l'instant présent, bref c'est tout ce qu'on aime au cinéma.

3 personnages, 3 anges déchus:

Le tueur (Leon Lai, très peu revu depuis, si ce n'est dans Infernal Affair III ou The Seven Sword chez WKW) qui exécute des contrats froidement en tirant dans le tas, qui récupère des dettes à 1
contre 38, à la recherche de rien si ce n'est de sa propre mort. Il croise Karen Mok avec laquelle il a déjà eu une histoire dans le temps mais qu'il semble avoir oubliée, qu'il embrasse fougueusement mais qu'il quitte sans autre forme de procès; il semble déjà fatigué de vivre et se lance à corps perdu dans ces fusillades où il n'est jamais à l'abri d'une balle (perdue). Se cachant sous sa frange - tout comme sa partenaire -, il écume les bars ou les MacDo, désespérément, solitaire, sans illusion. Lorsqu'il décide de tout arrêter, sentant la mort rôder, il se voit proposer un ultime contrat qui sera forcément celui de trop: blessé il chute en même temps que la caméra dans un fondu magnifique.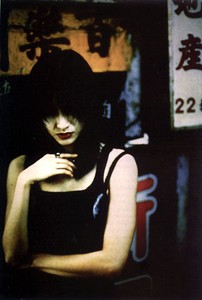 Sa partenaire, son agent (Michelle Reis, ancienne Miss Hong-Kong... quoi?) est un autre coeur solitaire qui se masturbe de façon languide, ses jambes infinies et gainées repliées sur elle-même, sur la couche de celui qu'elle ne croise pratiquement jamais: faisant ses poubelles, rêvant infiniment en écoutant les chansons que celui-ci lui indique sur un juke box, le regard éternellement perdu derrière ses cheveux corbeau, elle traine sa nonchalance dans des couloirs de métro; ombre habitée autant que solitude vouée au plaisir en solo, elle irradie chacun des plans multicolores du film de sa démarche de féline. Elle finit par trouver un quelconque repos sur le siège arrière d'une moto, une fuite toujours en avant.

Le troisième larron, muet, (l'excellent Takeshi Kaneshiro, revu dans Hero, Les Poignards Volants et Confession of Pain) est un vrai jobard dont WKW révéle toute la dimension comique. Ayant perdu la parole pour avoir mangé à l'âge de cinq ans une boîte de conserve d'ananas périmée (pas mieux), il passe ses
nuits à rentrer dans des magasins inoccupés (boucherie -la scène du massage du porc est à mourir -, échoppes de glaces, coiffeurs...) et il se fait un malin plaisir à forcer des clients de passage à subir ses délires: manger 324 glaces, se faire raser... ces derniers finissant par craquer en lâchant tout l'argent qu'ils ont sur eux. Habitant de lieux inhabités (ce qui rappelle forcément Vive l'Amour de Tsai-ming Liang ou Locataires de Kim Ki-Duk... une spécialité bien asiatique), il expérimente également avec son premier amour, qui prend plaisir à s'épancher sur son épaule, une désillusion totale, celle-ci feignant de ne point le reconnaître lorsqu'ils se recroisent quelques temps plus tard. Il y a également de très jolis passages avec son père, chez lequel il vit et qu'il passe son temps à filmer, et si leurs rapports sont généralement assez chaotiques, la nostalgie qui finit par planer sur leur relation à la mort du père donne une magie à tous ces petits instants volés.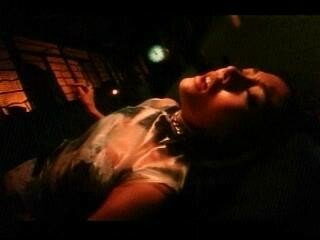 Les images de Christopher Doyle n'ont jamais été aussi léchées, les cadres triturés dans tous les sens, les gros plans déformés, le CD multipliant les effets tout en gardant une cohérence de ton qui force le respect. WKW semble inventer avec ce film une grammaire cinématographique nouvelle qu'il finira par épurer dans In The Mood For Love. Un mot sur la musique... malgache (et ouais c'est quand même rare) avec ce refrain entêtant trop "cool" et quelques chansons sirupeuses qui trouvent un écho parfait dans le montage nerveux ou apaisé de WKW. Bonne nouvelle, le film garde 10 ans plus tard tout son éclat incandescent, WKW wo ai ni - mouais, en cantonnais je sais po le dire...
Tout WKW : cliquez