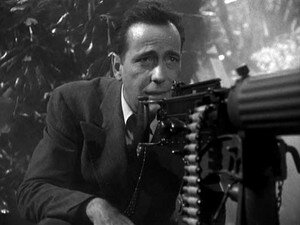 Toute petite étape dans la carrière du grand John : Across the Pacific ne dépasse jamais la propagande la plus manichéenne, et rien dans ce film n'éveille l'intérêt. Ni le scénario, mollasson, prévisible, trop dialogué ; ni la réalisation, bien sage et anémiée, oubliant l'action au profit de longues scènes ternes ; ni Bogart, un peu perdu dans un personnage valsant entre le dur qu'il affectionne (il assomme ses adversaires ou les flingue avec un détachement qui fait plaisir à voir) et le grand romantique qui convainc moins (il ne sait apparemment pas du tout passer de la crème solaire sur le dos de sa partenaire) ; ni surtout la partenaire sus-dite, Mary Astor, peu gracieuse, jamais réellement ambigüe malgré son rôle trouble. Le titre français, qu'on pourrait qualifier, comment dire, d'odieux, ajoute encore à la gêne engendrée par le film. Si Across the Pacific était un livre, il serait écrit par Hergé, et c'est pas toujours un compliment.
Même si la première partie est assez réussie, puisqu'elle
parvient à trouver le courage qu'Hitchcock n'avait pas eu avec Newmann dans Torn Curtain (on croit que Bogart est un salaud pendant 30 minutes, alors que Hitch désamorce le truc beaucoup trop tôt), et même si on comprend bien qu'il était difficile de faire dans le subtil en 1942 quand on montrait des Japonais à l'écran, on en veut un peu à Huston de laisser progressivement tomber son film. De scènes inutiles (la trop longue romance Bogart/Astor est gavante à force) en suspense éventé, de pointes de comédie assez nulles (l'héroïne qui a le mal de mer, ouarf ouarf) en accès de manichéisme gênants (les Japs sont forcément blafards, éclairés par en-dessous et grimaçants), Across the Pacific n'est intéressant aujourd'hui que pour la vision qu'il donne du cinéma hollywoodien pendant la guerre, un peu comme on regarderait des actualités de l'époque. Au point de vue purement cinématographique, pas grand-chose à se mettre sous la dent.