The African Queen est le plus joli film du monde. Il n'y aurait eu que ces splendides et amoureuses images de l'Afrique que ça m'aurait déjà emballé. Huston, de toute évidence, aime ce pays, et filme ses animaux avec une joie de gamin qui touche aux larmes. Et les animaux, il ne s'en prive pas : du moustique au crocodile, du flamant rose à la sangsue, de l'hippopotame à la girafe, on a l'impression d'un safari-photo en mouvement. Voilà qui rappelle le très beau The Roots of Heaven qu'il réalisera plus tard, et qui rappelle aussi toute cette veine d'artistes explorateurs de l'Afrique de cette époque (Hemingway en tête). Le John regarde tout ça avec émerveillement, et nous fait partager son extase grâce à un festival de Technicolor à faire pâlir les Bisounours. Que ce soit dans les scènes nocturnes ou dans les surexpositions étouffantes de chaleur, ou encore dans les scènes de pluie torrentielle qui arrivent comme une respiration, le film irradie le bonheur d'être dehors, et c'est parfait.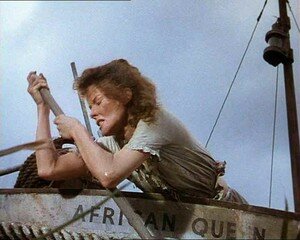 Il n'y aurait que ça, donc, le film serait déjà parfait. Mais Huston plante dans ce décor les deux personnages les plus originaux qui soient. Bogart et Hepburn sont au contre-sens total de ce qui se fait habituellement en matière de héros hollywoodien. Lui est un bon gars au caractère égal, débrouillard sans plus, rigolard, gentil comme tout, pudique et attentionné ; elle, une Anglaise pur jus qui va s'avérer être une warrior excitée par les balles qui lui sifflent aux oreilles et par la navigation en rapides. Leur histoire a dû faire pleurer de rage les producteurs ricains habitués aux sentiers tout tracés : le couple ne s'engueule pas ou presque pas, ces deux-là s'aiment comme des fous, sont toujours d'accord, et partagent leur inconscience du danger avec la malice de deux gamins ébahis par leur amour naissant. The African Queen, c'est un peu l'anti Gone with the Wind, quoi : ici, pas de haine qui se transforme en amour, pas de fascination féminine pour la virilité du héros, pas de rapports de domination, pas de dents de scie dans la relation. Les deux personnages sont au même niveau, égalitaires, solidaires, tout entier consacrés l'un à l'autre.
Du coup, ce respect mutuel s'étend aux acteurs eux-mêmes. C'est peu de dire que la complicité entre Bogart et Hepburn éclate ; elle est une évidence. Le choix d'Hepburn est un coup de génie : elle a toujours su jouer les garçons manqués à la perfection, mais là, elle y ajoute une touche de bonnes manières toutes de dignité qui fait mouche. Bogart, quant à lui, est au summum, et j'ai eu tort de dire dans je ne sais plus quelle critique qu'il n'était pas fait pour la comédie. Il est très drôle en petit mec fasciné par sa bien-aimée, et qui est entraîné (très consciemment et très joyeusement) par elle vers les dangers les plus barjots.
Une fois tout ça mis en place, peu importe que les trucages du film laissent à désirer, ou que la musique soit un poil gavante. On regarde avec un plaisir de gosse ce travail impeccable et bluffant d'originalité, en applaudissant des deux mains chaque fois qu'un baquet d'eau arrive dans la gueule de Katharine ou qu'une sangsue grignote le poitrail velu d'Humphrey. Un grand moment.