"Le meilleur film anglais depuis qu'Hitchcock est parti aux Etats-Unis", c'est vrai puisque c'est Truffaut qui le dit. Une adaptation d'un livre d'Henry James par Truman Capote, une musique de Georges Auric (un pote à H.P. Roché, une référence quoi), une mise en image de Freddie Francis et au final, un film fabuleux, une oeuvre ouverte magique et profonde, dans une forme de très haute volée.
Deborah Kerr (au top) ne sait pas trop à quoi s'attendre en débarquant dans cette mansarde anglaise pour s'occuper de deux enfants trop parfaits pour être honnêtes. Un ancien valet et l'ancienne gouvernante sont morts dans des circonstances mystérieuses et reviennent hanter ce lieu où ne cessent de résonner leur pas et leur passé. Ces fantômes ont-ils pris possession des deux enfants à travers lesquels ils continuent de vivre leurs cachotteries et leur liaison comme le pense la nouvelle gouvernante, Miss Giddens, protectrice "à souhait" ou est-ce que celle-ci est victime d'hallucinations, simples prétextes pour vivre un amour secret et non-avouable... avec le très jeune garçon? Contrairement à tout bon film hollywoodien qui s'empresserait de donner une explication rationnelle (The Others, suivez mon regard...), Clayton nous laisse toujours entre deux frontières de possibles : les personnages n'apparaissent dans un premier temps que dans le regard de Miss Giddens (comme le note subtilement Christopher Frayling dans une introduction (à voir à la fin) de grande qualité - dans l'édition BFI ; pas facile d'ailleurs de ne pas le paraphraser, mea culpa) et les allusions freudiennes à une sexualité constamment sous-jacente (fort, ce Capote) sont légions : architecture gothique et statuaire très phallique, cette gelée (pudding sans forme) que touche du doigt l'enfant lorsqu'il discute avec Miss Giddens, ces sommeils constamment pertubés où Miss Giddens halète...). Son habillement évolue également du début à la fin, finissant par ressembler étrangement à celui de l'ex-gouvernante, alors que le bambin a un style proche de celui du valet (bien vu là encore Christopher, décidément je pille... mea...). L'atmosphère de crainte, de peur dans laquelle va être plongée Miss Giddens est subtilement amenée, par de petits coups de violons grinçants, de soudains claquements de porte et une petite mélodie qui ne cesse de se répéter dans tous les coins de la maison et du jardin.
Que dire également de chaque plan, étiré au maximum, avec une caméra qui ne cesse de traquer chaque déplacement des personnages, dans des mouvement d'une grâce et d'une amplitude envoûtante, comme si les personnages qui hantent les lieux les suivaient comme leur ombre. Sublime jeu de profondeur dans la composition des cadres, éclairages subtils dans les scènes de nuits où juste un halo de lumière entoure les personnages, bref en un mot du grand art pour un film un peu oublié (me promets depuis un bout de temps de relire Gatsby le Magnifique et de voir dans la foulée l'adaptation de ce même Clayton, mais celle-ci ne semble pas a priori du même carat). Un must. (Shang - 04/04/07)
---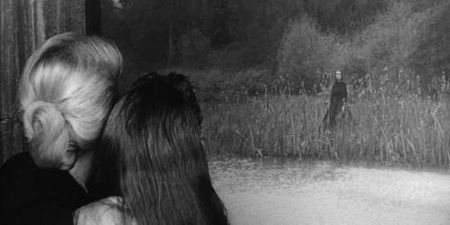 Mon camarade a écrit une bien jolie déclaration d'amour à ce film, déclaration que je corroborerai en tous points : voilà une perle du cinéma fantastique comme on en voit peu. La mise en scène de Clayton est proprement extraordinaire, discrète et en même temps très intelligente. Non seulement les mouvements de caméra sont d'une grande élégance, déployant toute une grammaire des profondeurs de champs, des travellings, des champs/contre-champs, mais la réalisation est également au service du sens du scénario, et le prolonge en quelque sorte. L'atmosphère hyper érotique qui imprègne le film n'est dûe qu'à la mise en scène, par exemple : on n'est pas chez Tourneur, où tout est hors-champ, mais bel et bien dans un ballet très envoûtant de non-dit, où le surnaturel apparaît plein champ ; et quand il n'apparaît pas, il est presque aussi visible, grâce au subtil dispositif qui met en présence constante Deborh Kerr et les deux enfants. Pas une scène ou presque qui ne soit placée sous le signe de leurs liens : soit ils sont ensemble dans le cadre, soit le regard de Kerr est porté sur eux hors champ, mais tout est fait pour que la toile qui les contient soit présente à l'esprit du spectateur. Il s'en suit qu'on est complètement perdu dans cette demeure, tout comme l'héroïne elle-même. Est-elle folle, est-elle la seule à voir ces spectres, les enfants la manipulent-elles, veut-elle voir les fantômes ou les fuit-elle ?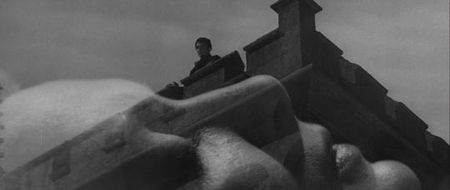 Peu à peu le caractère psychologique de la trame se fait jour : Kerr est en pleine frustration sexuelle, et l'érotisation de tout ce qui l'entoure (décor, enfants, sons) n'est que le produit de cette frustration. Clayton parvient à rendre physique et "narratif" ce concept purement mental, et si on se prosterne aux pieds de cette mise en scène éblouissante (parvenir à filmer l'invisible, fantasme bressonien qui trouve ici sa résolution), on n'en est pas moins reconnaissant à Truman Capote, qui signe un scénario aux petits oignons, et qui semble en effet idéal pour rendre concret le désir sexuel. D'une grande puissance de ce côté-là et pourtant très "léger" dans sa façon d'induire les choses, Clayton orchestre une vraie symphonie de sons, d'apparitions, de visages, de motifs qui mèlent allègrement Eros et Thanatos dans un écrin gothique splendide. Pour le reste, voyez ce qu'en dit Shang ; j'en dis la même chose (sauf que moi j'aime bien The Others, que je ne trouve pas si hollywoodien que ça, mais c'est une autre histoire). (Gols - 01/05/13)
---
The Bespoke Overcoat (1956) de Jack Clayton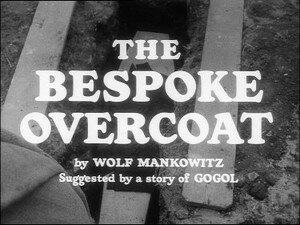 Court métrage réalisé auparavant par le Jack où l'on retrouve la même fascination pour un vieil homme qui vient de mourir et qui vient hanter (l'esprit uniquement?) (d')un tailleur qui lui avait promis un costume. Les deux hommes, autour d'une bouteille de brandy, décident d'aller voler un manteau chez l'ancien employeur du vieux qu'il avait renvoyé peu avant sa mort "après 37 ans de service" ce qui donne lieu à une scène assez comique lorsque le fantôme préfère entrer par la porte plutôt qu'en traversant les murs. Clayton, déjà, fait preuve d'une attention envers ses deux interprètes qui parviennent à une grande intimité post-mortem. Revenir pour tenter de régler ses comptes avec son passé, le souvenir comme gage d'éternité, normal que le Truffaut de La Chambre Verte ait été séduit par cet univers.