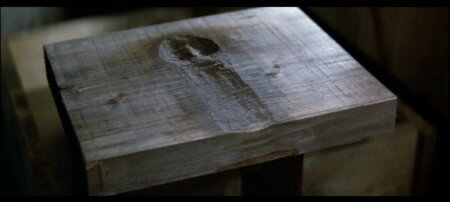 Zatoichi, Baby Cart et enfin Hanzo the Razor, le père Misumi n'a pas chômé pour ce qui est de créer des séries de feu. Une trilogie cette fois-ci avec dans le rôle d'Hanzo l'inénarrable Shintarô Katsu, le frère du héros des Baby. Justicier au bras long, ou plutôt (dois-je oser? Ben po le choix) au membre long puisqu'outre sa morale d'incorruptible et ses méthodes de combat radicales, il est dôté d'un truc avec lequel il réussit à faire avouer ses prisonnières: elles finissent toujours par craquer pour qu'il continue sa besogne... Dit comme ça, je vois bien que certains vont lever les yeux au ciel, mais bon, Hanzo, on va po le refaire... (OSS 117, un rigolo à côté).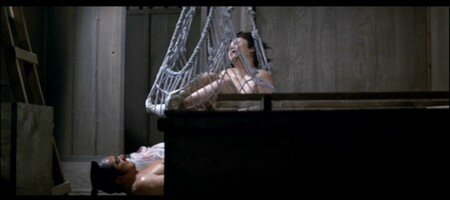 Après une première scène où Hanzo Itumi refuse de signer de son sang les règles à respecter par les policiers, fustigeant le responsable qui baigne dans la corruption, on comprend que l'on a à faire non seulement à une forte tête mais aussi à une grosse tête de lard qui va jusqu'au bout de ce qu'il a à dire...; dans le seconde séquence d'ailleurs, il se torture pour savoir ce que les accusés peuvent endurer et à partir de là on est en droit de craindre le pire: on se dit qu'on a pas tort quand on assiste à son entrainement de durcissement de... bite (si vous avez d'autres expression, je reste ouvert). Et oui, sa bite et son sabre (son couteau aussi, oui, on peut l'accorder) sont un peu ses armes, c'est pas une légende, et dans deux séquences d'anthologie il parviendra doublement à ses fins en faisant d'une part la conquête de sa "prise" et en lui faisant raconter tout ce qu'elle sait depuis ses 5 ans - il faut indubitablement le voir pour le croire. Comme son frère dans Baby Cart avec le landau, il possède une baraque et un bateau qui sont de véritables forteresses avec une armada d'armes et de pièges en tout genre. Cela lui permettera de remonter la filière d'un mystérieux tueur protégé par le chef de police protégé par la fille d'un docteur (avec un tatouage à la poudre, elle sert de lettre vivante entre un acteur et... une Lady qui vit dans LE chateau...) jusqu'au plus haut responsable qui habite dans le dit château... C'est en route pour la place forte que se termine ce premier opus, qui, sur une musique digne des meilleurs Starski et Hutch (ah ouais les années 70 pour ça...), recèle suffisament de surprises - dont quelques jolis combats ultra-hémoglobinés comme celui sur le pont - pour tenir en haleine.
Malheureusement Misumi confiera la réalisation des films suivants à deux autres sbires et je cache d'avance ma déception. Je m'attends au pire mais pourquoi pas au meilleur, cela dit, avec ce Hanzo the razor (?) a.k.a the dick. Pour la dentelle c'est toujours au Puy sinon.