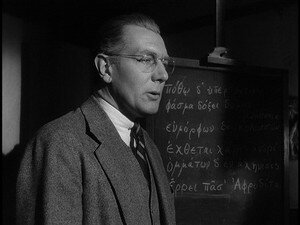 Ce qui surprend de premier abord, c'est qu'au bout d'une heure on se dit, "Bon, ok mais c'est quoi l'intrigue? Qui va être assassiné?"... Ben en fait non, justement, tout le don du réalisateur anglais est de ne s'intéresser qu'à ses personnages, sans avoir besoin d'aucun fil narratif pour tenir les spectateur en haleine; et ça c'est quand même po commun et assez fort de café, de thé plutôt.
Le personnage principal, Crocker-Harris dit le Croc pour ses étudiants, voire Himmler pour ses collègues (...) (Michael Redgrave, énorme) est prof de grec-latin dans un lycée à l'anglaise comme eux-seuls savent en faire; son signe particulier ? Tout le monde le hait ; pour ses élèves c'est le roi des pète-couilles, pour ses collègues, c'est the king of the discipline, pour sa femme c'est un gros con, elle qui d'ailleurs ne se gène pas à poursuivre une affaire avec le prof de physique; tout au long du film, on suit son abattement en se disant qu'il faut quand même être fort pour faire autant l'unanimité : alors qu'il doit partir pour raison de santé pour un autre établissement,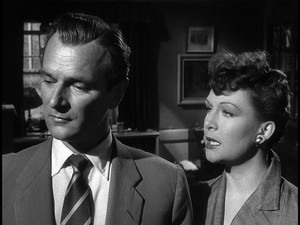 ses collègues l'ignorent volontiers, sa femme (rarement vu depuis Le Chat une telle haine au sein d'un couple, s'il est lourd, elle est sans pitié aucune, une vraie chienne pour être franc) n'a de cesse de le remballer grave et ses étudiants poussent des soupirs de soulagement en se disant que le prochain prof a l'air beaucoup plus à la cool - faut dire que dans le genre méthode traditionnelle, il remporte la palme ; tous ses étudiants le haïssent, à l'exception d'un, qui, bien qu'il se moque de lui dans son dos, a un certain respect pour le pépère : il fera d'ailleurs craquer l'armure du prof en lui offrant pour son départ une traduction d'un super vieux livre grec, la fameuse version Browning du titre. Devant ce simple cadeau, le Croc s'effondre en larmes: il se rend compte que toute sa vie est partie en lambeaux ; il reviendra sur ce point lors d'un discours d'adieu sans concession pour lui-même. Certes, c'est un peu mince en tant que fil narratif mais c'est justement tout l'intérêt de ce film qui se concentre uniquement sur les individus tels qu'ils sont.
Film super écrit (il y a bien 34 mots et autres expressions anglaises qui m'étaient inconnus... ah c'est po le voc limité à 50 mots des films américains), pour ne pas ultra littéraire mais joué à la perfection par des acteurs de grande classe. Redgrave est impressionnant dans le rôle de cet homme qui a tout donné pour son travail et qui sur la fin réalise son échec total. Sans jamais tomber dans le pathos, ni dans le pathétique, Asquirth parvient à petites touches à nous montrer toute la cruauté de la vie... Eh oui, mon bon. Les affrontements entre le Croc et sa femme sont d'un réalisme qui dresse les poils ; la caméra se fait, elle, tellement discrète qu'on éprouve jamais le sentiment que le cinéaste prenne partie pour l'un des protagonistes de cette histoire : sûrement la marque des grands. Passé l'attente d'un début d'intrigue, on se plonge complétement dans ce micro-milieu des écoles anglaises et l'absence de quelconques rebondissements scénaristiques nous fait finalement toucher du doigt le part d'(in)humanité de chacun. Po rien.