Avec The Third Man et The Fallen Idol, ce film de Reed le classe définitivement comme un des grands réalisateurs anglais de l'après-guerre. Entre M le Maudit et une atmosphère irlandaise très beckettienne (si, si, j'y reviendrai), un petit joyau de film noir avec ce pauvre James Mason, qui se terre et erre pendant tout le film dans les rues de Belfast - et qu'il pleuve ou qu'il neige, on peut po dire que le climat soit vraiment favorable.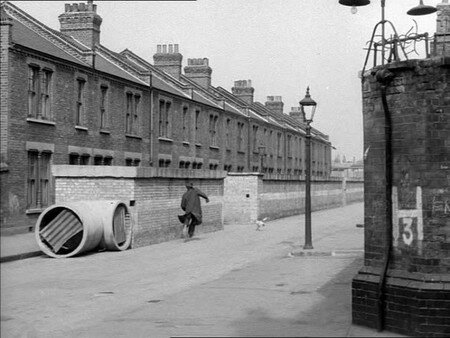 Mason qui sort de prison et est resté planqué 6 mois à préparer ce coup pour ramasser du fric pour le compte des nationalistes irlandais, aurait mieux fait d'entendre les avis de ses comparses et de la très mimi Kathleen Ryan: il n'est peut-être pas l'homme de la situation pour diriger ce hold-up; et ça manque pas, à peine sorti de la banque, un étrange malaise le surprend: dans la panique il tue un homme après avoir été blessé à l'épaule et tombe de la voiture qui devait le ramener en lieu sûr. Il trouve refuge comme un chien abandonné dans un abri désaffecté et lorsqu'une petite fille vient chercher un ballon qui a roulé jusqu'à lui, il hallucine en pensant se trouver toujours dans se cellule et avoir rêvé toute l'histoire - superbe jeu de lumières qui nous fait passer magiquement d'un monde à l'autre. La traque est lancée et on se dit -merci le titre français...- qu'il en a pour 8 heures à se débattre avec toute la police à ses trousses. Des ombres qui glissent sur les murs, un noir et blanc magnifique, cette pluie qui donne des reflets étranges à la ville la nuit, une neige qui brouille la vision, un univers avec lequel on est assez familier depuis l'expressionnisme allemand. Ce qui l'est peut-être moins, c'est cette foule de personnages, un cocher qui lui fait passer les barrages de police malgré lui (on pense à l'Expulsé de Beckett -écrit à Paris à la même époque mais dans une atmosphère très irlandaise...-d'autant qu'il ne trouve refuge nulle part), des clochards fauchés et hallucinés (Luckey, peintre à ses heures qui tente de capter chez Mason le regard de la mort, Shell, buveur invétéré qui espère bien tirer un quelconque profit de la situation...), des âmes charitables qui finissent par se débarrasser de ce paquet bien encombrant... Bref c'est une sale nuit, d'autant que le démon de la culpabilité (Mason ne cesse de demander aux gens qu'il rencontre s'il a tué le type de la banque) ronge notre héros. Réflexion sur la culpabilité mais aussi discussion sur la foi (il pourrait s'agir d'un scénario de Graham Greene, mais en fait il est signé F.L.Green, on peut s'y perdre) avec ce père qui tente d'arranger la situation pour le mieux. Simplement pour Kathleen, dont son amour pour le James est plus grand que sa foi, il ne s'agit pas d'évoquer un quelconque paradis mais de mettre un terme au plus vite à cet enfer et c'est elle qui mettra un point final tragique à cette chasse à l'homme, alors que la neige a commencé à recouvrir les quais.
Même si la dernière partie du film tire un peu en longueur (on a hâte d'assister aux retrouvailles entre Kathleen et James), le combat de cet homme pour survivre mais dont les convictions semblent s'effriter en chemin (très belle séquence dans le pub où, dans chaque goutte d'alcool répandue sur la table, Mason revoit les différents personnages qu'il a croisés lors de cette interminable nuit et qui semblent l'accuser) est un modèle du genre. See(d) it.