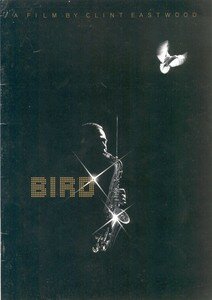 Il me semble bien que c'est par ce film-là, vu au ciné à 17 ans, que j'ai commencé à comprendre que Clint n'était pas seulement un acteur mutique à la crade clope pendouillante, mais aussi un vrai cinéaste, inspiré et modeste. 20 ans après, je confirme : Bird est un très joli film, d'autant que les voies du film biographique sont jonchées d'embûches que le gars parvient la plupart du temps à éviter.
Non qu'il les évite toutes : le film tombe souvent dans le piège de la reconstitution scolaire, avec une application un peu sage à filmer des jolis décors d'époque, et des costumes un peu trop travaillés. Ca sent le potassage de photos de l'époque, peut-on vraiment l'éviter ? (Ma réponse est oui, quand on pense à la magnifique utilisation des décors historiques dans La Reine Margot de Chéreau). On a droit également aux sempiternelles histoires de génie drogué, qui commencent à lasser. Je me répète : à quand un film sur un type normal, je ne sais pas, par exemple euh Modiano... Tous les grands artistes ne sont pas explicables par leur seule marginalité, ou par leurs propensions à se bourrer la gueule, battre leur femme ou se droguer ; il y a autre chose que ces paradis artificiels pour expliquer un génie artistiques. Clint s'attarde trop souvent sur ces choses-là, montrant un Charlie Parker titubant et se détruisant peu à peu. Je veux bien croire que c'est une vérité historique, mais c'est un peu court. Tout comme ces scènes trop volontairement démonstratives, où on veut nous faire prendre de simples anecdotes pour des faits pleins de sens : la visite ratée à Stravinski ou les rapports troubles entre Bird et une mystérieuse Baronne qui restera simple ombre.
Ceci dit, malgré ces défauts, Bird arrive à être passionnant et émouvant grâce à la direction d'acteurs,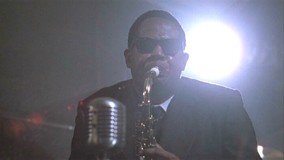 absolument impeccable. Whitaker est franchement au-delà de l'éloge. C'était au temps où il ne se prenait pas encore pour un acteur, où il n'avait pas encore trouvé cette démarche chaloupée ridicule qu'il arbore aujourd'hui comme une marque de fabrique. Très intérieur, il porte son personnage avec finesse et force à la fois, et les scènes dans lesquelles on le voit simplement jouer du sax sont parfaites. Là, on sent réellement ce qui fait la texture du génie de Parker : une implication mystique, totale, dans les notes et l'improvisation. Je ne suis pas un grand fan de cette musique-là, mais Eastwood et Whitaker parviennent à nous en rendre tout le sens à travers ces scènes simples et directes. J'ose le dire : on a rarement aussi bien filmé la musique. Ca paraît bête comme chou, mais Clint, par une succession de plans souples bien que hachés autour de ses musiciens, arrive à en transmettre le mouvement, amoureusement et intimement.
Il y a aussi de bien jolis dialogues sur le génie, le professionnalisme, la destruction de soi-même, entre Bird et Gillespie (bien bel acteur également), qui montrent que Clint n'est pas dupe de ces scènes convenues évoquées plus haut (drogue et inspiration sont dans un bateau blabla). Eastwood se permet une très belle parenthèse dans la Sud des USA, berceau de la musique mais aussi du racisme, en promenant ses personnages joyeux et colorés dans des paysages inspirés, qui annoncent déjà le réalisateur de Midnight in the Garden of Good and Evil ou de Unforgiven. C'est dans cette simplicité-là, comme d'hab, que le gars est le plus touchant. La modestie fait figure chez Clint de génie, et fait oublier les défauts d'un film que n'importe qui d'autre aurait plombé à mort.
All Clint is good, here