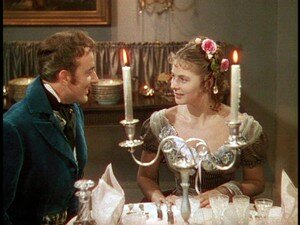 On a beau dire, Hitch est quand même le metteur en scène le plus raffiné du monde. La mise en scène de Under Capricorn est peu visible, on n'est pas dans l'esbrouffe à tout crin des grands films-jeux de Bouddha. Et pourtant, elle est d'une élégance incroyable. Tout en mouvements fluides, en plans-séquences longuissimes, en flottements suaves et subtils, la caméra semble en totale harmonie avec le décor, avec la musique, avec le rythme des dialogues... et surtout avec Bergman, au-delà de toute éloge.
Ayant tiré les leçons de Rope, Hitch en garde le meilleur en en laissant tomber le pire. On a donc droit à ces plans très longs, sans coupe, où des personnages se croisent et se recroisent dans une villa filmée toute en profondeur de champs. La mise en scène, ici, ne bouffe pas le jeu des acteurs (comme c'était parfois un peu le cas dans Rope), elle est à son service, et rarement on a vu plus d'inspiration dans le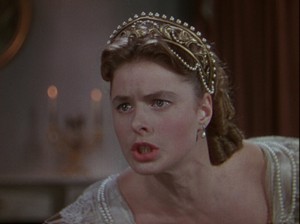 placement des comédiens dans l'espace. En mêlant dans le même mouvement le brutal Joseph Cotten (tout en épaules et en morgue), le dandy Michael Wilding (à la limite du pédant, le gentleman anglais et tous ses ongles manucurés) et la diaphane Ingrid Bergman (capable d'être laide et belle en une seule seconde), Hitch brasse trois mondes que tout oppose dans une symphonie très homogène qui laisse pantois. L'utilisation du décor et de la couleur est parfaite, notamment dans la séquence de découverte de la propriété, où le personnage passe de fenêtre en fenêtre pour pénétrer l'intimité d'un couple en déperdition. Le tourbillon est étourdissant, et pourtant jamais ça ne tombe dans le m'as-tu-vu, tout reste d'une discrétion émouvante. Les plus beaux plans du film sont ceux qui "ne se voient pas", où on a l'impression de nous déplacer nous-mêmes lentement pour découvrir une expression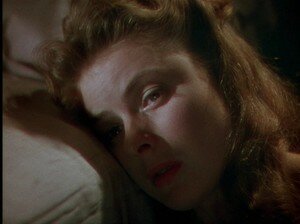 de visage, un sentiment. Les acteurs comprennent très bien ça, et c'est un pur bonheur de les voir épouser ces mouvements lisses et souples avec la hargne de leur caractère. On touche au sublime avec ce très long gros plan sur le visage de Bergman, où tout le génie bouddhique de la direction d'acteur explose, allié à la mythique fascination pour ses actrices. Là, dans ces quelques secondes, tous les sentiments de la Terre passent sur le visage de la belle, Hitch s'assied et regarde tranquillement. Puis il panote doucement sur un verre qui se remplit de poison, sur une tête coupée, et le vertige métaphysique prend doucement sa place. On comprend que le cinéma de Hitch est beaucoup plus sombre qu'il n'a jamais voulu l'admettre : la proximité de ses plans sexuels avec la mort saute aux yeux. Magnifique.
Même si le scénario de Under Capricorn est un peu moins exaltant que ceux des grands films de Bouddha,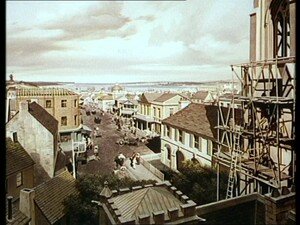 même si le film souffre d'une ou deux longueurs (surtout au début), et d'une musique un poil trop romantique, hurlons en choeur que c'est une nouvelle fois à un pur chef-d'oeuvre que nous assistons. Mais c'est un de ces films secrets, intimes, que Hitchcock crée parfois quand il éprouve le besoin d'un journal intime plus que d'un grand spectacle. Un film à la The Wrong Man, à la I Confess, à la Rich and Strange, si on veut. Un de ces films où la théorie imparable du maître s'efface devant le sentiment pur. Dame, ce truc me rend lyrique et amoureux.
sommaire hitchcockien complet : clique avec ton doigt