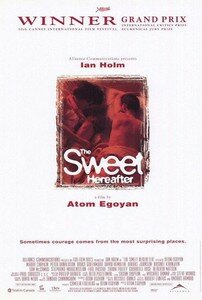 Certains cinéastes "dans la moyenne" (et je place Egoyan dans cette catégorie) doivent s'en mordre les doigts, mais le cinéma vieillit très vite. La preuve : The Sweet Hereafter, qui m'avait beaucoup plu à sa sortie, est aujourd'hui totalement dépassé. Ce qui fut un bon film d'acteurs et un scénario original est aujourd'hui un médiocre exercice de style kitsch et prétentieux. A remarquer d'ailleurs, en passant, que l'écriture de Russell Banks, dont un des romans a servi de base à ce film, vieillit très mal également, mais c'est une autre histoire.
En 2006, cette construction déstructurée du scénario ne bluffe plus personne : en gros, trois temps différents montés "alléatoirement" pour amener un point d'orgue tardif et sans cesse repoussé, un peu comme une architecture de porte de cathédrale, voyez ? Elle n'a pour résultat que de rendre la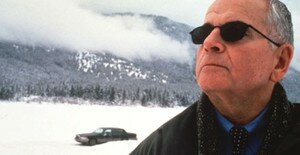 première heure du film infiniment poussive. On a hâte, au bout d'une heure, que le film démarre enfin, que Egoyan cesse de nous présenter les personnages, qu'il commence à nous parler de quelque chose. Le jeu de Ian Holm est d'ailleurs à l'avenant : intéressant de sobriété dans un premier temps, et ambigü à souhait, il finit par devenir très agaçant d'opacité et de lenteur. Pour tromper notre attente, Egoyan filme en plan large la campagne enneigée, faisant bouger sur cette surface blanche des petits points noirs (les personnages) ; il monte une musique atroce (du folk new-age infâme) pour nous faire croire à la ruralité de son petit monde ; il introduit des personnages nouveaux toutes les 37 secondes,
aucun n'étant plus épais que le précédent ; il noue des mini-drames (tromperies) ou des tragédies (inceste) qu'il manipule avec parcimonie, mais qui ne sont que de pénibles ellipses trop lisibles dès le départ ; il abuse de décors d'un kitsch infernal (la maison des baboss peintres est une sorte d'église sur-éclairée qu'Eddy Barclay lui-même aurait trouvée too much). Bon, il y a bien ça et là quelques jolis plans, notamment cet arrière-plan qui montre un bus jaune s'enfoncer dans la glace gelée d'un no man's land dantesque. Mais tout ça sent la crânerie du type qui a une bonne idée mais veut la garder précieusement et égoïstement pour la fin. Un peu plus de complicité avec le spectateur ne nuirait pas, ce me semble, il faut partager, Atom.
Si le spectateur a encore un oeil ouvert après cette interminable ouverture de film, il l'ouvre grand pour assister aux rebondissements de la deuxième partie. Las,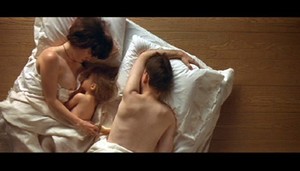 Egoyan a tellement distillé d'informations sans les distiller en les distillant tout en ne les distillant pas, qu'on n'est absolument pas surpris par les "coups de théâtre" de la fin. Le sérieux affiché de la chose ne bluffe pas : on est juste ennuyé. Esthétiquement, The Sweet Hereafter est une succession de clichés, à l'image de ce plan fondateur, le premier du film qui revient souvent : un couple endormi dans une lumière de publicité pour Dim, un enfant entre eux. Scénaristiquement, pas mieux : on connaît cette histoire par coeur. A voir, mais uniquement si vous n'êtes pas allés au ciné depuis 1997.